An Ultimate Clean for Your Pearly Whites
Kuala Lumpur (25 April 2017) — When you think of health in general, people tend to focus on having the right food intake and regular exercise to keep one's body in shape. Have you ever thought that you also need to keep your pearly whites in shape? Yes, that's right. As Dr Seuss once said, "Teeth are always in style". Your teeth need as much attention as the rest of you. Having not-so-white teeth and bad breath can be unpleasant to many. More than that, however, improper oral healthcare routines cause a deeper problem than just on the surface of your teeth, sinking deep into the gums and affecting your entire mouth, thus posing a potential risk for gingivitis and periodontal diseases. These diseases can cause excruciating pain, loss of teeth, infections and indeed affect people's daily lives and overall health.
Philips Malaysia is once again taking the lead in educating Malaysians on the importance of thorough cleaning and taking a smart approach in ensuring good oral healthcare with the launch of its new Philips Sonicare DiamondClean electric toothbrush. Present at the launch was Matt Moran, General Manager for Personal Health Philips ASEAN Pacific; Muhammad Ali Jaleel, Country Manager of Philips Malaysia and Luda Zueva, Regional Marketing Manager for Personal Health, Philips ASEAN Pacific.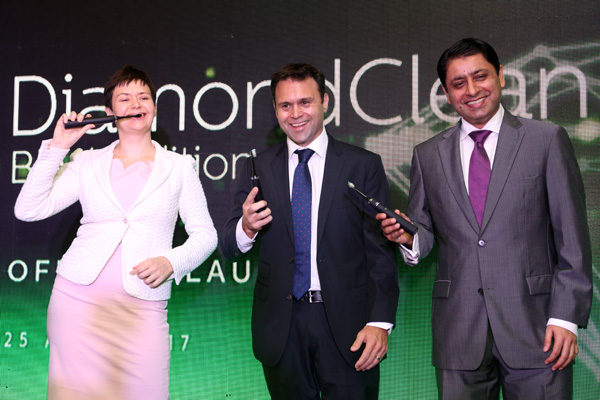 "Today's hectic lifestyle demands more attention to overall healthcare, and oral healthcare is not an exception. With the launch of the Philips Sonicare DiamondClean, we are offering another innovative product that makes a real difference to the lifestyles of our customers and reflects our deep understanding of people's needs and desires. The Philips Sonicare DiamondClean, being our best creation yet in oral healthcare solutions, is indeed clinically proven to remove plaque up to seven times better and provides superior teeth whitening up to four times better compared to manual toothbrushes, and superior gingival health after just two weeks. We want to help you maintain a healthy mouth by complementing your oral healthcare routine with a smart and convenient solution that will ensure a thorough clean for your teeth and gums," said Muhammad Ali Jaleel, Country Manager of Philips Malaysia.
"Philips is committed to spreading the word on the importance on good oral healthcare through our partnership with the FDI World Dental Federation. We joined them in celebrating World Oral Health Day in March, themed "Live Mouth Smart" which empowers people to take control of their oral health. Through our technological innovations, Philips is offering people the means to achieve this with greater convenience. We designed the Philips Sonicare DiamondClean with modern lifestyles in mind. We understand how important it is to maintain oral health with efficiency and ease in the midst of a hectic daily schedule. We want people to be proactive about teeth and gum care, and are equipping them with the best tool to do so," added Ali.
Superior results with five modes
The Philips Sonicare DiamondClean offers five modes for superior cleaning – clean, white, gum care, sensitive and polish. The clean mode ensures ultimate plaque removal while the white mode does exactly what it says – whitening the surface of teeth to remove stains. The gum care mode combines the clean mode with an additional gentle massage for the gums to improve gum health. People with sensitive teeth will not have to worry, as the sensitive mode is extra gentle to cater to their needs. Finally, the polish mode brightens and whitens the teeth, giving a nice finish to the total brushing routine.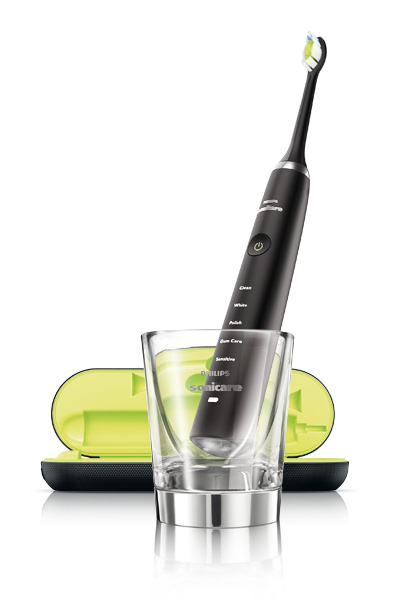 Additionally, the unique diamond-shaped bristles on DiamondClean toothbrush heads – Philips Sonicare's best whitening brush head – provide a wider surface area and denser bristle pack that effectively yet gently sweeps away plaque and extrinsic stains, providing an exceptional clean and significantly whiter teeth. The Philips Sonicare DiamondClean also comes in a compact size that is handy for travellers, who will be delighted that they wouldn't have to miss their oral hygiene routine.
With the Philips Sonicare DiamondClean, oral hygiene care is not only made easier and more convenient. Users can also expect a total and ultimate cleaning with plaque removal, gum care and whitening of teeth. Enjoy the benefits of a complete oral hygiene routine in the comfort of your own home.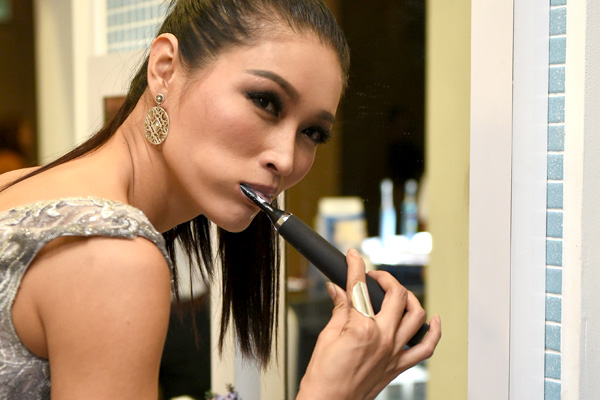 The Philips Sonicare DiamondClean joins other products in the Philips Sonicare range already in Malaysia. The range, introduced in Malaysia in 2011, comprises various toothbrushes, all of which employ Philips' patented sonic technology for dynamic cleaning action to deliver clinically proven oral care results. With 31,000 brush strokes per minute, it is proven more effective than normal toothbrushes for cleaning of teeth and removal of plaque. The Philips Sonicare range, which features unique bristle tip velocity, includes the #1 sonic power toothbrush most recommended by dental professionals worldwide for the past 20 years.
Pricing and availability
Sold at a recommended retail price of RM999, the Philips Sonicare DiamondClean in black is available at the Philips Brand Store in Publika Shopping Gallery and The Gardens Mid Valley, both in Kuala Lumpur, and in Sutera Mall, Johor Bahru; at Philips Experience Stores in Menara Axis, Petaling Jaya and in Penang; and at retail partners and distributor stores nationwide and online via Blip.my. The Philips Sonicare DiamondClean in purple is available only at dental clinics.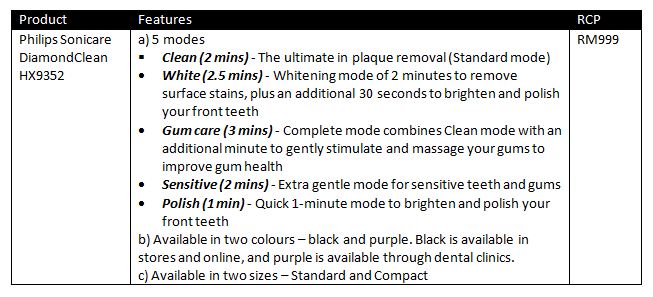 For further information, visit philips.com.my. Photo Journalist
Gadgets, Photography, Automobile, Lifestyle