Panasonic launches LUMIX GF9 with 4K PHOTO & 4K Video Recording
Petaling Jaya (9 March 2017) — Panasonic introduces a new Digital Single Lens Mirrorless (DSLM) camera, the LUMIX GF9, from LUMIX G. The new LUMIX GF9 offers high capabilities for shooting selfies with a flip-up rear monitor and a host of options, such as the newly integrated 4K PHOTO.
The 16.0-megapixel Digital Live MOS Sensor without low-pass filter and the new Venus Engine combine to achieve crisp, high-resolution images in fine details with high-contrast, impressive color reproduction and max. ISO 25600 high sensitivity. The Contrast AF System features DFD (Depth From Defocus) technology and excels in both speed and accuracy by exchanging digital signals between the camera and the lens at a max. 240 fps, resulting in ultra-fast auto focusing of approx. 0.07 sec.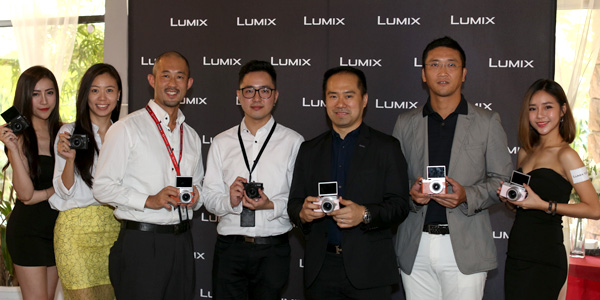 The LUMIX GF9 records smooth, high-resolution QFHD 4K videos in 3840×2160 resolution. Taking advantage of 4K technology, users can enjoy 4K PHOTO shots and a variety of derivative functions, such as Focus Stacking, Post Focus and Light Composition. For more creative freedom, Creative Control, Creative Panorama and Photo Style including L.Monochrome mode are included. The LUMIX GF9 is capable of shooting images in RAW format and developing them inside the camera.
The 3.0-inch 1040K-dot rear monitor with touch control tilts up approx.180 degrees and the camera goes into Self Shot mode automatically once the monitor is flipped. In Self Shot mode, a variety of functions for selfies are available on the LUMIX GF9, including a newly added 4K Selfie mode. The beauty functions enable users – especially women – to shoot portraits more attractively with its Soft Skin, Defocusing and Slimming effects. After shooting, aesthetic/make-up retouching can even be applied in the camera with the Beauty Retouch function. And users can choose to capture the background clearly or defocused depending on the situation with the new Background Control mode. Panorama pictures can also be shot in Self Shot mode.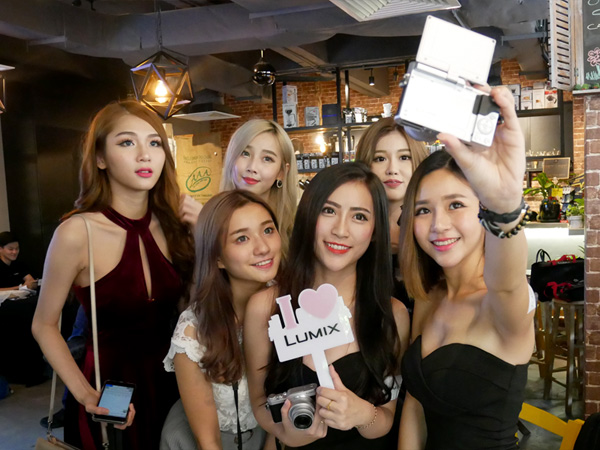 The LUMIX GF9 integrates Wi-Fi® connectivity to offer a more flexible shooting experience and instant image sharing with easy operation.
Last but not least, the iA (Intelligent Auto) mode and Scene Guide make LUMIX GF9 easy to use even for people who are new to digital interchangeable lens system cameras. Portrait and Child modes, which are frequently used, each have shortcuts on the dial. The most appropriate parameters for each scene are automatically applied by simply setting the dial to the desired mode.
Dressed in silver, black, orange or pink, the LUMIX GF9 boasts a sleek, stylish profile in a traditional camera design. Its high mobility enables users to carry it around and enjoy creative, high-quality photography with Panasonic 4K technology and the unlimited potential of the interchangeable lens system camera.
Special Features
Enjoy selfie in more flexible way – new 4K and panorama selfie
The new LUMIX GF9 is designed and refined to make selfie shooting more enjoyable. Taking advantage of 4K technology, even selfies can be shot with 4K PHOTO without missing the spur-of-the-moment. It captures the best moment in which everyone is smiling in a group selfie or in situations where the background is moving, such as a train passing by.
A rich variety of beauty functions in LUMIX GF9 enables users to shoot more attractive portraits. In shooting mode, Soft Skin makes the skin look smoother while Slimming thins the subject's face lines in 10 fine steps. In addition, Background Control mode lets users choose to capture the  background defocused or clearly. In this mode, the [Defocus] setting defocuses the background to make subjects stand out, and [Clear] captures both the subject and the background clearly, to make selfie shots while traveling or at an event more impressive. Selfies can also be shot in panorama pictures, which is ideal for group selfies and selfies in front of a dynamically scenic background.
After shooting, you can even apply virtual make-up to the face in playback mode with the Beauty Retouch function. In Aesthetic Retouch, various effects can be applied to the face, including enhancing the skin texture, lifting the face, whitening the teeth, and so on. In Make-up Retouch, users can choose the color of the foundation, lips, cheeks, and eye-shadow.
The 3.0-inch 1040K-dot static type touch control monitor boasts a 180-degree tiltable structure. When the monitor is flipped up, the camera automatically activates Self Shot mode. In conventional selfie pictures, users have to stretch their arms to hold the camera, which makes the selfies all too common. However, the hands-free selfie allows users to use their hands as they like, resulting in freer, more expressive posing. Face Shutter and Buddy Shutter functions can also be used to trigger the shutter release in the LUMIX GF9. They work when the face is once covered with a waving hand or when two faces come closer in a frame.
Creative Control filter – Expressive, Retro, High Key, Monochrome and Toy Effect can also be used in Self Shot mode.
No more missing those fleeting photo opportunities – cutting edge 4K technologies and stunning performance
Taking advantage of the high-speed signal readout capability of the sensor and high speed signal processing, the LUMIX GF9 is capable of recording 4K videos*. Despite its high performance, it boasts superior energy efficiency and its size is kept compact for high mobility. The LUMIX GF9 records smooth, high-resolution 4K videos in 3840×2160 resolution
Thanks to this 4K technology, users can experience 4K PHOTO to capture fleeting photo opportunities at 30 fps by extracting the frame with the best timing out of a 4K burst file to save as a photo. In 4K PHOTO, three modes can be chosen from depending on the situation; 4K Burst, 4K Burst (Start/Stop) and 4K Pre-burst. All of these functions in 4K PHOTO let the user save pictures in 8-megapixel equivalent high resolution, which is good enough for printing in A3 size, and help to avoid missing those spur-of-the-moment shots. Plus, multiple images can be saved as 4K PHOTO shots all at once in the LUMIX GF9. A maximum of 150 frames in five seconds following a designated frame can be saved.
The LUMIX GF9 also comes with a Post Focus function that lets users select the in-focus area even after shooting. This is helpful in situations like macro shooting where strict focusing is required or for changing expressions by changing the focused subject. This function was developed by combining the high-speed, high-precision DFD (Depth From Defocus) auto focus technology and 4K technology.
The Focus Stacking function enables users to adjust the depth of field after shooting by combining multiple images shot with the Post Focus function in the camera. Users do not need to focus strictly while shooting as they can obtain the image with the defocus level that they want or pan-focus the image by simply selecting the focus area after shooting. This is beneficial when shooting macro shots of insects, small accessories, and so on.

High image quality with true-to-life detail and impressive color reproduction
The LUMIX GF9 lets users shoot vibrant, true-to-life high quality images with excellent resolution, high contrast and impressive color reproduction. By removing the low-pass filter, the limiting resolution has been improved while detecting high-frequency components to suppress the generation of moiré by the Venus Engine. The Venus Engine even reproduces vibrant, impressive colors for images such as clear skies by dividing the hue, saturation, and luminosity, and finely adjusts them separately. The combination of the Digital Live MOS Sensor and the Venus Engine achieves clear image rendering with minimum noise even in low-lit situations and at max. ISO 25600.
The response of the LUMIX GF9 itself also stands out. The Contrast AF achieves even higher-speed, higher-precision focusing with digital signal communication at max. 240 fps. Furthermore, the DFD (Depth From Defocus) technology calculates the distance to the subject by evaluating 2 images with different sharpness levels while consulting the data for the optical characteristics of the current lens in a moment. As a result, the LUMIX GF9 achieves an ultra high-speed AF of approx.0.07 sec.  A multi- processing capability achieves high speed burst shooting at 5.8 fps (AFS) / 5 fps (AFC) to capture fast-moving subjects in crisp focus.
For AF performance, the Low Light AF makes it possible to set focus on the subject more precisely even without an AF assist lamp in extremely low-lit situations down to -4EV, which is as dark as under moonlight. Plus, the LUMIX GF9 features Starlight AF which allows users to shoot a star in the sky at night with auto focus. This is achieved by accurately calculating the contrast value in a smaller AF zone. A total of 49 focus detection areas enable more flexible composition together with the Custom Multi AF mode in which users can freely select the blocks to focus on out of the 49 focusing areas. In addition to conventional Face Recognition AF, the LUMIX GF9 incorporates Face / Eye Detection AF which automatically focuses directly on the eye of a human face. With Pinpoint AF, users can magnify the target area for a more precise focus.
Easy Wireless Connectivity via Wi-Fi® with Smartphones
The LUMIX GF9 integrates Wi-Fi® connectivity (IEEE 802.11 b/g/n) to offer more flexible shooting experience and instant image sharing with easy operation. Once you connect the camera and smartphone/tablet to the installed Panasonic's dedicated application software Panasonic Image App for iOS / Android, users can shoot / browse / share images remotely.
Using the remote control, it is possible to capture selfie while the subject is jumping with the Jump Snap function. The smartphone with the subject detects when he/she is at the highest position and the camera located automatically releases the shutter.
A Host of Advanced Functions Packed in a Sleek Body with Ease of Use
Although the LUMIX GF9 has a host of advanced functions, it features a sleek, stylish profile with high mobility.  All parts, including buttons and dials are carefully chosen to achieve a high-quality design and excellent operability. The leather-touch grip is ergonomically designed and easy to hold. Dressed in fashionable colors – silver, black, orange or pink, the LUMIX GF9 is a perfect match for male or female users who enjoy high-quality photo shooting daily.
The LUMIX GF9 comes with a Rec.Setting Reset button on the back. All recording settings can be reset with this button, which is helpful for users who accidentally make the wrong settings.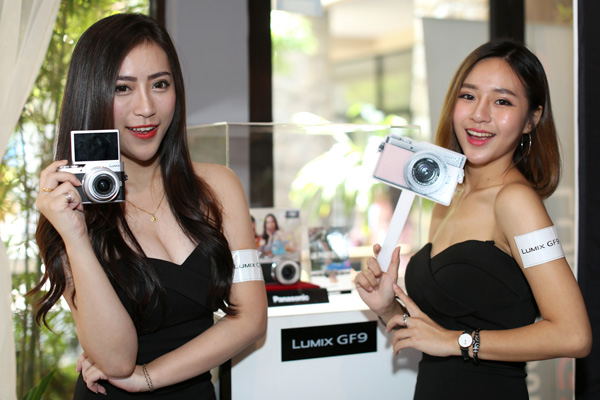 Other Features
・iA+ (Intelligent Auto) Mode for Photos and Videos
For beginners, iA (Intelligent Auto) mode provides beautiful pictures with a variety of shooting-assist functions including AF Tracking, Intelligent Scene Selector, Face Recognition, Intelligent ISO Control and Food Recognition.
・Scene Guide
The Scene Guide offers 21 sample pictures shot by professional photographers. Users can choose the one closest to their shooting situation and optimum parameters for shooting the scene will be automatically set. The shooting procedure, technical advice and recommended interchangeable lens for the scene can also be shown to users to help them learn photography.
・Creative Control
The LUMIX GF9 integrates a variety of artistic functions that adds fun to digital photography. The popular Creative Control mode features a total of 22 filter options – Expressive / Retro / Old Days / High Key / Low Key / Sepia / Monochrome / Dynamic Monochrome / Rough Monochrome / Silky Monochrome / Impressive Art / High Dynamic / Cross Process / Toy Effect / Toy Pop / Bleach Bypass / Miniature Effect / Soft Focus / Fantasy / Star Filter / One Point Color / Sunshine mode. The effect parameter of each mode is also adjustable. And the LUMIX GF9 is capable of taking pictures "with" and "without" the filter effect simultaneously, so that users can compare them to choose later.
・RAW development inside the camera
The LUMIX GF9 is capable of developing RAW images inside the camera. In addition to the color space setting (sRGB/ AdobeRGB), the parameters for white balance, exposure compensation, contrast, highlight/shadow, saturation, noise reduction, and sharpness can be flexibly adjusted and LUMIX's Photo Style, Intelligent D-range Control, and Intelligent Resolution can also be applied.
・Light Composition
In addition, the LUMIX GF9 features Light Composition function as a new option of 4K PHOTO mode. The camera synthesizes the images by choosing and saving brighter pixels. This makes it possible to produce more luxurious, dramatic images for situations such as fireworks or night scenes inside the camera with ease.
・Time Lapse Shot
The camera automatically starts recording photos at a time lapse sequence once the start time, interval and the number of pictures to shoot are set.
・Snap Movie
Users can record video in designated short period of time (2/4/6/8 sec) as they shoot "moving photos". In this function, rack focusing or addition of a fade effect (color in/out, black in/out, white in/out) are available. The short video clips are easy to share using Panasonic Image App and it is also possible to connect them in any order you like and even to add music instead of the recorded sound on the combined file later.
・Silent Mode
This mode switches the shutter from mechanical to electronic and turns all sound (AF, operation) off while suppressing the emission of the AF assist lamp and flash with just a single setting for special shooting occasions.
・AC/USB Power Charging
The camera's battery can be recharged either via AC or USB according to the users' convenience.
For more information, visit www.panasonic.com/my.