Malaysians set to enjoy the Freshest Rides, courtesy of Grab & Ambi Pur
Kuala Lumpur (30 March 2017) — Grab Malaysia and Ambi Pur today announced a collaboration to enable Malaysians to enjoy the freshest ride in Malaysia! From April onwards, the GrabCar icon will be replaced with the Grab Ambi Pur icon on the Grab app, to enable Malaysians to book a clean and fresh ride. Selected GrabCars will also be specially wrapped blue car that stand out while on the road.
Each GrabCar will be outfitted with an Ambi Pur Miniclip scented in either Lavender or Citrus. The beauty of Ambi Pur, the No. 1 Air Care brand in Malaysia, lies not only in its light and not overpowering scent (based on research from P&G perfumists) but also its superior odour elimination technology. Rather than masking the stale odour with an additional overpowering scent, Ambi Pur differs from other air freshening products with its ability to neutralise and eliminate the malodours. This process is followed by releasing a burst of fresh and lasting fragrance.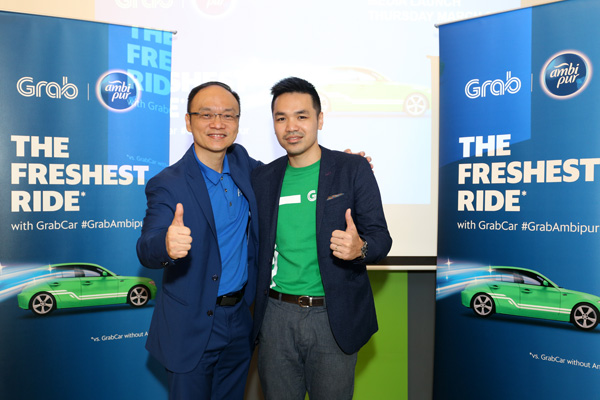 "Ambi Pur is excited to be part of this ground breaking collaboration together with Grab to offer Malaysians the freshest ride nationwide. At P&G, we strive to constantly raise the bar in innovation to showcase how Ambi Pur touches the lives of Malaysians, as well as engage our customers in exciting and unexpected ways and we believe this collaboration does just that," said Mr. Ong Yuh Hwang, CEO of P&G Malaysia, Singapore and Brunei.
"Both passengers and drivers deserve a more pleasant in-car experience and what better way to bring this to them than with a Grab Ambi Pur car?" he added at the media launch of the collaboration.
As a Malaysian homegrown brand, Grab has now grown to be the leading ride hailing and multiservice platform not just in the region but also in Malaysia, offering a wide variety of transport options to cater to passengers at various price points.
For Grab, apart from offering the freshest rides to passengers, the collaboration also serves as an opportunity to incentivize their driver-partners, many of whom are in constant contact with thousands of passengers on a daily basis.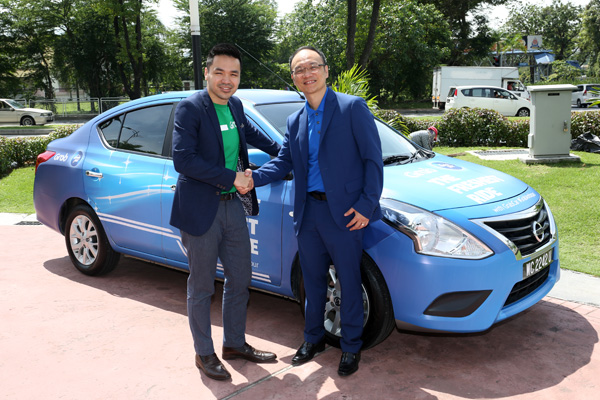 "This strategic partnership is not just about the coming together of two major brands, but it is also part of Grab's bigger commitment to recognise and reward all our drivers, be it new or old, for their partnership in helping Grab transform the transportation industry in this country. In fact, all our Grab drivers will soon be able to enjoy exclusive discounts for Ambi Pur products," said Mr. Sean Goh, Country Head for Grab Malaysia.
"Grab would not be where we are today without the support and commitment from our driver-partners who work tirelessly to help us out-serve our passengers by providing a safe, convenient and comfortable ride. This collaboration also serves as part of our continuous effort to improve the Grab Ride Experience for our passengers so that every ride in a GrabCar, will be 'The Freshest Ride'. We are proud to be working with Ambi Pur who is a household name in car fragrance and we look forward to a fruitful partnership," he added in closing.
Grab and Ambi Pur revealed the collaboration at the Grab headquarters in a talk-show styled event hosted by Sarah Chen. Following the launch of The Freshest Ride, media and invited guests were visibly enjoying the interactive game to "sniff" the Grab Ambi Pur scent that will lead them to their fresh ride.