LG expands Smart Home Ecosystem with Hub Robot and Smart Refrigerator
Seoul (8 March 2017) — Already a leader in internet of things (IoT) technology, LG Electronics (LG) is unveiling an array of new additions to its IoT ecosystem at InnoFest 2017 (Innovation Festival), held on Jeju Island in South Korea. The festival provides one of the first public looks at the advanced IoT-powered Hub Robot that serves as both a smart home gateway and intelligent home notification center. The Hub Robot will be displayed alongside LG's Windows 10-powered Smart InstaView Door-in-Door™ refrigerator, paving the way to a dynamic and entertaining kitchen experience.
LG's innovative Hub Robot redefines the smart home. Essentially a digital assistant, the robot completes household tasks using voice recognition technology by connecting to other smart LG appliances in the home. With a simple verbal prompt such as, "Turn on the air conditioner" or "Change the dryer routine," the connected appliance will automatically execute the assigned task. The Hub Robot is also equipped with an interactive display that can showcase a wide variety of information such as images of refrigerator content and even recipes with step-by-step audio and visual instructions. Additionally, the Hub Robot is capable of performing a variety of other tasks including: playing music, setting alarms, creating reminder memos as well as providing updates on the weather and traffic.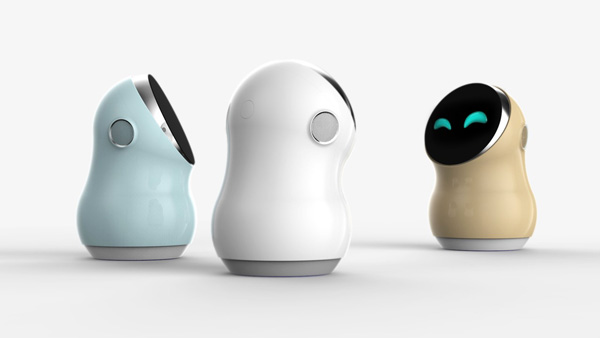 With its friendly, anthropomorphic design, LG's Hub Robot can interact with the entire family in a variety of entertaining ways. The robot can move and swivel in place, as well as express a wide range of emotions through its front screen. Moreover, the Hub Robot is intelligent enough to track activities within the home, keeping tabs on when family members leave, come home or go to bed. In addition, the Hub Robot is able to distinguish family members' faces with its camera which makes it possible to program a different greeting for each family member.
The Hub Robot provides the most benefits when located in common areas of the house such as the kitchen or the living room. To complement the Hub Robot, LG will also introduce mini robots that can be placed in other rooms of the house. Equipped with a sleek display, these mini robots are extensions of the Hub Robot and can perform many of the same functions.
Along with the Hub Robot, LG is showing off its revolutionary Smart InstaView Door-in-Door™, a refrigerator that has received glowing reviews since it was first revealed at IFA 2016. Its 29-inch transparent Touch LCD screen offers a wide range of convenient features, allowing users to write a grocery list, check expiration dates, and even view content stored inside the refrigerator without opening the door via the Knock-On feature. Operating on Microsoft's Windows 10, the appliance can also download and run a variety of apps from the Windows 10 store including Allrecipes, Pandora, and Netflix. Now, users can follow recipes, listen to music, and enjoy a movie all on their refrigerator door.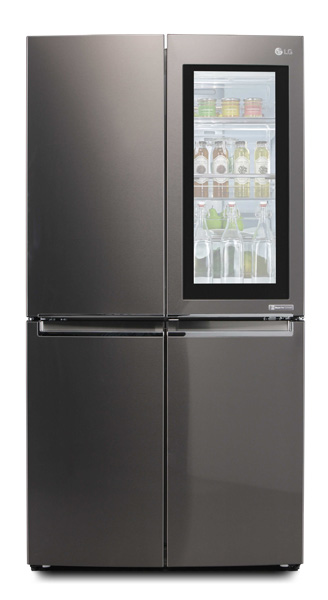 The Smart InstaView Door-in-Door™ utilizes multiple 2.0 megapixel panoramic super-wide-lens cameras that are capable of capturing the inside of the refrigerator. These images can then be sent directly to the user's smartphone anytime they wish to check their inventory, especially convenient while grocery shopping. In addition, the Smart InstaView Door-in-Door™ constantly evolves to cater to the consumers' individual refrigerator needs. Collecting environmental data and usage patterns through its sensors, the refrigerator enters power-saving mode when users are asleep or away from home while also detecting shifts in humidity and temperature. With the smart refrigerator era well underway, LG continues to make its mark as a leader and pioneer in this competitive market.
"Our new Hub Robot and Smart InstaView Door-in-Door™ refrigerator will bring the entire household together through smart connectivity and technology," said Song Dae-hyun, president of LG Electronics Home Appliance & Air Solutions Company. "The versatility and usability offered by our smart home products are set to maximize the power and benefits of smart technology in the home and beyond. Already recognized as an IoT pioneer, LG will continue to innovate in order to reinforce our position at the forefront of this dynamic market."