Korean Fever is Burning Up in Malaysia
Kuala Lumpur (2 March 2017) — Annyong haseyo! Shopee, the No 1 mobile-first marketplace launches its 'Shop for Free' Campaign in March in conjunction with the Korean Fever (K-Fever) from 9 to 22 March 2017. Throughout this campaign, fans of Korean products can shop till they drop and be among the 500 lucky shoppers to get their purchase given back in Shopee cash vouchers.
Seeing the ever growing trend of K-Fever in Malaysia, Shopee has taken a step into highlighting Korean products offered by sellers across the platform which has recorded a total of 98 million listings regionally. Products from the Beauty & Personal Care category continues to top the chart for best-selling items.
Only on the Shopee platform, can buyers enjoy the authentic Korean feel at K-razy deals during this limited period of time including the Lucky RM7 deals where beauty items are sold at RM7 each! Fans of Korean popular culture should watch out for other K-Fever campaigns on their Shopee app to keep track of special promotions all day-long.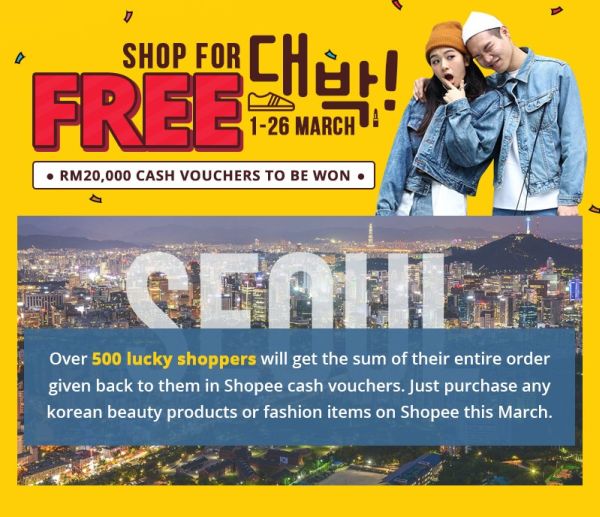 Raising the temperature of K-Fever to another degree, Shopee organizes the K-Fever Race for K-fans to win tickets to catch EXO Live in Malaysia! Dubbed as one of the greatest K-pop boybands ever, they are back for their 2017's Exordium Concert scheduled on 18 March 2017. Win tickets worth more than RM3,000 with each friend referral on the Shopee platform. Contest runs from 1 to 9 March 2017.
Don't miss out on other Social Media contests this month by following Shopee's Official Facebook: FB/ShopeeMY and Instagram: Shopee_MY.
Prior to this campaign, Shopee database shows that Urban women between the age of 24 and 36 recorded the highest number of order for Korean beauty and skincare products, with Malay demography showing higher purchase in beauty tools such as brush sets, sponge and beauty blenders. While the Chinese are more keen towards Korean skincare and cosmetics.
As of January 2017, Shopee has recorded over 29 million installs regionally, including 2 million installs in Malaysia, making Shopee the fastest growing m-commerce in the region. While the annualized GMV is recorded at USD 2.5 billion regionally.
For more information on Shopee's Korean Fever Week, visit: www.shopee.com.my or download Shopee App via AppStore or Google Play for FREE.