100 Year Anniversary Nikon Annual Photo Awards 2017
Kuala Lumpur (29 March 2017) — The Nikon Annual Photo Awards (NAPA) 2017 proudly returns for another run from 16 March to 30 September 2017. Donning a new name – the 100th Year Anniversary Nikon Annual Photo Awards – the competition once again aims to encourage and inspire individuals to explore, create and vividly express through images captured.
Already in its 6th instalment, the competition has successfully received stellar response in the past from young and old alike. This year however marks a significant shift in the competition's direction as Nikon proudly celebrates its centennial year of operations.
Said David Ng, Director of Nikon Malaysia "It is truly a great honour to be able to commemorate Nikon's 100 years of excellence in photography and digital imaging as not many have the privilege of doing so. Imagery undoubtedly has the ability to present the world and all its life forms in a whole new viewpoint as it allows individuals to capture nuances of the heart in a form that is intelligible to others".
"Our human spirit is constantly inspired by our environment and significant events that happen in and around us. It is for this reason that gives us great joy in being in the business of enabling individuals to transpose their unique experiences into a memory bank of precious moments," added David.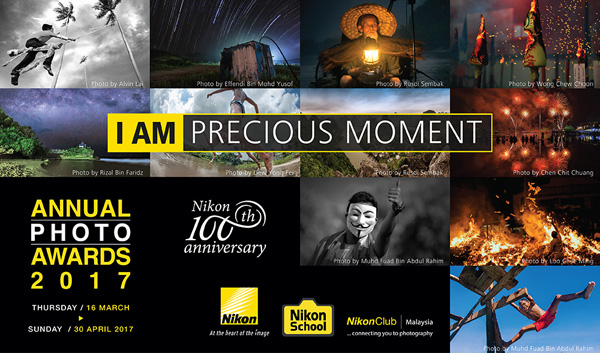 The competition will feature a total of six themes (subjects) of which each will be revealed on a monthly basis. The first is themed 'I AM Precious Moments' with submissions currently open until 30 April 2017. As with past instalments, the competition is open to all registered Nikon Club Members (Malaysian Citizens) aged 18 years and above for the Open category.
Recognising the growing interest towards photography amongst the younger generation, Nikon is also introducing a new category this year – Student category – which invites primary school, secondary school, college and university students to participate. Through this, Nikon aims to further extract and encourage the budding talent of the next generation. The same themes will be applied for the Student category; however unlike the Open category, submissions are open until the competition closing date.
Setting the competition apart this year is also the league structure of the 100th Year Anniversary NAPA 2017 in which winning participants will be selected based on their overall awarded contest points. This means participants will be required to submit entries for each theme revealed.
A sexy line up of prizes will be up for grabs including a Nikon D750 body with kit lens 24mm – 120mm valued at RM10,348, a Nikon KeyMission 360, Nikon KeyMission 170 and Nikon KeyMission 80. Winning entries in the Student Category will also be handsomely rewarded as victors may walk away with a Nikon D5600 body with 18mm – 140mm lens valued at RM4,548, a Nikon D3400 Body with 18mm – 55mm lens worth RM2,268, Nikon KeyMission 80 or Aculon T01 Binoculars worth RM278. All winners will also be awarded a participation certificate and plaque.
Those interested in participating can find out more at www.nikonclub.com.my/Contest.