Funding Societies aims to help Malaysia SMEs through Crowdfunding
Kuala Lumpur (22 February 2017) — Funding Societies, a Malaysian-founded regional Peer-to-Peer (P2P) financing platform, today launched its debt crowdfunding platform in Malaysia to provide SMEs and investors with trusted alternative financing and investment opportunities.
Speaking at the launch, Kelvin Teo, Co-Founder of Funding Societies said, "Peer-to-Peer financing is a proven concept globally, paving the way for small and medium-sized companies to access a new avenue of financing. As one of the most established regional P2P financing platforms in Southeast Asia, we are excited to bring our regional expertise back home to Malaysia to make a positive impact on the Malaysian society. Since June 2015, Funding Societies has originated almost RM90 million in financing in Singapore and Indonesia. In addition, Funding Societies has a 2% default rate, being one of the lowest in the region, thus providing returns greater than 10% to investors on an overall basis".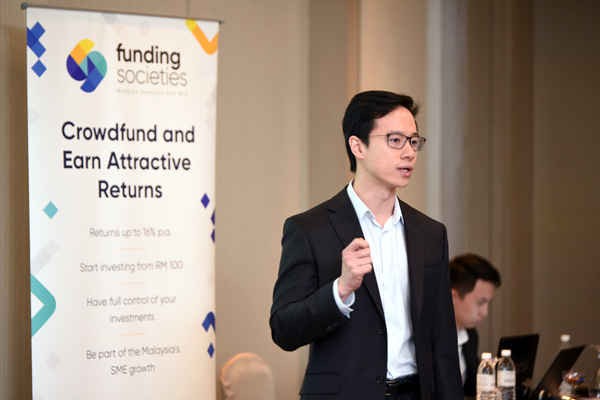 Funding Societies aims to uplift businesses where financing is the most difficult, in particular the small and medium-sized businesses. New businesses are often faced with stifling restrictions when it comes to applying for financing. Funding Societies addresses these challenges head-on by providing an easy and viable option for SMEs looking for short-term financing between 1 and 12 months. Funding Societies also meets the needs of SMEs which require small financing needs (between RM 50,000 and RM 500,000), fast disbursal (1-week disbursal), and a simple hassle-free application process (less than 15 minutes).
Kah Meng Wong, CEO of Funding Societies Malaysia added, "Funding Societies is driven to support the growth of the Malaysian economy by providing business term financing and invoice financing solutions to SMEs across various industries including manufacturing, wholesale and retail trade, construction and food & beverage. By serving a large variety of sectors, investors are also able to better diversify their investment portfolio and minimize risk.
"Aside from supporting SMEs, we also want our investors to feel secured knowing that we invest alongside them. Being a local team with expertise and experience in SME financing, we understand the risks involved in such investments. Hence, we conduct rigorous risk assessments on SMEs before enabling them to crowdfund on our platform.
We set ourselves apart by offering good risk-adjusted returns, low barriers to entry, simple investment process and best-in-class customer experience", added Kah Meng Wong.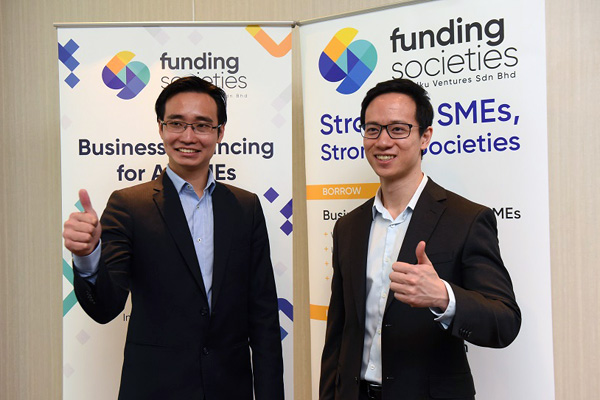 Funding Societies constantly promotes transparency and confidence to investors by operating on a unique 'Skin-in-the-Game' philosophy. Based on this philosophy, eligible team members at Funding Societies personally co-invest in SMEs alongside investors, upholding the saying 'putting your money where your mouth is'.
Funding Societies is funded by global and regional venture capital firms, Sequoia India and Alpha JWC. By leveraging on their network, Funding Societies strives to incorporate the best practices in Technology and P2P financing regionally and globally, and tailoring them to the local Southeast Asian market.
As one of the only six trusted P2P operators recognized and regulated by the Securities Commission Malaysia (SC), Funding Societies Malaysia continues to work closely with the SC and strictly abides by its regulatory framework to protect SMEs and investors, while allowing room for growth and innovation.
With a vision to ultimately help uplift societies, Funding Societies' launch in Malaysia will provide a solid bridge between SMEs and investors, further empowering every Malaysian business owner to reach their greatest potential. Photo Journalist
Gadgets, Photography, Automobile, Lifestyle