Chevrolet Malaysia introduces the Chevrolet Complete Care Programme
Kuala Lumpur (14 February 2017) — In line with its nationwide expansion programme to improve sales and aftersales service for the customers, Naza Quest Sdn. Bhd., the sole importer and distributor of Chevrolet vehicles in Malaysia, has introduced its Chevrolet Complete Care (CCC) today at a modest launching event held at the Chevrolet 3S Centre in Puchong.
Naza Quest Sdn Bhd today announced that it is taking a comprehensive approach to customer experience with Chevrolet Complete Care, seeking to deliver a consistently satisfying and truly valuable vehicle ownership experience for all new and existing customers.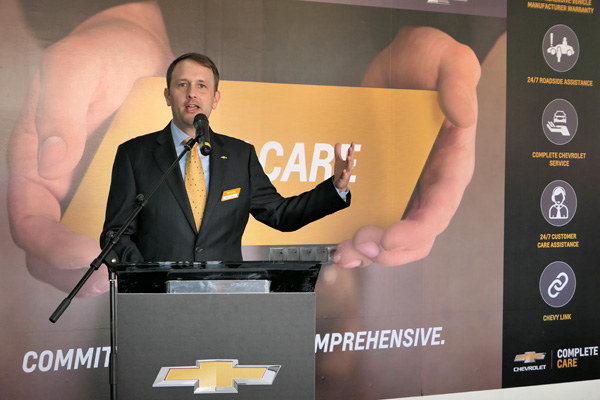 "At Naza Quest, as we had previously pledged to grow and strengthen the brand here in Malaysia, we want the best and comprehensive customer service experience for our customers. As part of Chevrolet's commitment to put customers at the centre of everything we do, Chevrolet Complete Care has been launched in the region and is gaining tremendous momentum across Southeast Asia.
Chevrolet Complete Care is a promise to deliver convenience, value, quality, transparency and peace of mind to every Chevrolet customer. It is Chevrolet's commitment as we strive to earn customers for life and build a brand that inspires passion and loyalty." said Head of Naza Quest Sdn Bhd, Farid Rosli, at the launching event press conference.
"Chevrolet Complete Care is our personal commitment to you, your car and your safety when out on the road." he added.
The Chevrolet Complete Care programme combines a Comprehensive Vehicle Manufacturer Warranty, with Complete Chevrolet Service, Fully Integrated Service Operating System, 24/7 Roadside Assistance and 24/7 Live Chat Customer Care Assistance for peace of mind, wherever you are.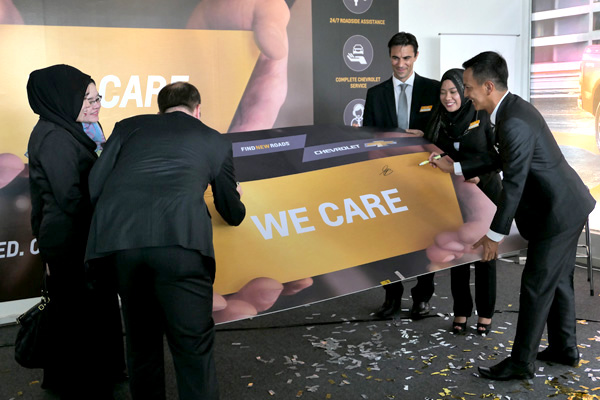 Comprehensive Vehile Manufcturer Warranty
Chevrolet's Comprehensive Vehicle Manufacturer Warranty comes with a standard 5 years or 200,000KM* whichever occurs first vehicle warranty & Bumper-to-Bumper warranty, Chevrolet Complete Care gives its customers peace of mind right from the start. This warranty comes with the assurance of trained service technicians, quality workmanship and genuine Chevrolet parts.
24/7 Roadside Assistance – Chevy Assist
Naza Quest offers prompt response and convenience of out 24-Hour Roadside Assistance Programme – Chevy Assist to all of its newly registered customer for the entire first year*. The Roadside Assistance operators are available 24 hours a day, 7 days a week with services such as minor roadside repairs, 24-hours emergency on-site towing assistance, workshop referral and many more. In the event of a breakdown or accident, Chevrolet owners can call on toll-free Chevy Assist 1-800-2-CHEVY (24389) for free roadside assistance around the clock throughout the country.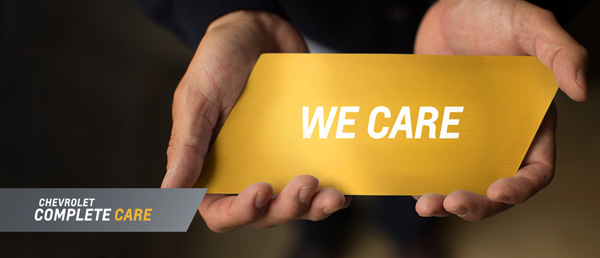 Complete Chevrolet Service
Building a great vehicle is just the first step – maintaining it for optimal performance is what makes the drive a truly enjoyable experience. Highly trained certified service technicians install highquality genuine Chevrolet parts (original equipment parts) specifically designed, made and tested to help keep your Chevrolet constantly running at peak performance. Plus, clear maintenance schedules and transparent pricing allows customer to acquire an overall estimation cost for their next upcoming service.
24/7 Customer Care Assistance
The 24/7 customer support hotline is a trusted resource for thousands of customers to seek for support before, during or after sales. Chevrolet would like to ensure all of its customers are able to count on helpful customer care advisors as well as trained and certified technicians who know the Chevrolet cars best to answer queries on whether cars, services or promotions.
Online Live Chat is now also available apart from the hotline support. Chevrolet has vested in another channel where customers can place their queries and receive instant real-time response via the Chevrolet Malaysia official website live chat which is available throughout the day.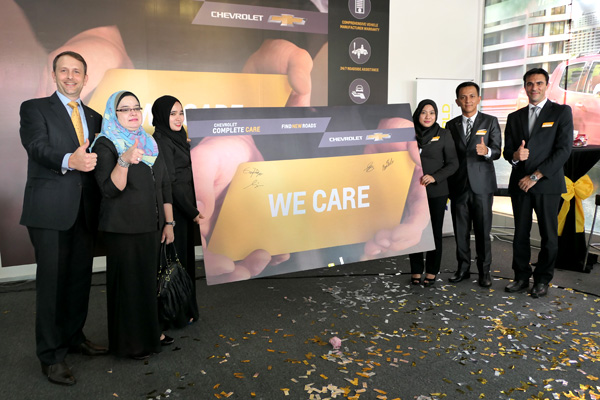 Chevy Link
Chevy Link is an Integrated Service Operation System where processes and information flows are centred around the customer data coordinating all services with a coherent view across all Chevrolet authorised dealerships. The Chevy Link aims to streamline Chevrolet dealerships productivity by allowing the business to run in sync at all times from pre-sales to vehicle maintenance as well as streamline parts performance with faster inventory turns to improve customer experience.
With the implementation of Chevrolet Complete Care, the company aims to instil the right customer-centric behaviours across its organization – from employees at the backend to frontline dealer representatives. Staying true to the global initiative of demonstrating the Chevrolet brand's commitment to reliability, quality and value for money. Chevrolet Malaysia now operates in 24 sales and service outlets throughout the country to cater to the requirements of its customers.
For more information, log on to www.chevrolet.com.my. Photo Journalist
Gadgets, Photography, Automobile, Lifestyle
chevroletchevycomplete carecustomermaintenanceprogramservice