The Dew Challenge 2016 announces the Winners for both DotA 2 and the Mobile Gaming Challenge Grand Finale
Kuala Lumpur (11 December 2016) — Where there is passion, there is Mountain Dew – the brand that is heavily tied to action sports, entertainment, gaming, co-creating and youth lifestyle. Along with its mantra of "DO THE DEW", PepsiCo's Mountain Dew strives to encourage individuals to push their boundaries through exhilarating challenges, committed to providing a platform that encourages the growth of e-gamers in the local scene and those with a passion for gaming to compete.
Keeping this in mind, Mountain Dew brought back the highly anticipated challenge to Malaysians with the ever popular Largest Amateur DoTA 2 Tournament once again. To take it up a notch, and to reach out to wider audience consisting of more than avid gamers, Mountain Dew also injected more excitement by introducing a new mobile gaming challenge in augmented reality format catered to all members of the public.
The tournament, which kicked off in Penang , made its way to Selangor, Kuala Lumpur, Pahang and Johor for qualifying-rounds where only the top eight teams made it to the final stage. Each venue  saw a large crowd, which included the participating teams, and their fans, families and friends – all of whom were bursting with excitement as the challenge began.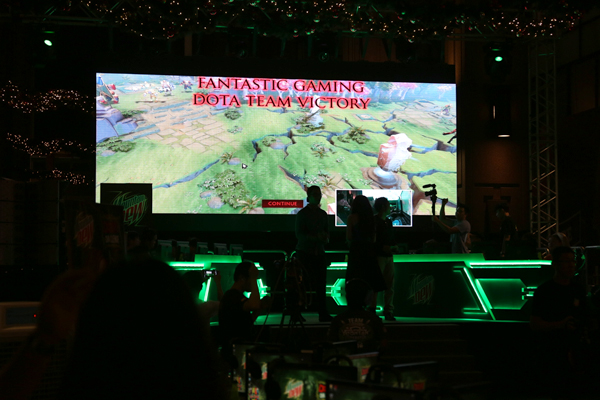 Aside from the immense popularity of the game itself, which was brought on by the DEW spirit and seen in how passionate the players were , the pool of money also served to be one of the carrots that drew in teams to participate. It came as no surprise when the number of entries to participate in the DoTA 2 Challenge this year showed a significant increase compared to 2015. Places were snapped up almost immediately once registration was open.
Labelled as the first beverage brand in Malaysia to offer a whopping prize pool of RM200,000 on the e-gaming platform, the DoTA 2 tournament presented its champions with a prize pool  of RM150,000 while the mobile gaming challenge champions were awarded with a prize pool of RM50,000.
The finale took place at Kuala Lumpur, Fantastic Gaming emerged as the champions for DoTA 2 after a gruelling challenge that pushed them physically, mentally and emotionally. As it came down to the wire, Fantastic Gaming took it home with a final boost to the finish line. All team members erupted into screams of joy as they were declared the winners of DoTA 2.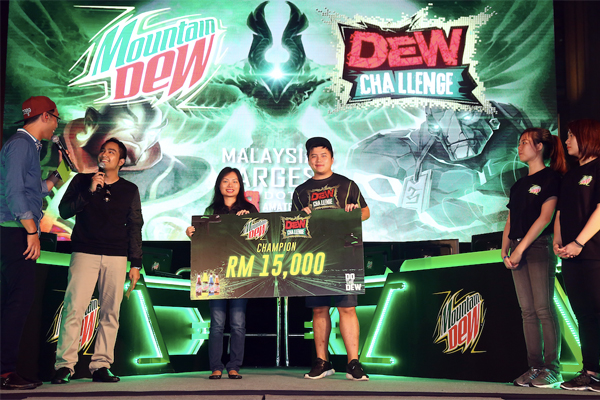 The winner of the mobile gaming challenge was also announced on the same day, with Gilbert Chee claiming victory after a hard fought battle. This was the first time this app was made available to the public, making it all the more impressive that Gilbert Chee managed to master the game especially in such a short time frame. The main goal of the mobile gaming challenge was to capture as many virtual Mountain Dew drones as possible.  
The response was incredibly overwhelming as more than 400 teams registered to compete. Despite the fact that only the first 224 teams who registered were selected, it did not deter many of the unselected teams as they flocked to the venue on game day in hopes that selected teams may have pulled out, availing an open slot for them.
All the winning teams from regional levels then competed at the group stage level which was held on 9 December 2016 in Kuala Lumpur. After which, the top eight teams battled it out at the finals on 10 and 11 December 2016 for a RM150,000 prize pool.
"We would like to congratulate Fantastic Gaming on their victory. DoTA 2 has been successful as can be seen by the number of entries we had. The level of passion has been pretty intense throughout the challenge and you can feel the energy that all these teams exude. We're pleased to be giving away  RM60,000 as the grand prize for the Champion of the tournament, RM30,000 for the 1st runner up, RM15,000 for the 2nd runner up,  and RM13,000 for the 3rd runner up. Those who placed 5th to 8th will walk away with RM3000," said Hemalatha Ragavan, Vice President of Marketing and Business Development of Etika Sdn Bhd (formerly known as Permanis Sandilands Sdn Bhd).
"All these finalists competed at the highest level and for Fantastic Gaming to come out on top is truly outstanding. DoTA 2 does not just require skill, but also patience, endurance, focus and strategy, all qualities that coincides with the spirit of the DEW which Fantastic Gaming has displayed throughout the competition," she added.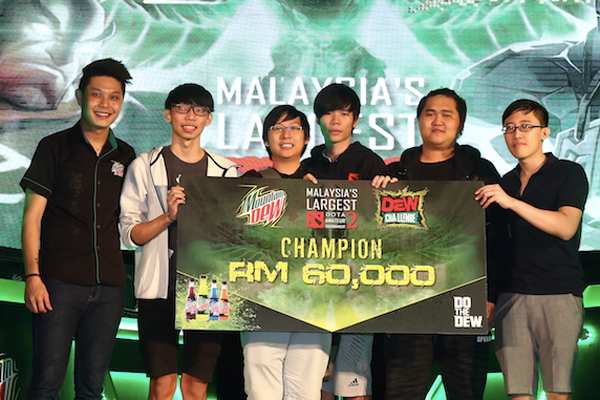 As for the mobile gaming challenge, more than 200 players participated and the top 10 scorers from each region were selected to battle it out at the final on 11 December 2016 for the RM50,000 prize money. Fun and interactive, the mobile gaming challenge is a challenge where each player is required to capture as many virtual Mountain Dew drones as possible within a set location and earn the highest points, but with a twist of others stealing points from the other participant.
"We would also like to congratulate Gilbert Chee on winning the mobile gaming challenge. For a game that is still so novel, to master it so soon shows commitment and passion. This victory is certainly well deserved," stated Hemalatha.
"We decided to develop the mobile gaming challenge because we understand that for many, while gaming may be a dream, many factors may prevent them from actually pursuing this dream. We also wanted to reach out to casual fans of gaming so they could have fun and partake in the growing e-sports industry, especially with RM50,000 up for grabs." said Hemalatha.
Mountain Dew has strategically latched on to the rise of the gaming scene in Malaysia which could potentially open up more opportunities for the winners. An excellent example of this scenario would be last year's winner of the Dew Challenge 2015, Yeik Nai Zheng or also known as MidOne.
MidOne was at the brink of giving up his DoTA 2 career but saw an opportunity through the Dew Challenge 2015 and formed a team with his friends to enter the tournament. After a successful battle amongst other teams within his region, Penang, his team qualified to the final round and won the tournament. The success from the Dew Challenge 2015 tournament landed him an offer from Fnatic to be part of the team and he was placed fourth at The International 2016 tournament.
"Mountain Dew has long been a brand that advocates gaming, and creating a platform for gamers to come together and compete is something that we take pride in as it does not just bring this community together to compete, but also fosters a sense of camaraderie among the players" said Hemalatha.
When asked about the secret to their success, team lead of team Fantastic Gaming said, "It's all about endurance and persistence. We are thankful to Mountain Dew for offering us a chance to test our skills and to prove to ourselves that all of our hardwork can pay off. We hope to keep this momentum going and will hopefully participate in more of such tournaments in the near future."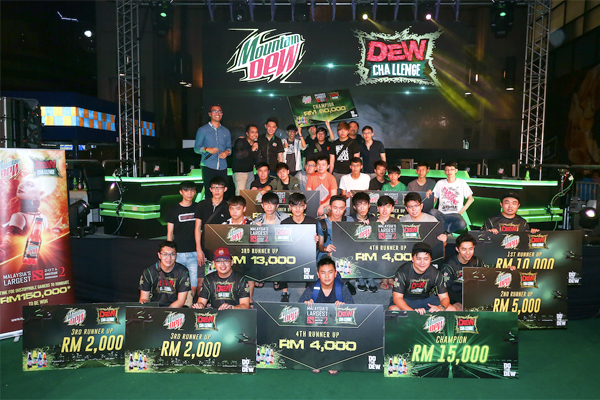 DoTA 2 and e-gaming in general requires intense training and endurance in order to win, hence all participants got to enjoy and boost their energy with their favourite Mountain Dew throughout the game. The participating teams often went through rigorous stages of practice and strategy meetings spanning more than 40 hours a week. The dedication and commitment that gamers have towards their skills is reflective of the Mountain Dew brand belief of pushing Malaysians beyond their limits. This is why Mountain Dew supports e-gamers as their efforts deserve the recognition.
"We are extremely pleased to have organized the Dew Challenge 2016 and congratulate all the winners. We would also like to congratulate to all the finalists for making it this far – it is truly spectacular. We hope that this helps to keep their passion alive and that it heightens their competitive spirit so they can work harder for the next round in 2017," concluded Hemalatha.
DoTA 2 fans can view the full list of results on Facebook page: www.facebook.com/MountainDewMalaysia.