Samsung engages Media Prima Television Networks to deepen Brand Engagement for Galaxy J7 Prime
Petaling Jaya (7 December 2016) — Samsung has entered into a significant collaboration with Media Prima Television Networks, Malaysia's largest media platform, as the Official Sponsor of '2016-2017 Park Bo Gum Asia Tour in Kuala Lumpur', the most anticipated Korean idol fan meet in town. This campaign aims to further promote the global brand's latest Galaxy J7 Prime range, and deliver high brand reach and engagement with young Malaysians.
Leveraging the network's capabilities and excitement surrounding the event, it extends a powerful integration of branded content and live experience across on-air, on-ground, online and social media platforms. The partnership is intended to help strengthen Samsung's engagement with urban Malaysians.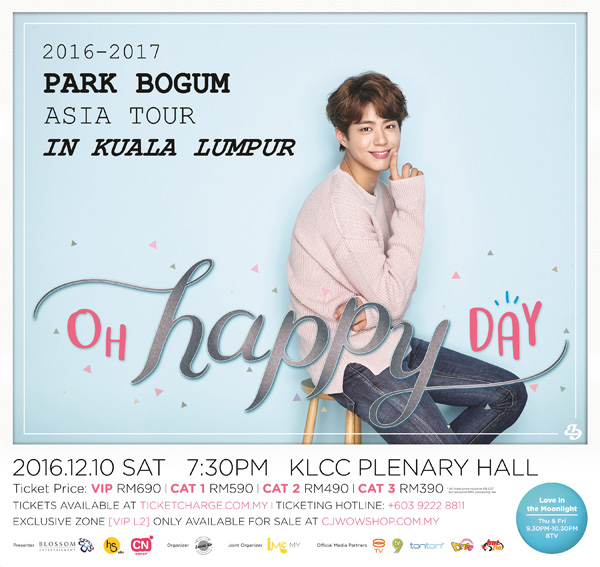 Nini Yusof, Group General Manager of Client Service Group, Media Prima Television Networks said, "More than just a conventional sponsorship, the collaboration with Samsung is established keeping in mind the evolving behavior of today's connected audience. While they are primarily on digital channels, urban Malaysians are still drawn to television and events for content that fits their interest."
"As the largest media network in Malaysia, we have the scale and ability to unite our platforms, bring audience together, and deliver an engaging experience that truly magnifies the impact for Samsung and our partners alike."
As the official media partner, Media Prima Television Networks is driving the publicity efforts to promote the '2016-2017 Park Bo Gum Asia Tour in Kuala Lumpur' across its leading urban channels, including 8tv, TV9, Tonton, OneFM and HotFM. While 8tv is airing the popular drama series that brought Park Bo Gum to fame, 'Love in the Moonlight', VIP tickets to the event are also made available on its immersive home shopping network, CJ WOW SHOP (www.cjwowshop.com.my).
The appearance of Samsung at the fan-meeting event and in all promotional materials is expected to extend Galaxy J7 Prime's reach across multiple platforms, including millions of Malaysians on 8tv and TV9, 3.3 million radio listeners and 5.8 million registered users on Tonton.
"The Galaxy J7 Prime is a true epitome of what is fun, young, hip and relevant to today's younger society. The way that entertaining and engaging content is delivered to the younger audiences has evolved over the years together with new technology and consumer trends. Hence, the Galaxy J7 Prime's latest venture with Media Prima for the Malaysian leg of Park Bo Gum's Asia tour hits just the right note for this campaign's target audience," said Elaine Soh, Chief Marketing Officer, Samsung Malaysia Electronics.
"We are more than excited to leverage our Korean foothold to bring South Korea's hottest stars such as Park Bo Gum to Malaysia for a fan meet, an initiative that will touch the hearts of many of his supporters. This appealing factor synergised with an innovative partnership will allow us to connect with Malaysians."
The '2016-2017 Park Bo Gum Asia Tour in Kuala Lumpur' will be held on Saturday, 10 December 2016, 7.30pm at KLCC Plenary Hall. The event is brought to Malaysian fans by Blossom Entertainment, HS E&C and CN Group, and jointly presented by IME Malaysia and Social Up, the latest platform for cool and happening events that bring people together on various interests. Photo Journalist
Gadgets, Photography, Automobile, Lifestyle
j7koreakpopmedia primanetworkpark bo gumprimeSamsungsmartphonetv