Ride the Arts with Grab!
Kuala Lumpur (15 December 2016) — Grab (formerly known as MyTeksi), Southeast Asia's leading ride-hailing app, has always taken much pride in being a homegrown brand. From a humble start-up to now being present in 34 cities across six countries, their passengers and drivers play a huge part in the company's success.
Therefore, to celebrate their drivers, and all things Malaysian, Grab with the support of Maple Comics is introducing a comic book, which is loosely inspired by some of the stories share by their drivers and highlights works of local artistic talent.
Aptly titled "Driving Malaysia", the book is a collection of nine stories from their drivers and illustrated by some of Malaysia's up-and-coming cartoonists such as Azwanjjai, Michelle Lee, Max Loh and Pokcik Fingernailz.
"Every Grab driver has a story to tell and it is easy for us to sometimes take them for granted. So this book pays homage to the hundreds of thousands of Grab drivers, not just in Malaysia but also in other countries for their tireless service in outserving our Grab passengers. In addition, this is also our opportunity to showcase Malaysian creativity as well as share the stories of our drivers. The stories are selected based on what we felt represented our Malaysian culture and some of the ups and downs of our drivers' experiences that really stood out to us," said Jaygan Fu, Country Manager of Grab Malaysia.
Fu also went on to add that the book is the first step for Grab's long term commitment through their "Ride the Arts" Programme to promote local art by being a conduit for local artists to share their work with the public.

'Ride the Arts' in a ComiCar
In conjunction with the launch of the book, Grab is kicking off the 'Ride the Arts' campaign which will begin from 15 to 18 December 2016. Throughout the campaign period, Grab is introducing four specially wrapped ComiCar which is based on some of the drawings in Driving Malaysia for passengers to ride in. As part of the thrill, the first 200 passengers lucky enough to ride in the Grab ComiCar when they book a GrabCar via the Grab app will receive a free copy of Driving Malaysia!
In addition to that, Grab is also giving away 500 copies of the comic book at Comic Fiesta 2016 which is taking place in PWTC from 17 to 18 December.
To get your hands on the book, just follow these steps:
Step 1: Just book a Grab ride (taxi or GrabCar, paid via cash or card)
Step 2: Visit the Grab Booth
Step 3: Present your ride details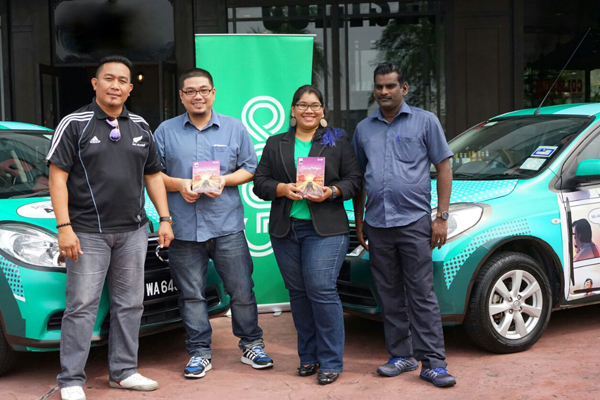 As part of the fanfare at the Comic Fiesta, Grab will also have a car onsite which will be decorated by drawings by some of the Driving Malaysia comic artists.
Moving forward, Driving Malaysia will be available for RM20 in selected bookshops like Kinokuniya, MPH, Times, Borders, Silverfish Books, Kedai Fixi, Kedai Lejen, Kedai Buku 1Malaysia as well as on the Maple Comics website at www.maplecomics.com.my.
For more information about the 'Ride The Art' campaign and the book, Driving Malaysia, please log onto grb.to/ridetheart. Photo Journalist
Gadgets, Photography, Automobile, Lifestyle