Mirrorless Photography brought to New Heights with Top-of-the-range EOS M5
Selangor (8 December 2016) — A new era of firsts are in store for fans of mirrorless photography with Canon's latest addition to the EOS M mirrorless interchangeable lens camera line-up. A premium flagship model, the new Canon EOS M5 was announced today by Canon Marketing (Malaysia) Sdn Bhd, together with the new EF-M high-zoom kit lens, the EF-M18-150mm f/3.5-6.3 IS STM that further widens the spectrum of imaging possibilities.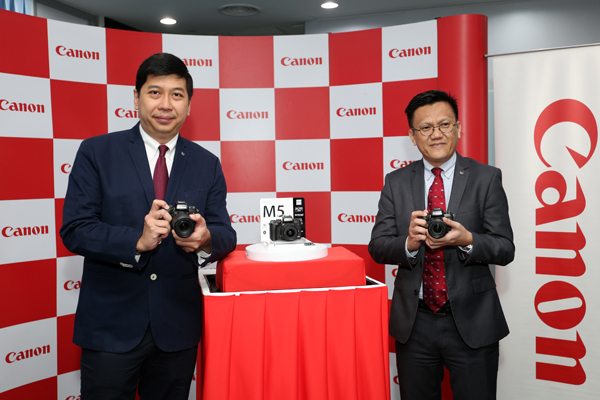 "As a global leader in photographic and digital imaging solutions, Canon is the only camera producer who manufactures all three main components of a camera – the image processor, image sensor and lens. The new Canon EOS M5 is the result of our efforts to raise the bar for mirrorless photography. The EOS M5 offers the best of both worlds for photographers who crave the performance and experience of a DSLR within a compact-sized body," said Mr Andrew Koh, President and Chief Executive Officer of Canon Marketing (Malaysia) Sdn Bhd.
Mr Jeffrey Kung, Assistant Director of Consumer Imaging and Information Division, Canon Marketing (Malaysia) Sdn Bhd, added, "The EOS M5 is feature packed with numerous firsts in its line with enhanced creative control and heightened performance. Key technologies include Dual Pixel CMOS AF technology drawn from the EOS DSLR range, the cutting-edge DIGIC 7 image processor, a high-resolution electronic viewfinder and also in-camera RAW conversion. Overall, the EOS M5 certainly proves itself a worthy companion for events, travels and hobbies."
Outstanding EOS Performance and Delivery
With a 24.2 megapixel APS-C CMOS sensor at its core, the EOS M5 incorporates for the first time on the EOS M range, Canon's Dual Pixel CMOS AF system; a revolutionary technology that enables the camera to achieve the fastest AF performance in the model range to date. The EOS M5 also has approximately 24.2 million phase-difference sensors in place, making phase-difference AF possible over almost the entire view area. This gives photographers the flexibility in framing unique compositions across a variety of scenes.
In another first, the EOS M5's AF is also enhanced with predictive AF technology that enables high precision tracking of the subject's movement within the camera's depth of direction. The predictive AF automatically adjusts itself to the subject's movement and speed, delivering highly focused images even as the subject moves closer or further away from the camera.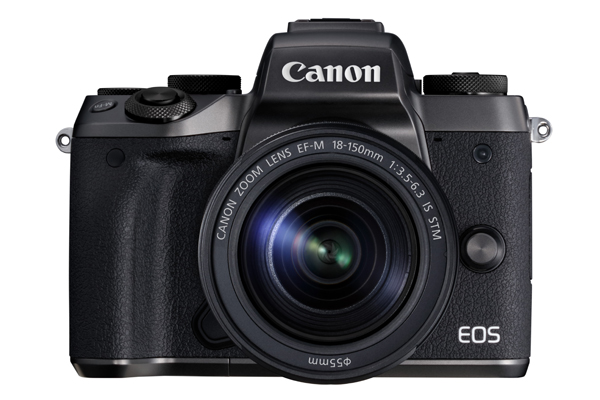 Complementing the model's advanced AF feature is the new DIGIC 7 image processor which makes the EOS M5's tracking capabilities even more dynamic. Photographers are now able to track several people or animals simultaneously within the frame while the added support of a smaller AF frame size enables greater precision control over the finer details. High-speed action can also be perfectly captured with the continuous AF shooting speed of 7 fps and 9 fps if focus is locked.
The image correction properties on the DIGIC 7 also make shooting bright landscape scenes more enjoyable. Its diffraction correction capabilities minimise the loss of fine details even when shooting with a small aperture, allowing the EOS M5 to deliver high image clarity with optimal levels of brightness and contrast.
Another new feature to the EOS M line-up is the EOS M5's Panning function, giving users greater creative freedom and fun in shooting fast-moving objects such as cars or trains while panning. Subjects are kept in sharp focus in front of a motion-blurred background to emphasise the expression of speed.
DSLR Feel with EVF Shooting
Giving users a taste of the intimate engagement of using a DSLR camera, the EOS M5 comes with a built-in electronic viewfinder (EVF) with a high-resolution OLED of approximately 2.36 million dots. This allows for an extremely accurate representation of the view in front of the user. It is now possible to shoot with exactly the intended composition. Going a step further, the EVF is also designed with an eye point of approximately 22 mm to ensure optimal comfort and ergonomics for the user, even those wearing glasses.
Meanwhile, users can take full advantage of the four highly accessible operating control dials whilst using the EVF function to adjust the mode, exposure compensation, aperture and shutter speed, among others. A new quick control dial with a dial function enables users to swiftly cycle through several functions such as white balance, ISO speed and AF mode. The settings of the currently selected functions will be adjusted accordingly by the dial itself.
The EOS M5 is also equipped with a 3.2″ high resolution LCD with touchscreen functions. With a tilt range between 85 degrees upwards and 180 degrees downwards, users have the freedom to shoot from various angles and it's perfect for selfies.
A New Level in Performance for Movies
When it comes to movie shooting, the EOS M5 effectively combines IS lens support with in-camera digital image stabilisation to dramatically reduce image shake and camera movement, even when shooting from unstable positions or while walking.  With the DIGIC 7, image stabilisation is also achievable when using lenses without IS support, thanks to the EOS M5's in-built digital IS.
The EOS M5 is now also able to record videos at Full HD 60p, which is double the frame rate of its predecessors, allowing for much smoother videos.
Improved Workflow for Those on the Go
In yet another first, in-camera RAW conversion is possible on the EOS M5. Users looking to shorten their workflow are able to adjust their RAW images, singularly or in batches, immediately after shooting without the need for a computer. Before and after shots can be compared directly on screen, enabling accurate edits and adjustments on the spot.
Also newly included is the Bluetooth low energy technology that allows constant connection to a device with low power consumption. Smartphones can easily be used as a remote control to switch between shooting and playback mode.
The EOS M5 also supports Wi-Fi and NFC technology, conveniently connecting smartphones, tablets and computers via the Canon Image Gateway. Once connected, users can easily transfer images and videos between devices or upload them onto social media platforms and cloud storages. This connectivity feature opens up numerous opportunities for creative remote shooting, particularly when taking group pictures or shooting from unusual angles. Combined with the Canon Camera Connect app for smart devices, users can also have real-time control over the EOS M5 settings to adjust shutter speed, focus selection, and self-timer among others, as well as the option to geotag the images.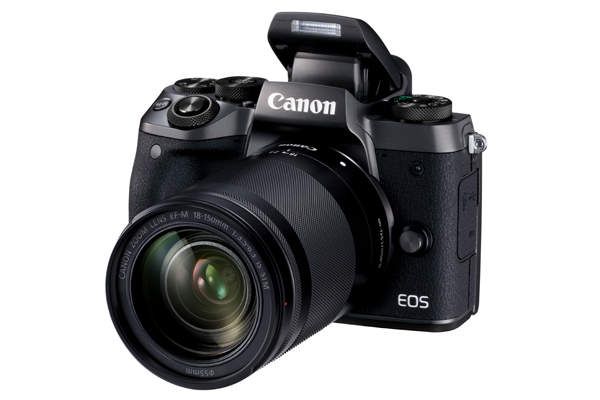 Broadening Image Expression
Complementing EOS M5's outstanding capabilities is the EF-M18-150mm f/3.5-6.3 IS STM high zoom lens. Weighing at just approximately 300g, the EF-M18-150mm f/3.5-6.3 IS STM is compact and stylish, offering users quick and nimble photography with high portability.
A versatile option for shooting wide-angle landscapes to telephoto shots of distant subjects, the EF-M18-150mm f/3.5-6.3 IS STM has a high zoom ratio of approximately 8.3x, and delivers high quality imaging across a broad focal length due to an optimal placement of aspherical lenses. Meanwhile, its maximum magnification capability of up to 0.31x allows every detail of the subject to be captured.
The EF-M18-150mm f/3.5-6.3 IS STM also supports the EOS M5's new Combination IS and Panning functions. It detects the subject's movement from the image information, and controls camera and subject shake with IS for optimal background flow when panning.
Depending on the camera body colour, the EF-M18-150mm f/3.5-6.3 IS STM is available in graphite or silver for an eye-pleasing match.
Canon-Lazada Partnership for Online Sales
Canon Marketing (Malaysia) Sdn Bhd also announced its Store-in-Store partnership with Lazada, as part of their strategy to expand reach to target markets via the Internet. The partnership is forged in view of the increasing popularity in online shopping, thus creating more channels for users to purchase Canon products.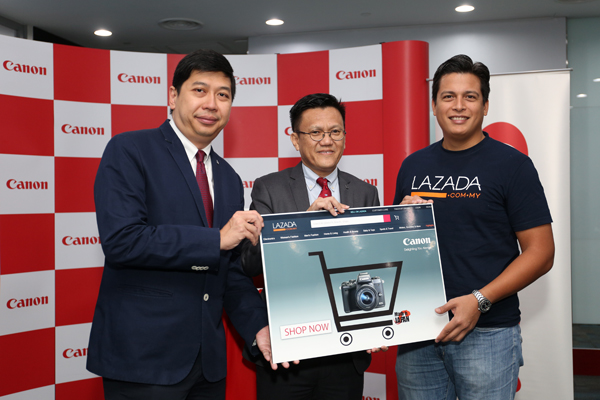 "We are excited about this partnership with Lazada as it opens up opportunities for Canon to reach out to the online community and strengthens our brand's online presence," said Andrew Koh, President and Chief Executive Officer of Canon Marketing (Malaysia) Sdn Bhd.
"As the industry leader in eCommerce, Lazada Malaysia have observed a shift in consumers' online shopping behaviour, transforming from deal-hunters to brand-savvy consumers. The launch of Canon's official online store via Lazada Malaysia will certainly meet the evolving needs of Malaysian consumers, a testament to Canon's commitment in offering a seamless online shopping experience for all. We look forward to collaborating with Canon in the upcoming months especially as we gear towards the finale of our Online Revolution Campaign, happening from 12th-14th December 2016," added Hans-Peter Ressel, Chief Executive Officer, Lazada Malaysia.
The Canon EOS M5 and EF-M18-150mm f/3.5-6.3 IS STM high zoom lens will be available at Canon Image Square stores and EOS Boutique outlets, Canon Authorised Dealers and in its official store on Lazada. In conjunction with the launch, Canon is offering a pre-order offer valid from now till 12th December 2016. Gifts include a 16GB SD card, EM-E2 neck strap, messenger bag, EF-EOS M mount adaptor (without the tripod collar).
Furthermore, to commemorate Canon's official online store on Lazada, a special promotion will be held from 8th December 2016 to 7th January 2017. Lazada shoppers who purchase any of the three SKUs related to the new Canon EOS M5 will receive 2x rewards on Air Asia BIG Points. This offer is valid for the first 50 customers throughout the promotion period.

*Note:
1. Pre-order gifts are applicable for pre-orders across Canon Image Square stores and EOS Boutique outlets from 1st December to 12th
2. Pre-order gifts are applicable for pre-orders placed on Lazada online store from 8th December to 12th
3 .Pre-orders are available at all Canon dealers after the 12th of December (without pre-order gifts)
Camera Specification: EOS M5