Lexmark launches Executive Briefing Center with Digital Paper Solutions, showcasing the next generation printing solutions
Kuala Lumpur (7 December 2016) — Lexmark Malaysia, together with Digital Paper Solutions, held a launching ceremony for the opening of the state-of-the-art Lexmark Executive Briefing Center at Shah Alam today. The centre is equipped with the newest and most innovative technologically advanced array of printers designed to provide customers and channel partners with an amazing interactive experience. One of the flagship printers showcased today include the latest CX825 series that boasts the fastest letter /A4 format MFP in its class*.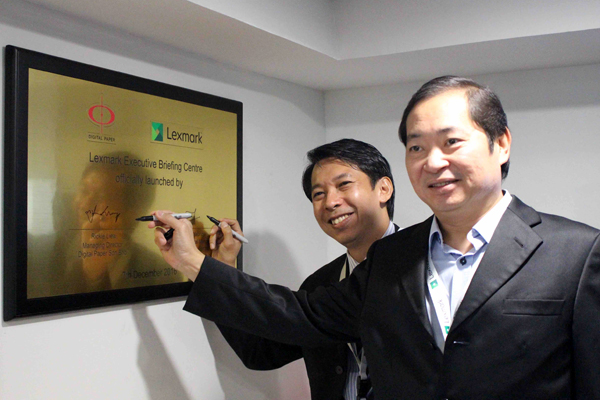 Mr. Andrew Yeong, General Manager Asia Pacific Central for Lexmark said, "This center will be the showcase and setting in which to explore the latest trends and business opportunities of our products. We have introduced these smart devices to bring even more ease of use to our customers and serve as the gateway to access Lexmark's powerful platform of pre-loaded and customisable solutions that optimise business workflow."
Features of Lexmark Executive Briefing Center (EBC) are as follow:
Product Test Drive
Customer Demos & Solution POC
Joint Customers Experience / Solution Workshop
ISV Solution Testbed
Use Case Studies
Industry Tracks / Trends
Training Facilities
Business & Technology update / Webcast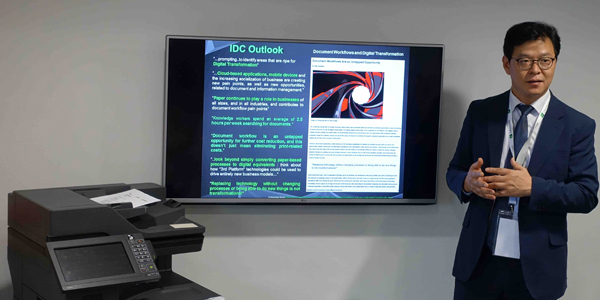 "Over the last 15-years Digital Paper has established itself with Lexmark as a value added distributor for Malaysia region. With the opening of EBC, we aim to further provide yet another world class Lexmark experience to our customers," said Rickie Liew, Managing Director of Digital Paper Solutions. "By leveraging on Digital Paper's network and support infrastructure we can ensure delivery of high quality Managed Print Services solutions to all our customers nationwide," added Liew.
At the event, Lexmark Malaysia has introduced an array of award-winning multifunction, smart products including the newly released software portfolio to the audience. Yeong said, "There is a 13% drop in the use of PCs with a significant increase in the use of smart devices, which means a new Bring Your Own Device (BYOD) generation of employees is entering the job market." The corporate office environment will have to change. "This year, we have found that 29% of office staff wants some form of BYOD printing solutions. By 2020, this will increase to almost 50% which means that businesses will have to be prepared for digitalization in printing," Mr. Yeong further explained.
In line with the new tagline "Open the Possibilities with Lexmark", its newly released software portfolio, including the AccuRead Automate, Solution Composer, Fleet Manager, and Google Cloud Print, are designed and developed to compliment the Lexmark SMART Multifunction (MFP) series, enabling businesses to do more. The software portfolio covers a range of operational aspects in digitizing paper from capturing data, archiving documents, retrieving documents, designing document work flows, support mobile printing through Google, printer fleet tracking, user tracking and secure printing using NFC / HID technologies.
"With Lexmark's full product range, we will focus on both commercial & government businesses. We will also be expanding nationwide, aggressively," said Keith Leong, Country Manager of Lexmark Malaysia.
Lexmark EBCs are strategically located is over eight major cities across the Asia Pacific region offering seamless solutions for the use of businesses in industries like banking and financials, telecommunications, retail, manufacturing and others.
For more information, visit www.Lexmark.com. Photo Journalist
Gadgets, Photography, Automobile, Lifestyle