Happyfresh – Tesco Malaysia announces Online Partnership
Kuala Lumpur (14 December 2016) — HappyFresh, the first and fastest-growing online grocery platform in Southeast Asia, and Tesco Malaysia, the country's leading hypermarket  officially announced its latest partnership, expanding their on-demand online grocery delivery services as quick as within an hour to more time-starved consumers across Klang Valley.
The partnership with HappyFresh which has been on trial across five stores over the past six months has provided customers a grocery shopping alternative through Tesco Malaysia's wide selection and value-for-money products including fresh groceries, frozen goods and general merchandise.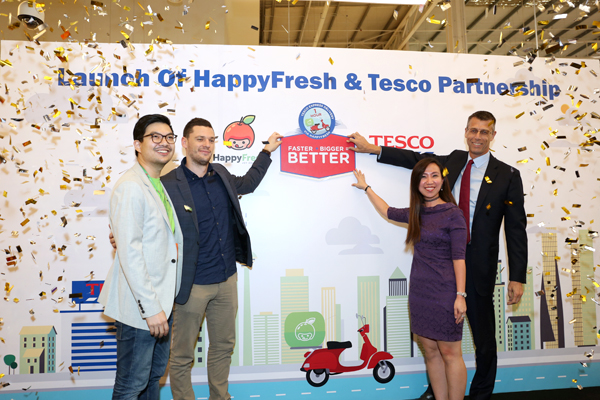 Online shoppers who are constantly pressed for time to juggle between work and family can further reap the benefits as they can now shop on-the-go with HappyFresh with just a few clicks and receive the goods based on their preferred delivery time slots or locations. The partnership also enables them to select more than 12,000 lines of products ranging from food to non-food items carried by their nearest Tesco Malaysia hypermarkets including some of Tesco's own brand products.
"The partnership with Tesco Malaysia enables HappyFresh to be one step closer to achieving the mission of delighting more customers with its technology to make better food choices by supporting them with our flawless one-hour delivery service. With technology revolutionising the world, we are positive that our partnership with Tesco Malaysia will support our core vision of offering simple, fuss-free and trustable solutions to ease the lives of urban professionals, which they can utilise our platform to have their favourite and freshest goods from this hypermarket deliver to them whenever they need it, while they focus on other daily aspects in their lives," shared Opal Wu, Managing Director of HappyFresh Malaysia.
Malaysia is geared up to ride the digital economy wave and the local e-commerce market size has seen a tremendous increase of 31% in compound annual growth rate for the past few years. Not only the business-to-consumer e-commerce market is expected to grow to US$3.4 billion (RM 15.13 billion) by 2020. Leveraging on these insights, there are plentiful opportunities for HappyFresh and Tesco Malaysia to help the online grocery shopping industry grow in the next few years to drive more convenience in life, especially to those who purchase groceries regularly, yet, constantly have time constraints.
Speaking at the event, Chief Executive Officer of Tesco Malaysia, Paul Ritchie said, "As Malaysia's leading hypermarket, we make every effort to delight all our customers, in-store as well as online. We thrive on our customers' feedback to make their shopping simpler, better and faster. By expanding our multi-channel reach through HappyFresh, we can make our customers' online and on-demand shopping experience even more seamless and enjoyable."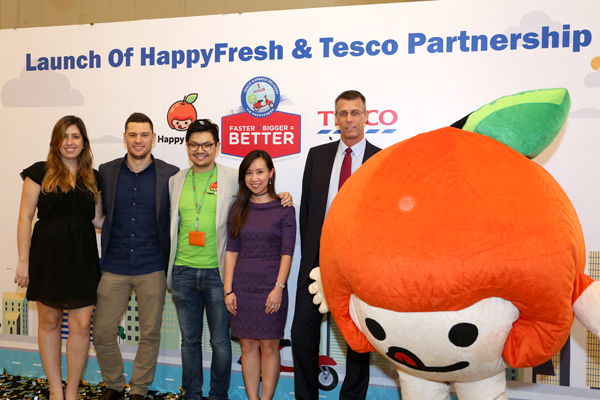 Since the partnership with Tesco Malaysia, there are more than 2,500 users who have their orders from the hypermarket delivered through HappyFresh. Users who order their groceries through the app not only gets it delivered within the next hour at its freshest state from their preferred supermarkets, they are also professionally hand-picked by HappyFresh's well-trained personal shoppers to ensure that its users will receive the highest quality of grocery products ranging from dried goods, frozen items to daily household products.
Start saving time and enjoy doing the things you love as you leave the groceries to HappyFresh through the official website or the mobile app by downloading it via Google Play Store and Apple App Store.
collaborationgroceryhappyfreshonlinepartnershipshoppingtesco