Meet FDR-X3000R & HDR-AS300R;  The New BOSSes of the Action Cam World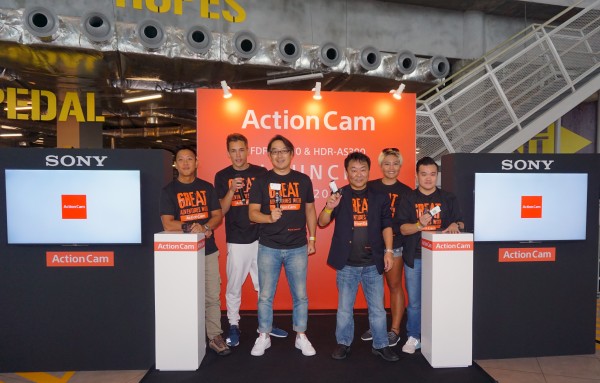 Make videos of your life that you're proud to save and share
– FDR-X3000R 4K  and HDR-AS300R Full HD Action Cam with Balanced Optical SteadyShot™ (B.O.SS) image stabilisation, even in 4K and high speed recording modes
– Intuitive operation, full control of shooting and on/off power settings with new Live-View Remote  in wearable and mountable design
– Waterproof up to 60m with supplied Underwater Housing (MPK-UWH1)
– Ability to capture series of high-quality still images for 4K time–lapse movie
– New 1/2.5 type 8.2-megapixel  Exmor R™ CMOS sensor designed for video with 16:9 aspect ratio and BIONZ X™ processor enabling full pixel readout without pixel binning
– New ZEISS® wide-angle lens with more natural image reproduction and significantly reduced          distortion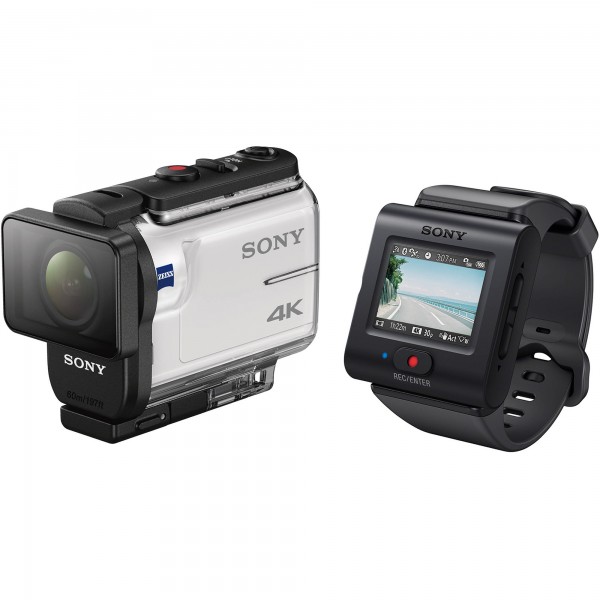 Sony launched a new 4K Action Cam and Full HD Action Cam that bring together all of Sony's imaging expertise to deliver a great video experience. It will capture movies that users will be proud to share, save and keep to show future generations. The new 4K FDR-X3000R   and full HD HDR-AS300R Action Cams contain a wealth of technologies that have never been seen in POV cameras. This includes Sony's patented B.O.SS technology which has been rolled out across Sony's premium Handycam® range and for the first time has been adapted for use in the Action Cam.\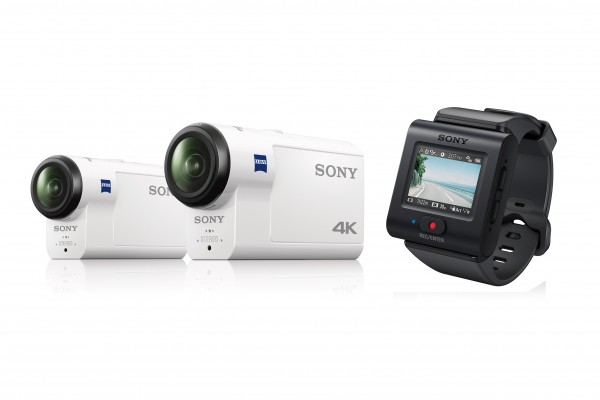 Designed with the changing real world usage model in mind, the addition of B.O.SS into the new Action Cam models means that the user doesn't have to worry about a jerky or jumpy video; they can focus on the activity they are participating in. The FDR-X3000R and HDR-AS300R may be mounted on a bicycle or car dashboard, or even be held in the hand using a chosen accessory, and it will always deliver noticeably more effective image stabilisation  compared to current models . This image stabilisation even compensates for strong camera shake and is available in 4K  and high speed recording modes.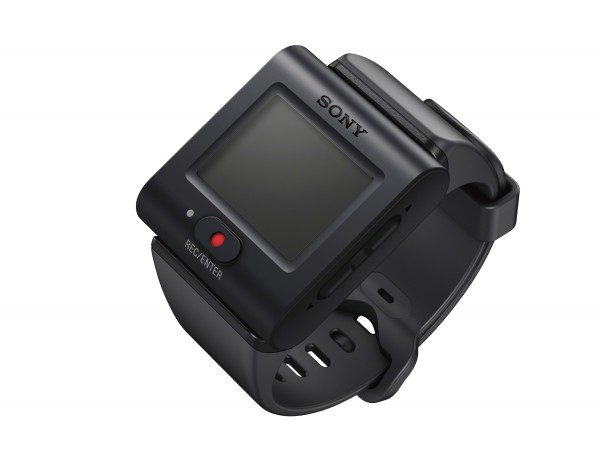 RM-LVR3 Live-View Remote
The new models come supplied with Sony's latest Live-View Remote2 which is approximately 30 per cent smaller than its predecessor , and can be attached to mount accessories such as the optional Handlebar Mount (VCT-HM2) using the supplied mount adaptor. This may also be worn like a wristband or attached to various optional accessories such as Shooting Grip (VCT-STG1) or the new Finger Grip (AKA-FGP1), with the key advantage being the ability to control shooting settings including power on/off and start/stop recording, without having to touch the camera at all. Users can also control the camera with their smartphones and tablets  with the free PlayMemories Mobile™ app. The new camera and Live-View Remote all feature a similar user interface and menu system, with a rich indication of camera settings that makes it easier to navigate menus and customise settings when needed.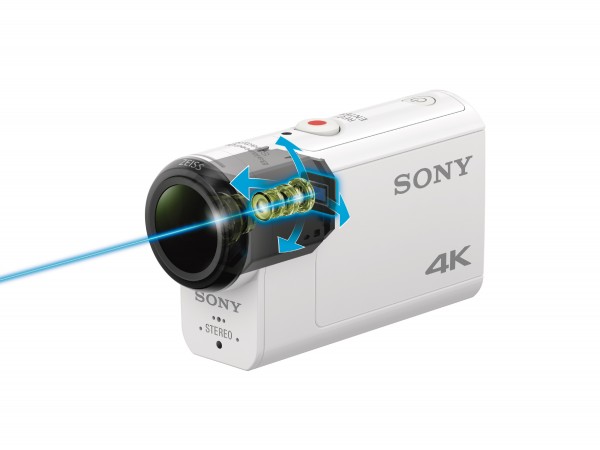 In addition to being able to shoot beautifully balanced 4K video on the FDR-X3000R, both the FDR-X3000R and HDR-AS300R offer the option to capture approx. 8.3-megapixel  interval recording shots for stunning 4K time-lapse videos3. Simply edit your videos using the free Action Cam Movie Creator PC software  and share with whoever you want . The Action Cam App can also create time-lapse movies in Full HD . Be warned though, these results are likely to cause jealousy amongst your friends.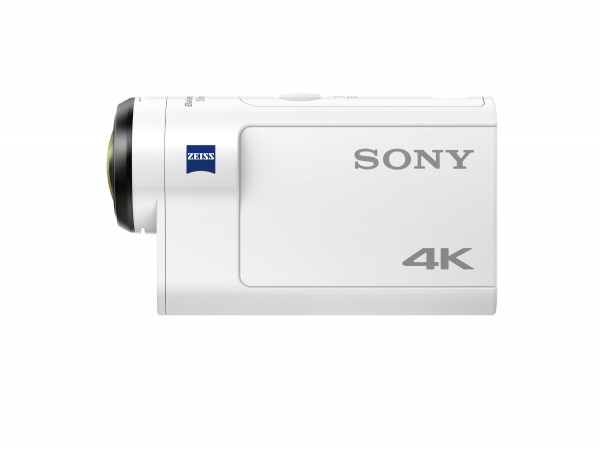 The marriage of ease of use and beautiful results has been enabled by a number of different Sony technological wonders which are hidden beneath the Action Cam casing. Both the new Action Cam models are powered by the same BIONZ X™ processor which can be found inside Sony's flagship ɑ7 cameras, and optimised for use in Action Cam. Light is captured via an Exmor R CMOS sensor and the new ZEISS® Lens delivers a more natural image with significantly less distortion than current models.7 The combination of image sensor and processor enables full pixel readout without pixel binning for truer colours and reduced 'jaggie' effects. You can capture high-bitrate recordings in 4K at 100Mbps and Full HD at 50Mbps in the XAVC S™ format . The FDR-X3000R can also shoot 120p in Full HD while the HDR-AS300R can shoot 120p in HD for impressive slow-motion footage. The stereo mic further ensures that sound is crisp and clear as a result of Wind Noise Reduction so you can actually record the audio that you want .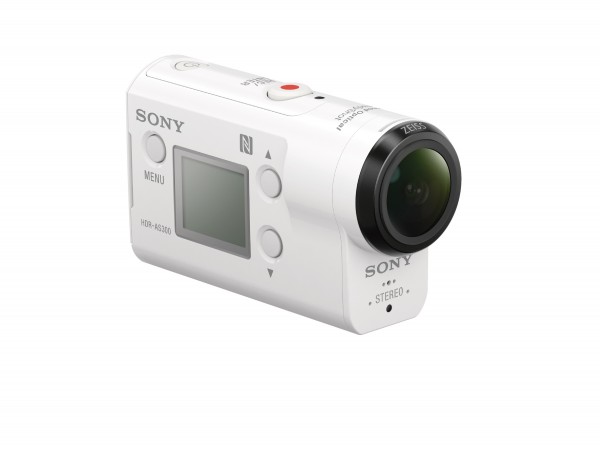 Features that have proved to be very popular on the existing Action Cam models have been retained in the new models. This includes angle adjustment of "wide", "medium" and "narrow"  and smooth zooming (up to 3x), the latter being changeable during recording. It also offers Loop Recording, high speed recording in Full HD at 100p  for stunning slow motion action , Live Streaming via the Ustream platform , Burst Shooting, and the ability to manually adjust white balance and auto exposure shift.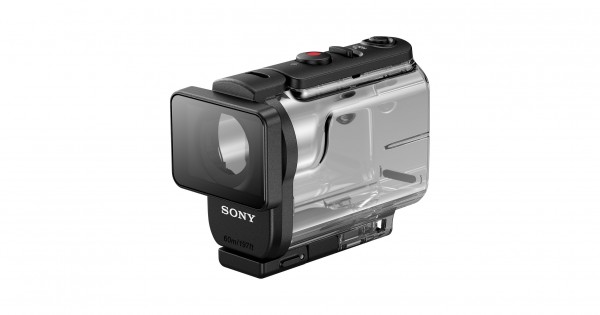 The FDR-X3000R and HDR-AS300R benefit from a splash-proof body and is supplied with a fully waterproof Underwater Housing (MPK-UWH1) that is effective down to 60 metres. It also offers an in-built tripod socket, giving the flexibility to attach to a variety of accessories without needing an adaptor or housing and all terminals have been placed on the back of the of camera, making it easier to use HDMI, the Micro USB or the microphone jack even when attaching the camera to various Action Cam accessories.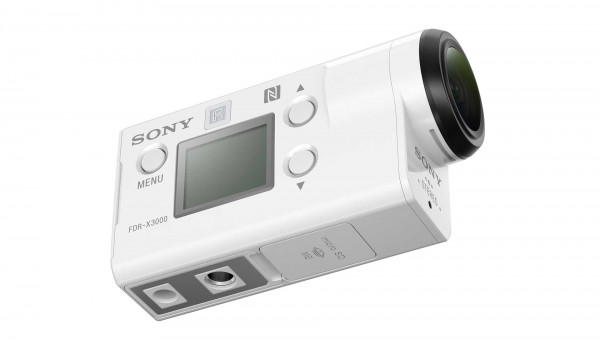 Sony's own in-built movie creator, Highlight Movie Maker  automatically selects points of footage, action scenes, and now people's faces, to create a short movie, complete with background music. GPS data overlay on video reads your speed data and location information recorded by built-in GPS and generates another video file that displays your route and speed information so that you can archive your adventures with complete accuracy .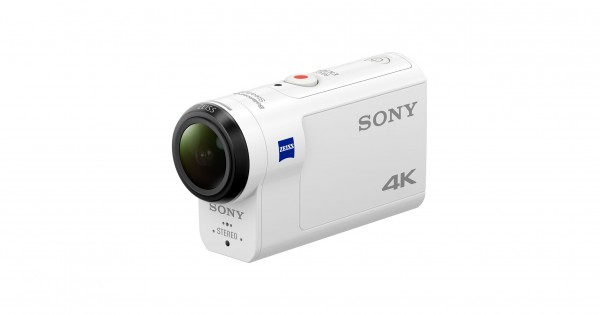 The growing range of Action Cam accessories is boosted further by two new introductions that are ideal compliments to the new Action Cam models. The AKA-FGP1 Finger Grip allows for easy one-handed monitoring and operation of the Action Cam with Live-View Remote, and tilts up to approximately 120 degrees for interesting low and high angle shots. The AKA-MCP1 MC Protector adds an extra layer of protection for the Action Cam lens, protecting it from dirt, dust and scratches when being used without the underwater housing. It has an advanced AR coating for great image quality and is even water and oil repellent.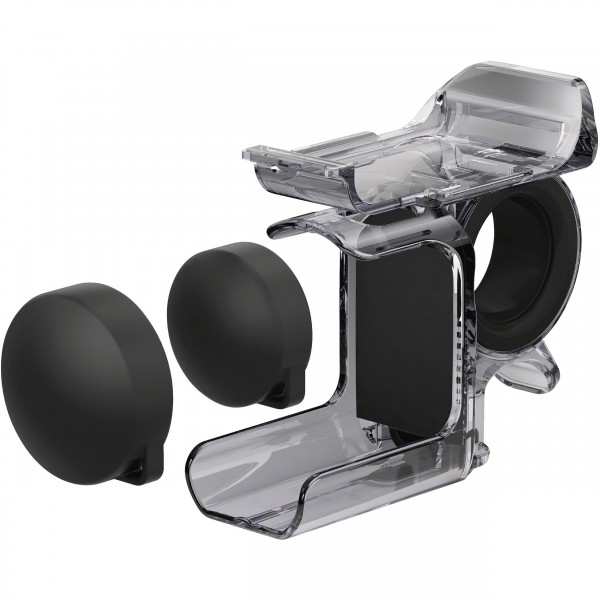 The new FDR-X3000R, HDR-AS300R, AKA-FGP1, and AKA-MCP1 will be available in all Sony Stores, authorised Sony Centres and selected dealers throughout Malaysia from October 2016 onwards.