Cyberjaya Smart City Development accelerated with Cashless Society Push
Barcelona (15 November 2016) — Cyberjaya has today strengthened its offerings as a Smart City with the formalisation of a Memorandum of Understanding (MoU) between Cyberview Sdn Bhd, Malaysian Global Innovation & Creativity Centre (MaGIC), and Mastercard. Presented at the Smart City Expo World Congress in Barcelona and witnessed by Tan Sri Dr. Mohd Irwan Serigar Abdullah, Secretary General of Treasury, Ministry of Finance (MOF), Malaysia, the MoU outlines a fleet of initiatives that will be collaboratively rolled out by its signatories as Cyberjaya looks towards going cashless in line with the Malaysian government's push to reduce cash transactions.
Some of these initiatives outlined include integrating Mastercard's digital payments service Masterpass to make everyday transactions for consumers faster, simpler and more secure as well as providing city authorities and urban planners actionable data-driven insights into the retail industry and to better inform their marketing campaigns for visitors. These activities are set to fall in line with the government's Economic Transformation Programme and Bank Negara Malaysia's (BNM) vision to transform Malaysia into a cashless society.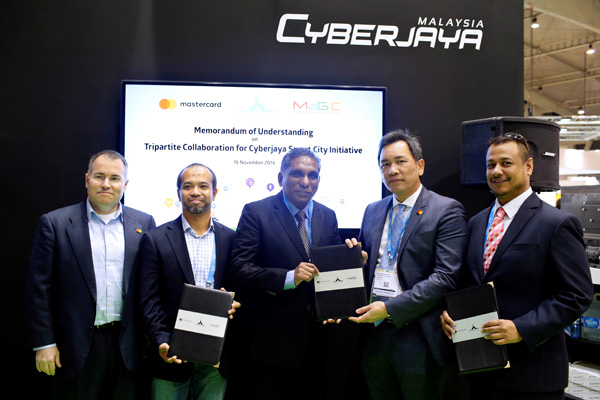 This MoU adds onto a series of milestones achieved by Cyberjaya in its continued evolution as a Smart City including the deployment of a city-wide long range (LoRa) network that will strengthen its offerings as a Living Lab for the Internet of Things as well as the establishment of its City Innovation Council (CIC); a collaborative platform comprising Cyberview, its partners and stakeholders aimed at providing endorsement, assistance and guidance to start-ups and SMEs seeking to test out prototypes and concepts that could be of value to the city.
"Cyberview has spearheaded the continued development of the city under its Smart City and Living Lab initiatives – development pillars designed to increase its operational efficiency, improve the quality of life for the people of Cyberjaya and contribute to growing the local economy. We continue to do this by incorporating technology into every facet of the township through collaboration with our many partners, and this is eminent from our push in transforming Cyberjaya into a cashless city by working hand in hand with MaGIC and Mastercard. The reason why we're doing this is because we understand that payments are the heart of a city's economic activity – forming the core of every economic flow including salaries, consumer spending, business procurement, and taxes," said Dato' Faris Yahaya, Managing Director of Cyberview Sdn Bhd. "By embedding digital payments into our core infrastructure and harnessing the data that electronic payments generate, cities can deliver on their promise to create smarter, more welcoming spaces, and empower their citizens to lead greater, more rewarding lives. We will continue to collaboratively work with our numerous ecosystem partners, including MaGiC and Mastercard to enhance the liveability of the city and provide the people of Cyberjaya with everything they will need to improve their lives."
Ashran Dato' Ghazi, the CEO of MaGIC elaborates that "MaGIC will support the Cyberview Smart City initiative in a collaboration with both Cyberview and Mastercard. Through the Corporate Entrepreneurship Responsibility (CER) platform, MaGIC will play a key role to facilitate the partnership between players in the corporate sector like Mastercard and local entrepreneurs to design and build smart city infrastructure, services and solutions in Cyberjaya."
Perry Ong, Country Manager for Malaysia and Brunei, Mastercard, said "Through the Economic Transformation Program, an electronic payments agenda is embedded through a structural reform known as the Payment Card Reform framework where the payment industry is working together in efforts  to broaden market access and to dampen cash transactions. It is imperative that we recognise the great control, transparency and efficiency electronic payments offers to society. Therefore, Mastercard is pivotal in this collaboration by bringing its global expertise and innovation strengths to its member banks and merchant partners."
In relation to the Smart City collaboration, Perry added that Mastercard will be providing the horizontal payment construct across all the vertical clusters including urban mobility, lifestyle, finance, health, supply chain and education among others. This is to ensure an integrated payment ecosystem for an enhanced commerce experience with digital solutions such as Masterpass which enables Malaysians to enjoy simpler, safer and smarter digital payments across any device and channel anywhere – be it online, in app and in-store with contactless.
AllianceDBS Research Sdn Bhd (AllianceDBS Research) in a report earlier this year projected that the 'cashless' system in Malaysia will grow by 15 per cent, five-year compounded annual growth rate (CAGR), as Bank Negara Malaysia (BNM) pushes for reform in the country's payment system.