Canon and KDU organise Nature-themed Photography Competition for Students
Shah Alam (26 November 2016) — Seek & Snap: Chasing Nature, an inaugural photography competition jointly presented by Canon Marketing (Malaysia) Sdn Bhd and KDU University College attracted over 650 participating students from high schools, colleges and universities nationwide. Participants, comprised of students aged 14 and above, raced around the sprawling grounds and parks at Taman Botani Negara Shah Alam, pitting their photography skills in a bid to win exciting Canon prizes worth over RM16,000!
The competition is aimed at cultivating photography as a healthy hobby among students, while giving them the opportunity to explore nature at a renowned tourist spot in Selangor. The event was also supported by the Ministry of Tourism and Culture and Tourism Malaysia Selangor, in line with the Government's focus on promoting domestic tourism and eco-tourism.
Participants were challenged to capture photographs as the answer for two riddles released throughout the day. In the first stage, participants were given the challenge to capture a photograph for the riddle, "What is the colour of envy?" (Answer: Green) within a given time frame. In the second stage, they were required to snap a photograph to answer the riddle, "What can run but cannot walk?" (Answer: Water).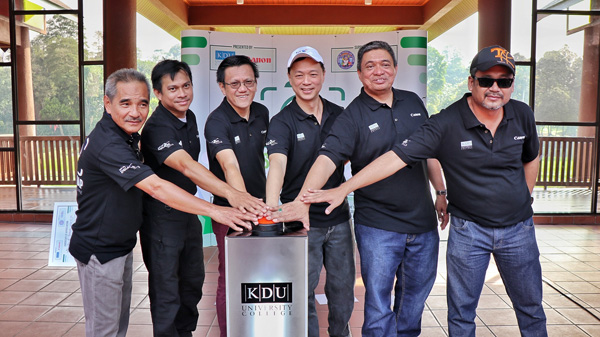 "Canon Marketing Malaysia is proud to jointly present this competition together with KDU University College and their undergraduates as a result of our 'Academic Initiative Partnership' collaboration. With the same format as our popular Canon PhotoMarathon which Canon has organised for 10 years running, Seek & Snap: Chasing Nature was specially crafted for students to encourage them to have fun with photography while exploring nature at the same time. The added twist to the competition was the riddles given which they need to figure out the answer to. This competition is one of the ways where we educate our users on the differences in capturing quality images using cameras compared to other imaging devices," said Mr. Andrew Koh, President & CEO of Canon Marketing Malaysia.
"As an institution of higher learning, we strive to provide opportunities for our students to apply their knowledge and skills in a real-world application so that they become job-worthy graduates. Our undergraduates from our School of Communication and Creative Arts were involved in the planning of this competition, from planning to enrolling participants to execution. From this event, they have gained relevant soft skills such as working in a team, problem-solving skills, and communication skills which will help them do well when they join the working world," said Professor Dr. Hiew Pang Leang, Vice Chancellor, KDU University College.
As part of their kyosei philosophy which means living and working together for the common good, Canon Marketing Malaysia also invited close to 100 children from charity homes to join in the fun of discovering photography on a day out with Mother Nature. They hail from Montfort Boys' Town, Persatuan Kebajikan Komuniti Harapan Selangor (PKKHS) Daniel Training Centre, Pure Life Society, Pusat Kebajikan Rumah Victory Malaysia, Rumah Charis Children Home, Shelter Homes and Ti-Ratana Welfare Society. Canon Marketing Malaysia loaned compact cameras to the participating children, who ranged from age 14 to 20 years old, so that they also have the chance to participate in the competition.
Mohammad Syahim Ashraaf Mohd Sukri, 19, from Kolej Universiti Islam Pahang Sultan Ahmad Shah (KUIPSAS) emerged as the Grand Prize winner and walked away with a Canon EOS 80D and EF-S 18-55mm kit lens worth RM5,499. His photographs were captured with a Canon EOS 1200D and EF-S 18-55mm kit lens.
"I am truly happy and excited to win the grand prize as it is my first time participating in a photography competition. I wasn't confident to win because I observed that many other participants were using more sophisticated cameras and lenses compared to mine. However, I did my best in interpreting the answers to the riddles and put in the effort to capture something out of the ordinary. I get my inspiration from the internet as I love surfing the web and appreciating photographs," quipped Mohammad Syahim Ashraaf.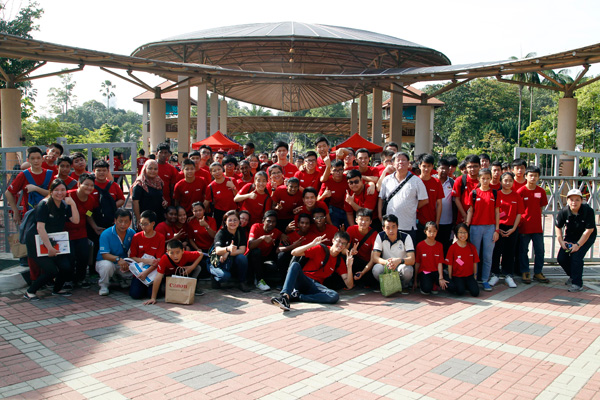 The First Prize of a Canon PowerShot G7 X Mark II went to Priyatharshini Nair and Second Prize of Canon EOS M10 with EF-M 15-45mm kit lens went to Muhammad Arif Fitri Azizan, while Chua Ai Lyn and Chong Kern Wei won the Third Prize (Canon PowerShot SX620 HS) and Fourth Prize (Canon Digital IXUS 285 HS) respectively. Five Consolation Prizes of Selphy CP1200 each were awarded to Abdullah BA Matraf, Tina Aalaei, Lee Li Sze, Elveena a/p Francis and Farah Fo'Ad.
Other sponsors for the event include Taman Botani Negara Shah Alam, Bro & Joe, F&N Malaysia, Legoland Malaysia Resort, Skytrex Adventure and Utropolis Marketplace.
All winning photos can be viewed on www.facebook.com/canonmalaysia. A photography exhibition featuring the winning photos will be held at several locations. Look out for more details on the upcoming exhibition by logging on to Canon Malaysia's Facebook page.