Acer Malaysia Redefines Style with Swift 7, Swift 3, Spin 5, Predator Z1 & Aspire C 22
Kuala Lumpur (16 November 2016) — Acer today unveiled its latest product lineup for Malaysia, which features the Swift 7, the world's first laptop under one cm thin2; the slim and lightweight Swift 3 in a new colour; the highly flexible Spin 5 convertible laptop, the Predator Z1 gaming monitor with eye-tracking technology, and the space-saving benefit of an All-in-One PC, the Aspire C 22.
Acer Sales & Services Sdn Bhd General Manager of Products, Sales and Marketing, Chan Weng Hong said, "As the industry leader, Acer's strategy is to always provide products that give superior experience to our customers. Offering top-of-the-line performance and stylish designs, Acer's portfolio of industry-leading products are developed to improve usability and add value to customers' needs. With today's new range of products that are cutting-edge in design and thoughtful in functionality, Acer is also leading the trend in style. Acer has achieved a fine balance of thinness and functionality with operability through its latest range of laptops, proving that outstanding design does not have to be at the expense of workability."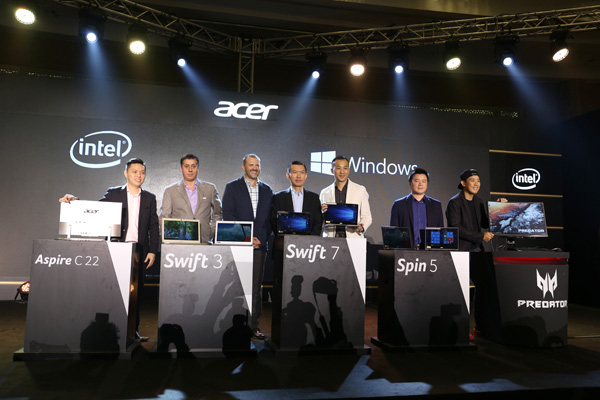 "We're excited to see the lineup of amazing and cutting-edge products that Acer is launching today," said Bruce Howe, General Manager, Consumer Channel Group, Microsoft Malaysia. "We're proud to say that all these devices are part and parcel of the over 400 million active devices that are already running on Windows 10 – the fastest growing Windows ever!"
Acer Swift 7 – Developed and Designed for Style and Productivity
The world's first laptop to measure less than 1 cm thin2, the Acer Swift 7 is redefining laptop thinness with its mere 9.98 mm thin and 1.1 kg feathery lightness. Its innovative design was recently recognised by Japan's Good Design Award for striking a fine balance between a super slim form and functionality of a laptop with operability. The Swift 7 was also named "Honoree" in the Computer Hardware and Components category on the CES 2017 Innovation awards.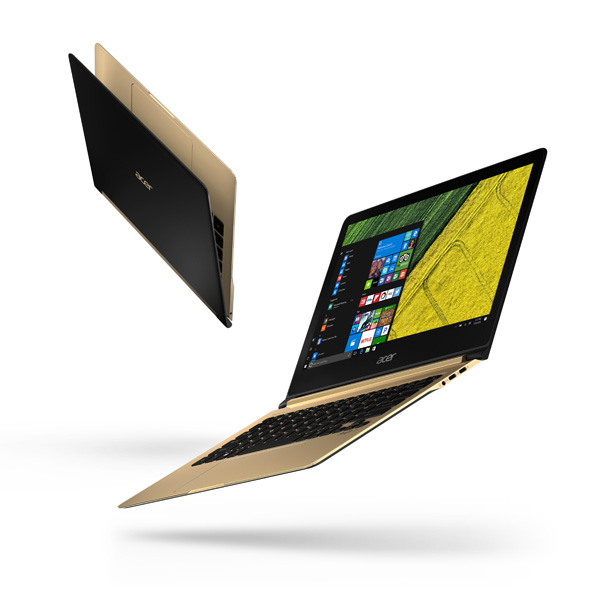 The all-aluminium unibody coupled with the black-and-gold dual tone design give the Swift 7 an elegant exterior, while the durable Corning® Gorilla® Glass adds superior scratch resistance to its 13.3-inch Full HD IPS display. Armed with an HD webcam with HDR (High Dynamic Range) imaging support, photographs appear clearer, brighter and more detailed.
Encased in the classy body of the Swift 7 is fast 256GB SSD and 8GB of memory and 7th Gen Intel® CoreTM i5 processor (Kaby Lake) to provide top-of-the-line performance. Acer has also achieved an amazing feat in packing in a battery that gives up to 9 hours of battery life1 – allowing users to accomplish more on the move, without having to worry about bringing the charger.
The Swift 7 is equipped with the latest 2×2 802.11ac with MU-MIMO wireless technology to deliver up to three times faster connections. Users can also enjoy quick data transfer, connection to an external display, and charging of the laptop via the dual USB 3.1 Type-C ports.
With Dolby Audio™ Premium and Acer TrueHarmony™ working simultaneously, get ready to immerse in clear and bold virtual surround sound. Its Skype for Business Certification is courtesy of its crystal clear, instant communication capability where speech recognition is much more effective and accurate with high standards of audio and visuals without echoes, gaps or lags. This gives that added confidence in usage when conducting discussions or negotiations through Skype calls.
The Swift 7 comes with an extra-large precision touch pad which enhances the overall multi-touch experience on a touchpad like never before. It doesn't matter if you are using four, three or two fingers, your gestures fit perfectly on the extra room provided by the touch pad regardless of your finger size.
Customers who purchase the Swift 7 will enjoy Premium Warranty Service, including free system health check and cleaning, next business day turnaround repair and special counter service directly attended by technician during the warranty period without any additional charge.
Priced at RM4,999, the Swift 7 is available immediately on 11street Malaysia (www.11street.my), and in all authorized Acer resellers nationwide on 23 November 2016 onwards.
Acer Swift 3 – Essential Features at a Compelling Price and Stylish Package
Apart from Swift 7, Acer Malaysia also unveiled a new colour for the Swift 3 laptop, which was introduced to the Malaysian market last month. The elegant Luxury Gold colour adds a touch of luxe to this irresistible laptop which is ideal for modern working professionals and students who seek a stylish productivity device to complement their personality.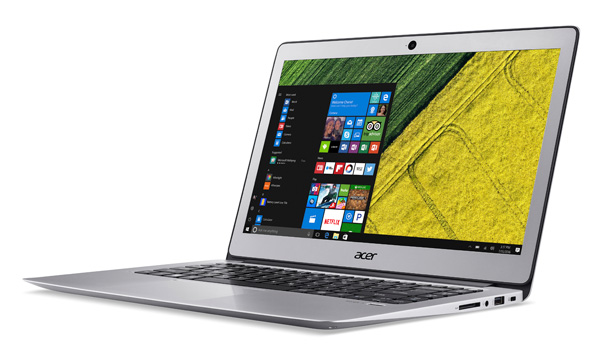 Powered by 6th Gen Intel® CoreTM i5 processor, the Swift 3 features Acer Fingerprint Reader that is paired with Windows Hello to offer an efficient, convenient and secure way to access user's Windows account.
Also comes with 2×2 MU-MIMO 802.11ac technology and fast 256GB SSD, the Swift 3 offers 4GB of memory, delivering solid results in a small package.
The Acer Swift 3 is available for purchase immediately at RM2,899 from select authorized Acer resellers nationwide.
Acer Spin 5 – Highly Flexible for Any Needs
The Spin 5 features Acer's patented 360-degree dual-torque hinge, providing wobble-free touch experience and easy convertibility to the four useful modes; as a laptop or tablet, in a space-saving display mode, or in tent mode for sharing presentations or watching movies. The hinge also makes it easy to open but prevents toppling over when using the 13.3-inch Full HD IPS touchscreen display. The crossed-hairline brush finish on the aluminium top cover provides a fabric-like appearance, making the Spin 5 easy to grip while preventing the accumulation of fingerprint smudges.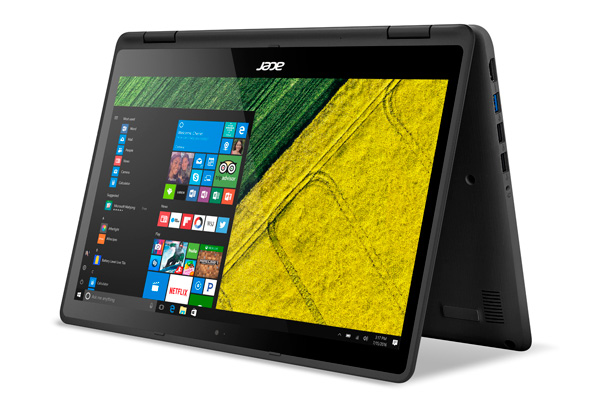 The Spin 5 is powered by 6th Gen Intel® Core™ i3 for best-in-class performance, 4GB DDR4 memory and up to 128GB of SSD storage for fast computing experience. With up to 10 hours of battery life1, no charging is needed when you are out all-day for work or play.
Immerse yourself in pure and powerful sound with Acer TrueHarmonyTM and at the same time, experience entertaining visual effects with Acer Color IntelligenceTM software that provides a more brilliant and vivid display with less CPU loading. The Spin 5 is also equipped with an HD webcam with HDR imaging support, offering crisp and detailed images.
Providing the ultimate flexibility, the Spin 5 makes computing anywhere, anytime easier than ever. Priced at RM2,199.00, the Spin 5 is available for purchase immediately at select authorized Acer resellers nationwide.
Predator Z1 – Eye-Tracking Monitor That Envelops the Player
In addition to its flagship laptops, Acer Malaysia also unveiled Predator Z1, the first 27-inch, curved monitor with NVIDIA® G-SYNC™ technology. Its Tobii eye-tracking technology allows new interactions like aiming, identifying enemies and taking cover simply by looking at objects on the screen. Gamers can now use their eyes and intuition as their greatest weapon. They will be able to interact with the characters more realistically and enjoy a much more immersive and seamless gaming experience.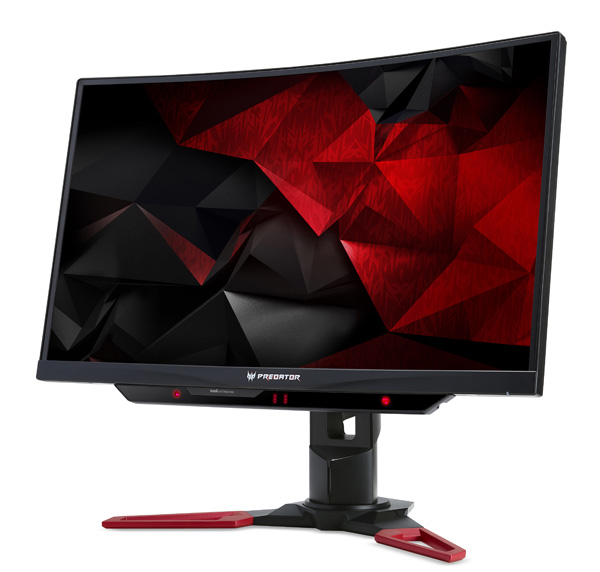 The super curved screen (1800R curvature) with FHD 1920 x 1080 (144 Hz) 'envelops' the player while putting every corner of the screen at the same distance from the eyes, providing a uniform viewing experience and reducing eye strain during long hours of game play.
With NVIDIA® G-SYNC™, players can look forward to smooth and fast game-play without lag on the Predator Z1. Screen tearing will be a thing of the past while stuttering is minimised. With a super high refresh rate of 200Hz1 and fast response time of 4ms1 GTG (Gray to Gray), the Predator Z1 enables silky smooth gaming experience like never before.
Get an in-game advantage with GameView technology that can be tweaked and saved in three custom profiles (mode): actions, racing and sports – for fast switching while gaming. With Flicker-less, BlueLightShield™, ComfyView and Low-dimming technology offered by the AcerVisionCare™, you can stay in the fight for hours without feeling fatigue.
The Predator Z1 has an ergonomically-designed stand with tilt (from -5° to 25°), swivel (from +30° to -30°), and height adjustment (up to 120 mm) for gamers to find that ideal viewing position. The monitor can be easily separated from its stand to be VESA wall-mounted, thanks to the quick-release design.
Retails at RM2,999.00, the Predator Z1 will be available at select authorized Acer resellers nationwide by mid-December 2016.
Acer Aspire C 22
For those who have a small PC budget but want the space-saving benefit of an All-in-One PC, the Aspire C 22 packs all you need into a frame that is only 8mm thin. Its slim design minimizes display size and reduces visual bulk. The simple yet clean appearance fits well in any room and saves space.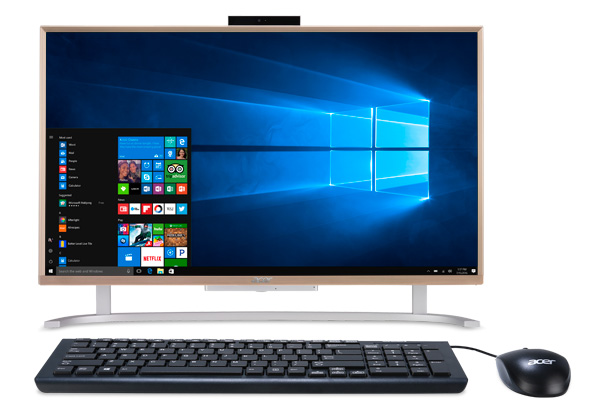 The 21.5-inch screen features a Full HD (1920 x 1080) display with LED-backlit LCD. It delivers clear, crisp visuals that make the most of movie on-demand, and provides clear browsing experiences and sharper, clearer text.
The Aspire C 22 is outfitted with 6th Gen Intel ® CoreTM i3 processor, a 2.3GHz dual-core processor for users to enjoy all-day computing tasks including browsing, emailing, streaming social media, music, videos and other daily applications.
Browse the web the neat and high speed way with 802.11ac/a/b/g/n wireless technology that does away with cable connection. The built-in stereo speakers deliver good audio while the 1 MP HD USB external webcam captures clear images. The webcam is cable-connected and sits perfectly at the top of the screen but can be lifted for manoeuverability when need to capture images from different angles. Its flexible usability allows user to plug it into other devices too.
Priced at RM2,099, the Aspire C 22 with its silver body and gold coloured finishing is the ideal device for students or families who want a stylish All-in-One PC that does not clutter the table. It will be available at all authorized Acer resellers nationwide from 21 November 2016 onwards.
For more information about product features and specifications, please visit Acer Malaysia Facebook or call Acer Product Infoline at 1800-88-1288 (9am – 6pm, Mondays to Fridays).
Acerall-in-oneaspirecomputerdesktopintellaptopnotebookpredatorspinswiftwindows