The launch of the All-New Chevrolet Colorado: More than just a Truck
Kuala Lumpur (20 October 2016) — Naza Quest Sdn Bhd, the sole distributor and importer of Chevrolet vehicles in Malaysia, today took the covers off The All-New Colorado pickup truck, the latest model in Chevrolet's great truck lineage that goes back almost 100 years ago. Bearing all the hallmarks of the great American Chevrolet trucks, The All-New Colorado comes with a new exterior and interior design, in addition to greater performance, better safety, increased refinement and segment-leading technology.
Speaking at the launch, Datuk Wira Hj. SM Faisal Tan Sri SM Nasimuddin, Group Executive Chairman of Naza World Group of Companies, said "Chevrolet has been on an interesting journey since we took over the brand back in 2010. Several models have been introduced since then and nothing can be compared to this new Colorado truck. The design has improved exponentially with a lot of attention to details that will make this new Colorado a game changer in its segment in Malaysia. We are excited to see how great the engineering design for recent new Chevrolet models has developed and this is a positive sign for the brand to move forward in this country.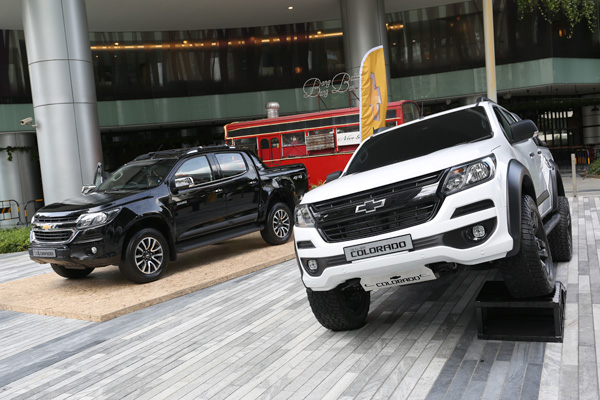 Chevrolet's handling and comfort have always been the key selling points for us and this new Colorado's transcendent driving pleasure will definitely something to look forward to by the Malaysian consumers." As a truly global program, the Chevrolet Colorado benefits from significant input from Thailand, Australia, Brazil as well as the U.S., ensuring the truck not only meets, but exceeds, the demands of each market.
Tough and Refined Design
The All-New Colorado has been designed with a tough, yet refined appearance. Its lines are more angular and purposeful, a nod to its American-truck DNA, giving it strong proportions to ensure it looks robust and tough, reflecting its serious off-road capability.
The truck adopts a global design language that communicates power, strength and prestige with an all new front end including a new sporty front fascia, grille, hood and lights which will make this truck stand out from the crowd. Its expressive new look combined with new slim LED daytime running lights give it an unmistakable road presence.
Inside the Colorado, toughness and refinement continues with an all new premium interior that focuses on comfort, spaciousness and technology. Designed with the driver and passenger in mind, the new-look dashboard and seat trims elevate the premium feel of the Colorado. While the all new redesigned centre console boasts an easy-to-use, intuitive layout featuring an eight-inch colour touchscreen (depending on variants) and houses the latest MyLink infotainment system.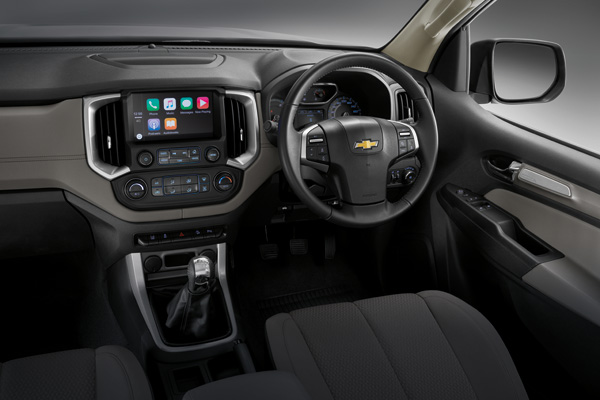 Soft touch sophisticated materials, fabrics and finishes are used throughout the truck, with focus on comfort and capability. Thoughtful use of materials ensure they are durable while enhancing occupant comfort. New trim inserts feature tailored stitching that creates a whole new level of refinement not usually found in a mid-sized truck.
Gary Player, General Motors International General Director, Sales and Distributor Operations said "Chevrolet is excited to launch this important evolution to one of the best-selling trucks in the region. Calling upon Chevrolet's global expertise and rich heritage we have created a truck that retains the same serious off-road capability as its predecessor, but adds impressive on-road refinement and a go-anywhere spirit driven by advanced technology. The all-new Colorado is proof that Chevrolet is a global leader in trucks and I have no doubt it will entice more customers to come and take a closer look at what we have to offer."
A Truck Engineered To Provide A Powerful And Comfortable Ride
The All-New Colorado comes in 2.8L and 2.5L variants. The upgraded 2.8L Duramax four-cylinder turbo-diesel engine (VGT) has been tuned to offer better performance, improved fuel economy and lower emissions. It produces 147 kW (193hp) of power and 500 Nm of torque. The upgraded 2.5L Duramax four-cylinder turbo-diesel now also benefits from a variable geometry turbocharger (VGT) producing 132 kW 9180hp) of power and 440 Nm of torque. The engine is Euro-4 compliant. The high value 2.5L Duramax four-cylinder turbo-diesel engine (FGT) is still available on lower specification models matched with a manual transmission.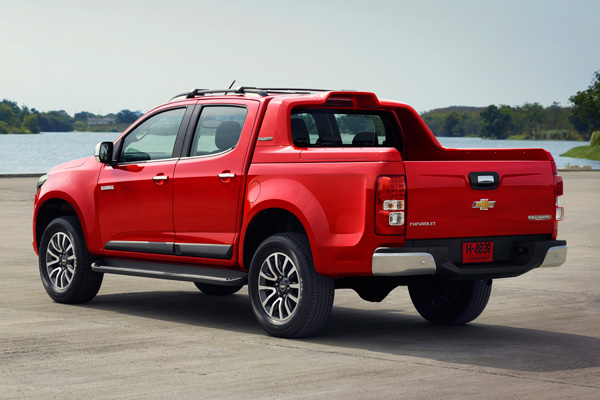 The engine's performance is managed by an in-house developed engine control unit (ECU), specially developed to take advantage of and enhance the engine's characteristics. The ECU has more than 150 patented control functions that optimize integration between software functions and engine hardware.
The All-New Colorado also features revised body mounts across the range and new engine mounts. This has resulted in lower NVH (Noise, Vibration and Harshness) inside the cabin. In-house tests have shown that the interior is now between two to four decibels quieter, in addition to reduced vibration.
Colorado features a chassis with increased rigidity so it is tougher and more stable, which adds to the driver's comfort. New cabin mounts that provide better isolation between the cabin and chassis are used to further improve NVH. The new cabin mounts also reduce movement between the cabin and the chassis, providing more solid driving dynamics. The front brake rotor also features a new compound that reduces operating noise. Additionally, the new suspensions are tuned with digressive shocks that give the Colorado a superior ride comfort and stability.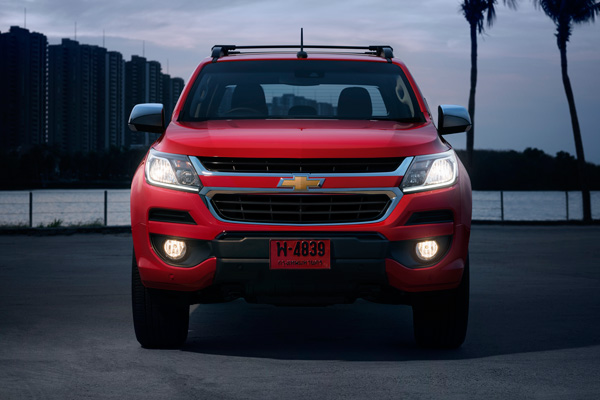 The All-New Colorado also features Electric Power Steering (EPS) that makes steering effort lighter in city and at parking speeds, in addition to improving handling comfort and aiding fuel efficiency. Power assist is reduced proportionately as speed builds, so the driver gets a properly-weighted steering feel at highway speeds.
All the Features expected from a Premium Truck
The All-New Colorado is fitted with all the latest technology features expected from a premium pick-up truck.
Advanced Safety Features
Safety remains Chevrolet's main priority and Colorado reflects this philosophy with a host of active and passive safety features (depending on variants) including Traction Control System (TCS), Panic Brake Assist (PBA), Electronic Brake Force Distribution (EBD), Electronic Stability Control (ESC), Hill Descent Control (HDC) and Hill Start Assist (HSA). All these are in addition to the two front airbags, along with a knee airbag for the driver.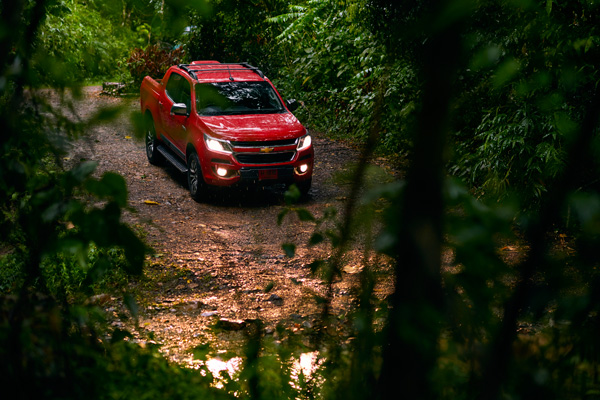 Driver Assistance Features
Depending on variants, The All-New Colorado features Lane Departure Warning (LDW), Forward Collision Alert (FCA), Front and Rear Park Assist Sensors and Tyre Pressure Monitoring System (TPMS). Additionally, it features Auto Rain Sensor and Auto Headlamp and a Remote Start Engine function. The latter is useful especially during hot weather when the engine can be started using the key fob, allowing the cabin to be cooled sufficiently before occupants get into the vehicle. It also comes with Front-Park Assist and a Reverse Camera that aid manoeuvring in tight urban confines. Other features include Comfort Closing Windows which allows both front windows automatically drop a fraction to facilitate door closing.
Unparalleled Connectivity
Connectivity is critical to today's drivers which is why the Colorado is fitted with new technology features you would only expect from a premium pick-up truck. It is the first pickup truck in its segment to come with Apple CarPlay™ applications, allowing customers to project a simplified version of their smartphone screen onto the car's colour touchscreen.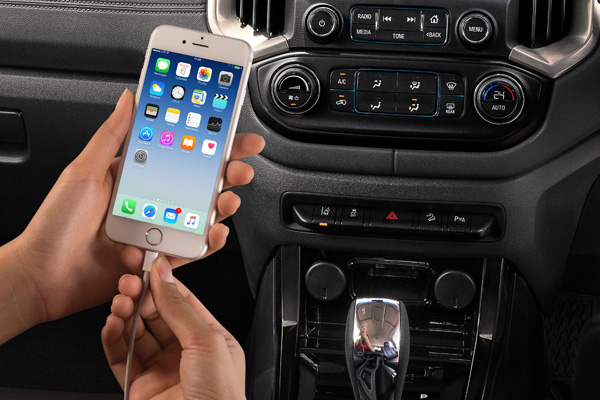 Complemented by Siri® Eyes Free and voice recognition software, allowing drivers to give verbal commands ensuring their hands never have to leave the wheel. This systems ensures Colorado supports the driver's lifestyle, allowing you to explore new roads at work and at play.
Interested customers who wishes to place a booking on The All-New Colorado are welcome to enquire further details at all of the authorised Chevrolet showroom nationwide. For more information on Chevrolet, call 1-800-2-CHEVY (24389) or visit www.chevrolet.com.my. Follow Chevrolet Malaysia Facebook and @Chevrolet_MY Twitter and Instagram for the latest updates and offerings of Chevrolet Malaysia.