HP Elite x3 – A Next Gen Mobility Platform
Kuala Lumpur (12 October 2016) — The HP Elite x3 is a breakthrough solution that revolutionizes the mobile computing experience. Designed to be versatile enough to address the massive shift in where and how we work, this is a new mobile ecosystem that will drive the next generation of computing.
"The development of the HP Elite X3 witnessed the integration of various technologies to suit the demanding needs of today's business professionals who are always on the go," said Kym Lim. "Today's introduction of this innovative 3-in-1 device to the Malaysian market has been highly anticipated, as this new product exemplifies HP's constant endeavour to develop solutions that meet the business demands, "she said.
"With the innovation of HP Elite X3, we believe HP is headed in the right direction. This is the future of computing — one device with multiple uses, a modern technology solution for mobility combined with top-notch IT capabilities" Kym added.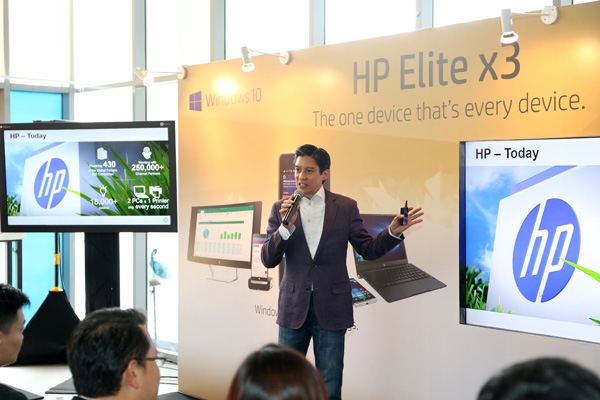 "As business mobility is becoming more and more critical, the versatility and reliability of this device will be an industry benchmark," Daren Ng, Head of Mobility, HP Asia Pacific and Japan said. "HP believes that as businesses evolves, devices need to adapt to changes that enables mobilized workflows and the HP Elite X3 is designed to meet this exact demand. We are confident that the HP Elite X3 will be the right choice of mobile business device for the new age workforce," he added.
The HP Elite x3 is the first built-for-business mobile device to deliver seamless phablet, laptop and desktop business productivity in a single device. By utilizing Continuum in Windows 10, the Elite x3 enables frictionless multi-screen transitions between a phone scenario and a desktop PC scenario. Users can dock the Elite x3 with its ecosystem of accessories to render desktop and laptop productivity experiences while also retaining productivity on-the-go in a world-class premium and commercial-grade phablet.
With this capability, users can effortlessly switch between using the Elite x3 as a desktop, laptop or mobile device, no longer needing to worry about what device to use in what environment. The Elite x3 also utilizes biometrics to unlock the device — adding an extra layer of protection for enterprise customers.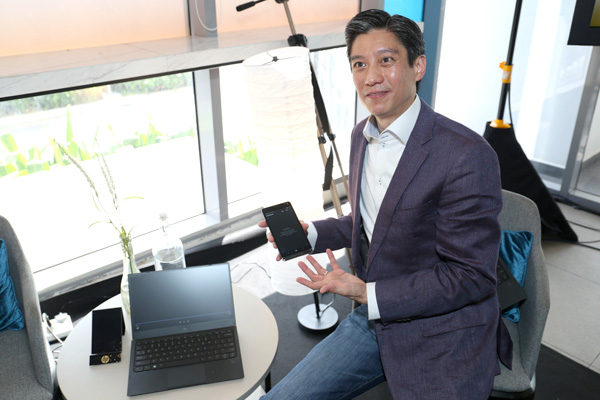 Bruce Howe, General Manager, Consumer Channel Group, Microsoft Malaysia said, "We are proud, and excited to collaborate with HP for the launch of the premium Elite x3, a 3-in-1 business device, powered by Windows 10 Mobile. It boasts the latest features and enhancements, and is designed specifically to encourage productivity for business users. The Elite x3 is packed with amazing built-in features like Continuum, Microsoft's new Edge browser and Windows Hello that enables users to login securely."
The Elite x3 offers a unique computing experience by leveraging the power of the Snapdragon 820 processor, Windows 10 Mobile with Windows Continuum, the optional HP Desk Dock and the optional Lap Dock, allowing the device to let people work on their own terms no matter where the locate. Users can also enjoy easier, faster charging with Qualcomm Quick Charge 3.0 technology.
The Desk Dock offers a full featured desktop experience for the Elite x3. It includes a DisplayPort for external monitor support, two USB-A and a USB-C connection for business continuity, and wired Ethernet to seamlessly scale users' productivity at their desk. The Elite x3 docks in portrait mode at a comfortable viewing angle when sitting at a desk. The dock also supports the Elite x3 with and without a protective case.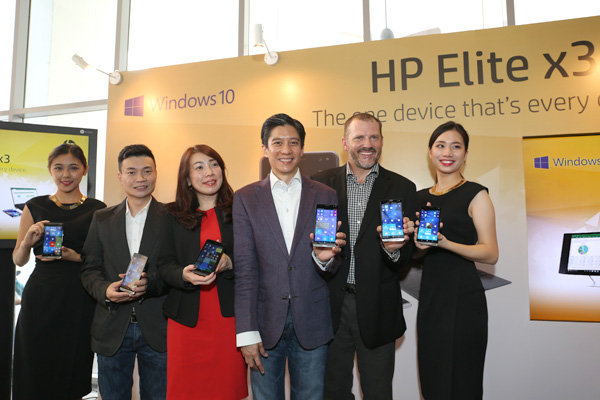 The HP Lap Dock creates a laptop experience using a near zero bezel 12.5-inch diagonal HD display that's around 1 kg. No data is stored on the Lap Dock for additional security and all of the apps, passwords and files are managed and stored from the Elite x3.
The Elite x3 also allows users to work with the apps they love and rely on. HP Workspace — an app catalog designed by HP to easily enable access to virtualized apps — drives a seamless app usage experience. HP Workspace on the Elite x3 creates a virtual PC, giving users access to company curated catalogs of x86 apps via a virtualized solution. Users benefit from quick access to their virtualized apps with a full keyboard and mouse experience not typically available from a mobile device when using the Desk Dock and Lap Dock.
The Elite x3 platform has the potential to change how companies work using only a single device. HP is partnering with Salesforce, the world's #1 CRM platform, to include Salesforce1 on every Elite x3. Salesforce1 sets a new standard for CRM, empowering users to run their businesses from their mobile devices with powerful tools that work in the cloud, keeping them up-to-date with whatever real-time data they need. Now, sales reps can use the Elite x3 and Salesforce1 to manage and update all their customer and CRM data faster than ever and perform key actions to drive business forward on-the-go.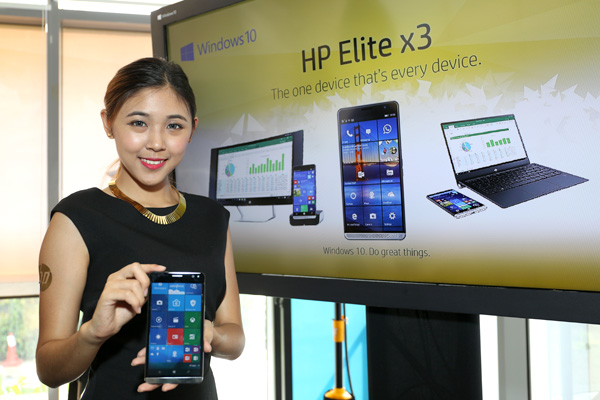 The HP Elite X3 is (starting) priced at RM 3,599 and available for order from October 2016 onwards. Visit www.hp.com.my/elitex3 (for more information).
For further information on HP's latest news, visit HP Malaysia's official website at www.hp.com.my, or call 1800­88-4889.