Petaling Jaya (27 October 2016) — Bosch Security Systems is a leading security and communications products and systems in Bosch Malaysia. Today, the company unveiled two new high-definition (HD) video surveillance cameras, the DINION IP starlight 7000 HD and the MIC IP starlight 7000 HD.
With the safety and security of employees and protection of assets being the top priority of most businesses these days, Bosch's new HD video surveillance cameras are tailored to help increase the effectiveness of surveillance where the footage captured is clear, sharp and targeted, even where poor lighting is the principle of challenge.
"At Bosch, we have identified the pain points in the surveillance business. One major challenge brought forward by users is making surveillance possible in the dark. With our latest starlight technology, we are able to offer business owners with a quality, round-the-clock video surveillance camera to ensure the safety and security of their employees as well as their assets," said Janesta Woon, General Manager of Bosch Security Systems Malaysia.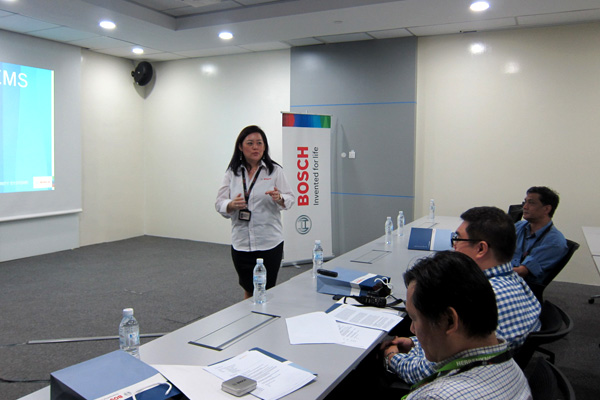 The new DINION IP Starlight 7000 HD for low-light performance
Using the latest sensors technology, lenses and processing circuitry, Bosch's new DINION IP starlight 7000 HD camera is suitable for low-light performance. It produces clear, full-colour images 24 hours and seven days a week, even at night or under low-light conditions. It has a robust built-in mission critical video analytics that helps to focus on relevant situations and send alert when needed, or automatically track objects of interest. IVA also adds sense and structure to video data by adding metadata. This allows the quick retrieval of the relevant images from hours of stored video.
The other key features and functions of the DINION IP Starlight 7000 HD camera include optimal speed whereby its mages-per-second mode captures images in fast action scenarios in casinos, airports and banks. The camera uses intelligent Dynamic Noice Reduction (iDNR) that actively analyzes the contents of  ascene and reduce noise artifacts accordingly, resulting in reduction of bandwidth and storage requirements. In addition, its intelligent tracking can be used to autonomously detect and track moving objects. Users can also click on the object of interest and it will track accordingly. User can also define Regions of Interest (ROI) and select specific areas of the parent image using a remote Electronic Pan, Tilt and Zoom (E-PTZ).
Using Bosch's domain expertise in material engineering, mechanical design, intelligent imaging and video streaming, its new MIC IP starlight 7000 HD camera boasts an advanced Pan, Tilt and Zoom (PTZ) platform. Its ruggedised design is built to operate in any outdoor surveillance applications beyond the mechanical capabilities of normal PTZ systems such as monitoring traffic under bridges, tunnels and at the side of highways as well as perimeter protection and general city surveillance.
The MIC IP starlight 7000 HD camera includes high-performance imaging platforms that is able to deliver 1080p 25/30 HD resolution in environments with extreme ambient lights. It also comes with a 30x optical zoom lens (12x digital zoom) and flexible mounting options (upright, inverted, or canted). For operation in the very dark conditions, its automatic control of shutter speeds increases sensitivity by more than 50 times. Furthermore, the System Integration function allows it to conform to the Open Network Video Interface Forum (ONVIF) specification which guarantees interoperability between network video products regardless of manufacturer.
Bosch Security Systems' Content-Based Imaging and Intelligent Video Analytics Technologies
"On the whole, our new HD cameras have three common, highly sought-after key features: produces clear HD images in fine details and colour, even in low lights; the ability to capture fast-moving objects in high-resolution and currently, intelligent video analytics," added Janesta.
According to Janesta, "Both cameras are equipped with the latest technology in intelligent imaging and video streaming. With the Content-Based Imaging Technology (CBIT), the HD modules deliver high-resolution images even under challenging light conditions at very low bit rates. This technology is also used to identify areas for enhanced processing, where the camera examines the scene using its Intelligent Video Analytics (IVA) feature and provides feedback to re-tune the image processing. On the other hand, its Intelligent Auto Exposure technology allows users to view moving objects in bright and dark areas of a scene."
"At Bosch, we are focused on innovating security where users need it the most, which we call 'Intelligence at the Edge'. In this day and age, video analysis is necessary to support physical, human surveillance to minimize possible human error. Cameras with the IVA technology helps to identify security breach and alert the security operators at any moment they are needed. This way, nothing serious goes unnoticed," she concluded.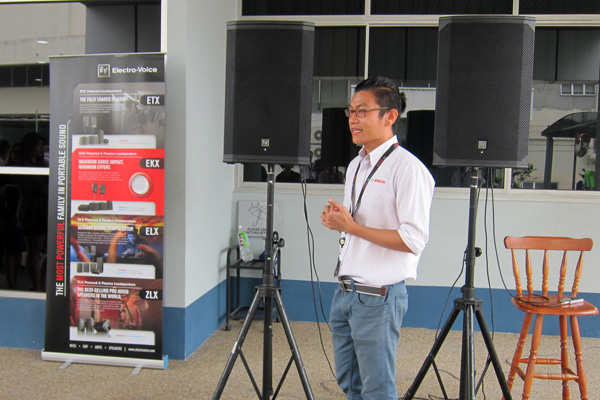 Bosch Security Systems Key Products for Public Address, Conference and Sound Systems
Other products highlighted at the media briefing included PAVIRO, a unique, high-quality Public Address and Voice Evacuation System that delivers professional quality sound, thanks to its premium 24-bit digital processor, superior digital-to-analog converters, and outstanding Signal-to-Noise Ratio (SNR). Bosch also highlighted the DICENTIS Wireless Conference System that uses state-of-the-art technologies, standard Wi-Fi and smart wireless management to ensure interference-free wireless conferencing. Designed to be the most flexible discussion system available, it enables quick and easy set-up and breakdown of small meetings and larger conferences.
Also featured were the  Electro-Voice EKX Series Portable Loudspeakers, the newest member of the Electro-Voice portable loudspeaker family, and combines legendary EV sound quality and reliability with the latest technology – all in a compact package suitable for a wide range of sound reinforcement scenarios, including musicians, DJs and live/club/installed sound applications. Additionally, the event also featured the Electro-Voice ETX Powered Loudspeakers that are built upon the industry‑leading innovation and 85‑year heritage of Electro‑Voice audio engineering to offer the most advanced professional portable powered loudspeakers available today.
For more information, kindly visit asia.boschsecurity.com.