New Mitsubishi Triton with MIVEC Turbo Diesel Engine
Kuala Lumpur (5 September 2016) — Mitsubishi Motors Malaysia (MMM) is set set to make a revolutionary introduction of the new Mitsubishi Triton with MIVEC Turbo Diesel engine and is the first pick-up to offer an aluminium diesel engine.
Powered by a new aluminum alloy block 2.4-litre MIVEC Turbo Diesel Engine with VGT Intercooler, the new Triton is now more powerful and more fuel efficient. The new Triton is also the first with diesel engine in the segment to use MIVEC (Mitsubishi Innovative Valve timing Electronic control system) variable valve timing technology.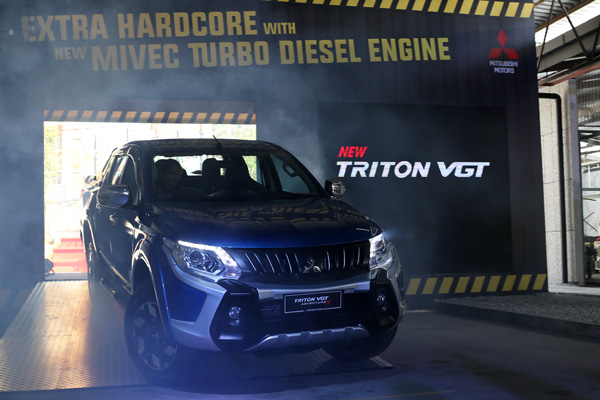 Speaking at the launch of the new Mitsubishi Triton, Mr. Yang Won-Chul, Chief Executive Officer of MMM said, "About 15 years ago, the Mitsubishi L200 was the first pick-up truck in Malaysia to be offered with an automatic transmission. In 2008, the Mitsubishi Triton raised the bar by being the first to offer a 3.2-litre engine, and in 2012 the Triton VGT became the first truck in Malaysia to use Variable Geometry Turbo."
He added, "In 2015, Triton was the first pick-up truck in Malaysia to be offered with a wide array of passenger car-like features including Push Start Button, Keyless Operation, Automatic Bi-Xenon HID Headlamps with integrated LED Daytime Running Lights, Tilt and Telescopic Steering and Paddle Shifters for manual control of the automatic transmission. The vast improvements made for the new Triton marks yet another milestone for Mitsubishi Motors in Malaysia. The brand has a long heritage of providing Malaysian customers with the best pick-up truck to suit their everyday needs, be it for work or for play, or both."
More on MIVEC with Turbo Diesel Engine
Previously only available on Mitsubishi's petrol engines, MIVEC allows for finer control of the valves.
Thanks to improvements in common rail diesel technology, diesel fuels can now combust at much lower pressure, leading to reduced noise and emissions. However precise control of the valves is necessary to maintain cold-start performance.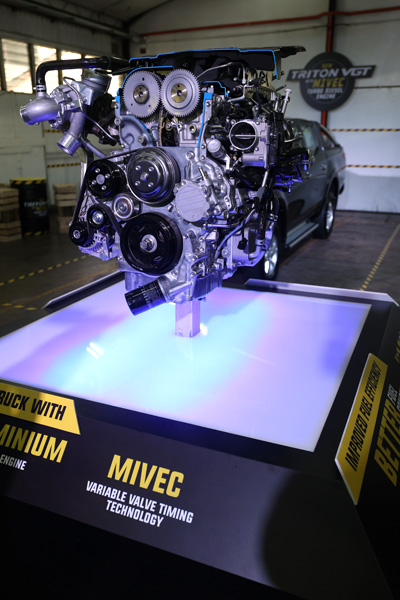 With MIVEC finely controlling the valves, improvements in all areas of performance can now be realised. The lower pressure in the combustion chamber also means that it is possible to use lightweight aluminum alloy material for the engine block.
By using lightweight aluminum instead of a traditional cast iron material, the new engine is about 30kg lighter than before, while at the same time retaining the same level of reliability and robustness that all Mitsubishi 4x4s are known for.
Engine performance has also been improved, with output now rising to 181 PS of power and 430 Nm of torque, while consuming up to 15 percent less fuel (Actual fuel consumption results may vary according to driving style, vehicle conditions and other factors). With reduced kerb weight and increased power output, overall acceleration and driving performance has also been improved.
Noise, Vibration and Harshness (NVH) has also been improved making the new Triton a quieter and comfortable drive.
The use of timing chain also means reduced maintenance cost, and longer service lifespan.
About New Triton
The new Triton now comes in six variants, allowing it to meet the needs of a wide range of customers.
The new Triton VGT Adventure X variant is now flagship of the Triton range. It comes standard with rugged looking accessories like a Shield Extender for the front bumper, new Sports Bar with Fullbox, and Dual-tone 17-inch alloy wheels.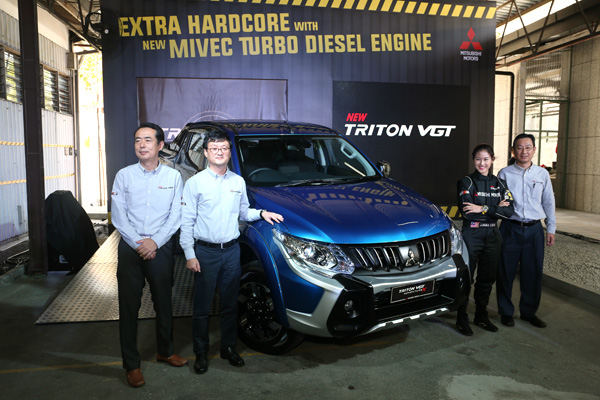 The existing Triton VGT AT & VGT MT has also been upgraded. On top of the new engine, Automatic Bi-Xenon HID Headlamps with integrated LED Daytime Running Lights and rear fog lamps are now available as standard. The VGT MT model has also been upgraded with a new 6-speed manual transmission.
All 4×4 models are equipped with Mitsubishi's signature Easy Select 4WD system that optimizes torque distribution between the front and rear axles. By simply turning the 4WD Selector, drivers can select between 2WD-Hi and 4WD-Hi while driving at speeds of up to 100km/h, or to 4WD-Lo for the most challenging off-road conditions. The Easy Select 4WD system has been continuously improved for over two decades. It is a robust drivetrain that is able to handle high torque levels.
The new Triton retains its predecessors of best-in-class feature of 5.9 meters turning radius.
As before, all new Triton models are imported as a Completely Built-Up (CBU) vehicle from Mitsubishi Motors' global production hub in Thailand.
Prices and colour options for all six variants are as listed in the table below:

The new Triton comes with 2 Years of Free Maintenance and a 3 years/ 100,000 km factory warranty, whichever comes first.
Currently, the Triton sales are close to 400 units per month with a 15% market share in the pick-up truck segment (January —July 2016). With the launch of the new Triton, Mitsubishi Motors Malaysia aims to sell 500 units of the Triton per month.
Since launching the all-new Triton in May last year, MMM has more than 7,000 units to date contributing 50% of MMM total sales.
The new Triton VGT Adventure X will only be in showrooms from 23 September onwards. Mitsubishi Motors Ranked Top Three in J.D. Power Asia Pacific 2016
In the recent J.D. Power Asia Pacific 2016 Customer Service Index (CSI) study, Mitsubishi Motors Malaysia was ranked top three over 16 automakers with 758 points over 1000 points in an overall service satisfaction among mass market brands in the CSI study.
The study, which now enters its 14th year, is based on responses from 3,257 new-vehicle owners who purchased their mass market brand vehicle between February 2014 and May 2015, and took their vehicle for service to an authorised service centre between August 2015 and May 2016.
New-vehicle owner satisfaction with the service experience is measured by examining dealership performance in five factors including service, quality, service initiation, vehicle pick-up, service advisor, and service facility.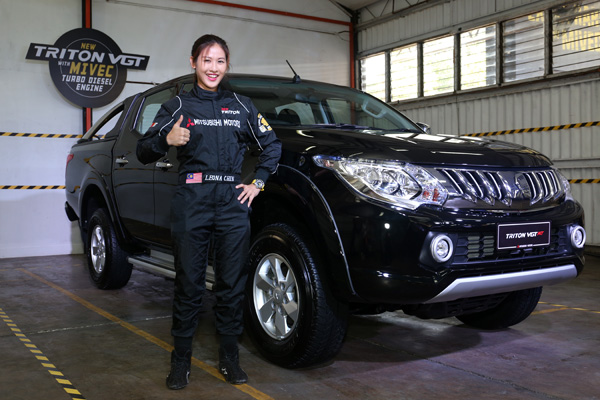 MMM Sales Network and Others
The company is currently represented by 54 showrooms (out of which 46 are 3S Centres) and 52 service outlets throughout Malaysia. In East Malaysia, MMM is represented by 12 showrooms (6 in Sarawak and 6 in Sabah).
The ASX 2WD and 4WD compact SUV is locally assembled in Malaysia while the other Mitsubishi models are imported as CBU (Completely Built-Up) units from Thailand (compact sedan Attrage, Pajero Sport SUV, Triton pick-ups) and Japan (Outlander SUV and Lancer sedan).
For further information and to register for interest, please visit www.mitsubishi-motors.com.my or by calling the Mitsubishi Motors Customer Careline at 1800 18 6611 (9 am — 5 pm, Mondays to Fridays excluding public holidays).