New EOS 5D Mark IV raises bar on Image Quality to deliver Stellar 4K Performance in Photo and Filmmaking
Selangor (25 September 2016) – The highly anticipated Canon EOS 5D Mark IV has finally been unveiled at Canon Marketing (Malaysia) Sdn Bhd's full day seminar organised exclusively for photographers, film enthusiasts as well as members of the media. Attendees were immersed in comprehensive insights on the full capabilities of the camera and offered a 'Touch & Try' experience to discover its performance and speed to deliver captivating narratives in both still and video formats.
"The EOS 5D Mark IV extends the legacy of the 5D series with improvements on key features found in the popular EOS 5D Mark III, and best-in-class technology and features found in professional EOS models like the EOS-1D X Mark II. EOS 5D Mark IV delivers exceptional performance in both stills and 4K video shooting," said Mr Andrew Koh, the new President and Chief Executive Officer of Canon Marketing (Malaysia) Sdn Bhd who was present to kick-off the seminar.
The EOS 5D series has achieved a prestigious reputation since its launch in 2005 with its inaugural debut as an affordable 35mm full-frame model at a time when only APS-C sensor size was popular. This was followed by the EOS 5D Mark II, launched in 2012 as the first EOS camera equipped with the EOS Movie function. Just as the EOS 5D Mark II earned a reputation for taking high quality still images and Full HD movies, Canon once again raised the bar with the EOS 5D MARK III, a model which quickly revolutionised the film-making industry, with its exceptional imaging performance, outstanding mobility and expandability to meet the demanding production needs of today's motion pictures.
"With the birth of the EOS 5D Mark IV, we will be giving our professional DSLR users a heightened experience of what our latest Canon camera can deliver," added Mr Andrew Koh.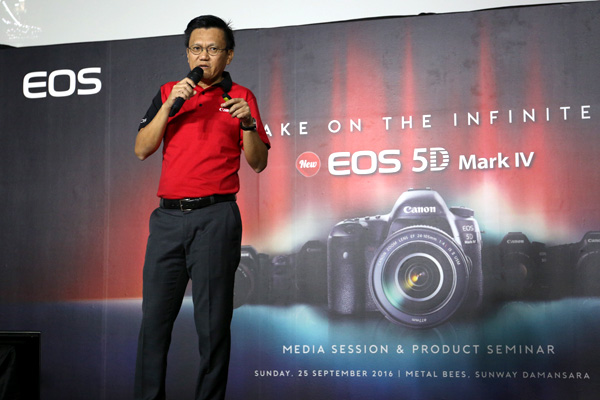 Sharing from the Professionals
The seminar brought together professional photographers, well-versed with Canon's 5D series of cameras to share their experience in getting the most out of the EOS 5D Mark IV. Among the speakers was Mr Michael Ori, a professional photographer, commercial filmmaker and founder of US based Ori Media who has done much work with Canon cameras.
Ori demonstrated the entire Canon workflow of shooting, editing, extracting and printing 4K images. Speaking from his extensive experience with the EOS 5D series, he used real-life examples of high-resolution images to demonstrate the features and performance of the new camera to inspire professionals to reach greater heights in their craft.
Local professional photographers, Mr Andrew Koh and Mr Zung spoke about their respective journeys of using the EOS 5D series in continuously improving their services in wedding and portrait photography.
Koh, the founder of Andrew Koh Photography, is known for his minimalist wedding and commercial photography, valuing facial expressions in natural settings. The EOS 5D Mark II sealed his preference for Canon's EOS 5D series when he first started out in wedding photography. He then graduated to the EOS 5D Mark III and subsequently to the EOS 5D Mark IV, where its superior features and technology helped enhance the quality of his work, both within the wedding and commercial arenas.
Meanwhile, Zung of The Photoz is a home-grown small town success story. He picked up photography skills while learning on the job and now shoots adventure and high society events, among others. Zung shared with participants his 20 years' experience of using Canon products; some of the best which include the EOS 5D Mark II and III models, which he has used around the world. He highlighted the outstanding image quality of the new EOS 5D Mark IV and the benefits professionals stand to gain, especially in terms of time and costs.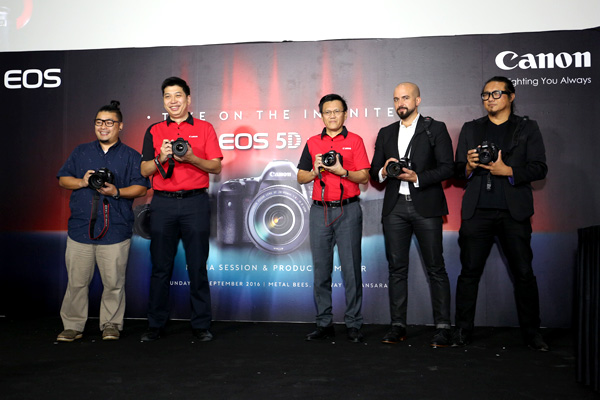 Remarkable Still Photo Performance
Mr Jeffrey Kung, Assistant Director of Consumer Imaging and Information Division, Canon Marketing (Malaysia) Sdn Bhd, said, "A first in Canon's range of cameras, the EOS 5D Mark IV comes equipped with Dual Pixel RAW (DPRAW) – a feature which enables adjustments to be made to images after a photo is taken."
"This new version of RAW image data contains Dual Pixel information that allows precise adjustments to be made in post-production via DPP, providing professional photographers an edge in terms of precision enhancements. With this feature, users can make micro adjustments to the position of maximum sharpness and resolution based on the depth of subject, reposition the viewpoint to horizontally shift the foreground bokeh, as well as reduce ghosting and flare effects in images," he added.
Powered by a DIGIC 6+ image processor, the EOS 5D Mark IV has an in-camera Digital Lens Optimizer (DLO) to give photographers the option to process and optimise JPEG files in-camera instead of via Digital Photo Professional (DPP), thus shortening the workflow for photographers.
The camera's formidable 35mm full-frame CMOS sensor delivers a resolution of up to 30.4 megapixels, an essential feature when producing large format prints for commercial use. Its enhanced sensitivity (ISO speed of 100 to 32,000, expandable to 102,400) also ensures pristine image quality even when shooting at high speeds.
Dynamic and fast moving subjects and scenes can be shot with a high speed continuous shooting at 7 frames per second (fps). Coupled with its 61-point all points selectable reticular AF system, 41-point cross type AF, this new AF system also covers a wider focusing area and an extended vertical coverage of approximately 24 percent at the sides and approximately 8.6% at centre. With this larger coverage area, users have greater flexibility in composing and creating their shots. On top of this, all 61 points are compatible to effective aperture of f/8 or faster. Hence, auto focusing is possible when teleconverters are used with super telephoto lenses; a feature that is especially important for wildlife and sports photographers.
Equipped with the EOS iTR AF (Intelligent Tracking and Recognition Auto Focus) and 150,000 pixels RGB+IR metering sensor, which utilises face recognition and colour tracking algorithm, users may accurately track a moving subject across all 61 AF points. The camera can sense flickering artificial lights with its flicker detection technology, and subsequently suppress any negative impact on exposure and white balance. In addition, it is capable of focusing down to a low intensity limit of EV-4 during live view mode, with an effective image area of approximately 80 percent of the screen. Photographers can achieve consistent focusing performance even under extremely challenging lighting conditions.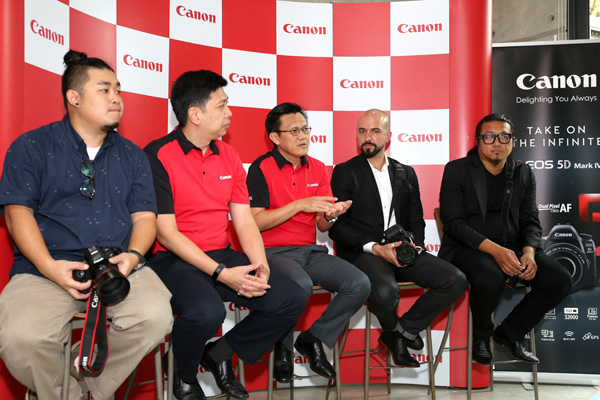 Professional 4K Movie and Image Quality
The EOS 5D series has always been lauded for their impeccable video capabilities. The EOS 5D Mark IV takes this to the next level with its ability to shoot DCI 4K movies, providing users a more accessible camera equipped with some of the key features that the flagship EOS 1-D X Mark II is well-loved for.
With the EOS 5D Mark IV, users can shoot 4K movies at a smooth frame rate of 30p, with resolutions of up to 4096 x 2160 and an aspect ratio of 17:9 that matches cinema screens. The camera can also shoot in Full HD quality at 60p, and up to 120p for high frame rate HD movie. Footage shot in DCI 4K format can be used for various commercial purposes such as in cinema, or broadcasting. Users will have the flexibility to shoot videos in MOV format for movie productions, or MP4 format which supports a wide range of usage scenarios, including uploading onto social media sites. In addition, the EOS 5D Mark IV is able to transmit, play, and channel video files at uncompressed full HD quality when connected through a HDMI interface.
The EOS 5D Mark IV's Dual Pixel CMOS AF also allows for the same high-speed, smooth phrase-difference detection AF system found on the EOS 1-D X Mark II. Users can focus on subjects with a quick tap on the touch screen LCD, while the Movie Servo AF will automatically track the subject throughout. Focus adjustment speeds and sensitivity can also be customised to suit users' preferences.
With the EOS 5D Mark IV's ability to shoot smooth 4K videos at 30fps, picture-perfect moments from a video can be extracted as a JPEG image at a resolution of approximately 8.8 mega pixels using the camera's in-built 4K frame grab feature, suitable for creating A3 sized prints. Compared to 7fps continuous shooting in viewfinder mode, the 4K frame grab capability allows photographers to capture a decisive moment at a much higher speed.
The HDR movie function allows users can capture beautiful 30p videos in a brightly-lit environment without risking overexposure. In addition, the Time-lapse movie feature allows users to create time-lapse movies by gathering and connecting photos shot at regular intervals1.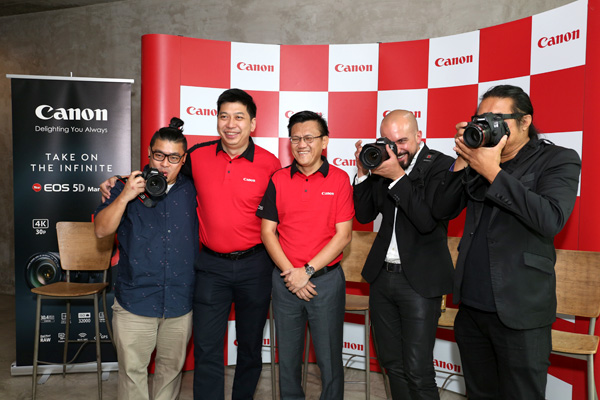 Wi-Fi/ NFC Connectivity and In-Built GPS
The EOS 5D Mark IV is designed with in-built Wi-Fi and Near Field Communications (NFC) capabilities. Users may easily transfer videos and images to external devices via FTP or FTPS service, via the Camera Connect app, or upload them directly on to social media sites. This potentially improves the workflow for many photographers, especially those in the field.
Remote shooting can be activated via the Camera Connect app for users to enjoy the flexibility to take photos or record videos with the EOS 5D Mark IV from a distance by activating the mode via their smartphones. NFC enables quicker connection between the camera and most NFC-enabled devices. Set it up simply by tapping them together.
Equipped with an in-built GPS, the EOS 5D Mark IV can record location data of images into Exif data without requiring an external GPS unit.
Sturdy Design and Easy Operability
Built for durability, the EOS 5D Mark IV is designed for enhanced dust-and-water resistant performance in challenging environments.
Its Intelligent Viewfinder II allows users to check and adjust shooting functions without taking their eyes off the subject. They can also customise the display to include an electronic level and other functions2.
The EOS 5D Mark IV's LCD monitor also features customisable touch panel functions for quick menu navigation and setting adjustments such as shutter speeds, ISO speeds, and AF and AE functions. With the touch shutter function, users can snap a photo simply by tapping the LCD screen to focus and shoot.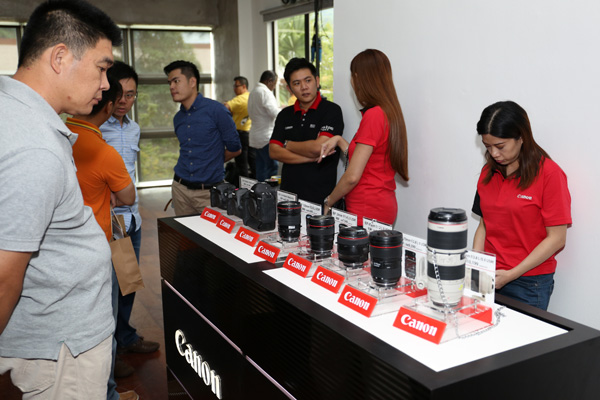 Latest Lens and Accessories
Complementing the EOS 5D Mark IV is the newly released EF24-105mm f/4L IS II USM kit lens which has the latest L series enhancements to match the higher rendering power of the versatile EOS 5D series.
In addition, Canon unveiled its latest ultra-wide angle lens for outstanding image quality and performance – the EF16-35mm f/2.8L III USM.
Canon also launched three new DSLR accessories at the seminar :
– The new slim Battery Grip BG-E20 which provides improved handling for the EOS 5D Mark IV.
– The new Wi-Fi Adapter W-E1, which allows users of the EOS 7D Mark II and EOS 5DS/5DSr to view and import still images and movies, as well as conduct remote shooting with compatible cameras with ease.
– Canon's latest rain cover range, the ERC-E5S/E5M/E5L and Protecting Cloth PC-E1 enable photographers to give their DSLR models the proper protection they need during and after shoots.