Make the Earth Greener with 'One Canon One Tree' Campaign
Kuala Lumpur (6 September 2016) — Canon Business Imaging Solutions (BIS) Division join forces with Majlis Bandaraya Shah Alam to conduct a new environmental conservation campaign, aims at maintaining healthy and sustainable environment called 'One Canon One Tree'. This campaign kick started on 1 July and will end on 31 October 2016. With every purchase or rental of a new Canon multifunctional device (MFD) entitles an organization to pledge one tree to be planted.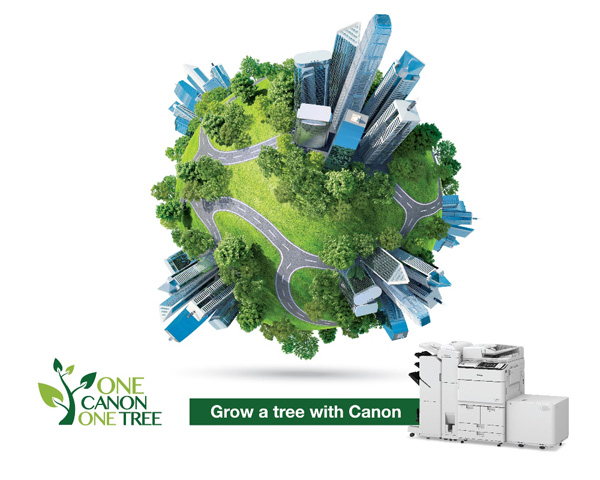 "Canon has a great history of working with organizations to better the environment and we are proud to partner with Majlis Bandaraya Shah Alam for 'One Canon One Tree' campaign. Through this campaign, we encourage companies to utilise the environment-friendly technologies incorporated into Canon products for everyday business tasks to minimise the risk of wasting resources in line with Kyosei philosophy, which focuses on living and working together for the common good," Alvin Lee, Assistant Director, Business Imaging Solution Division, Canon Marketing (Malaysia) Sdn. Bhd.
Open to customers within Klang Valley area, the campaign accepts purchase or rental of any new Canon machine (black & white or color) under this campaign and with each device, one tree will be pledged. There are three options in the campaign for participants to decide after pledging for a tree:
Tree Planting Event
Participants are welcomed to take part in the tree planting event that will be organized at a later date by Canon Marketing Malaysia. The tree will be tagged with the participant's name or company name.
Canon to Plant on Behalf
Canon Marketing Malaysia will help participants to plant the trees and place the tags respectively should participants decide to not join in the tree planting event.
Tree Adoption
Participants are allowed to plant the trees at their preferred venues on their own at any time.
For the 'One Canon One Tree' campaign, Canon Marketing Malaysia has selected several types of trees fit for sapling such as Pterocarpus Indicus (Angsana), Samanea Saman (raintree), Cinnamomuminers, Lagerstroemia Speciosa (Pride of India/ Bungor), Khaya and Delonix Regia.
Don't miss out the chance to take part in the 'One Canon One Tree' campaign* and do our bit for the environment. Photo Journalist
Gadgets, Photography, Automobile, Lifestyle