Hisense Malaysia's Dealers get up close with Red Bull Racing's Daniel Ricciardo
Sepang (29 September 2016) — Hisense, China's leading electronics manufacturer and Global Team Supplier to Red Bull Racing rewarded their key dealers with an evening with F1 champion Daniel Ricciardo.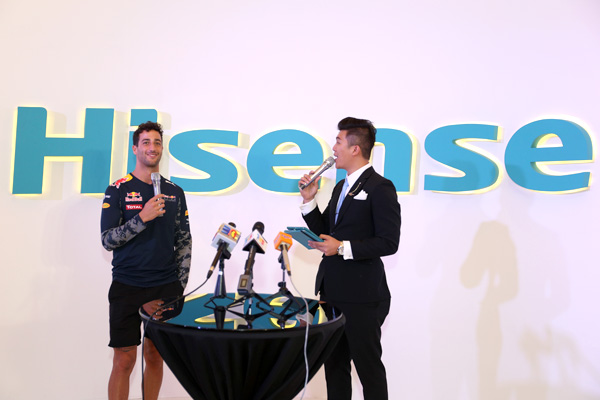 Globally, Hisense joined Red Bull Racing as Global Team Supplier in 2015. The partnership brings together two challenger brands in their field, always on the hunt for innovation and being one step ahead of the competition.
The Hisense branding appears on the nose cone of the number 3 and 33 cars, driven by Daniel Ricciardo and Max Verstappen respectively, as well as within Hisense technology installed in the team's garage at the track and factory back at their HQ in Milton Keynes.
Hisense recently installed a 9.6m screen into the team's Operations Room at the factory, giving the team a competitive advantage by improving communications between the team at the track and the team at the factory over a race weekend.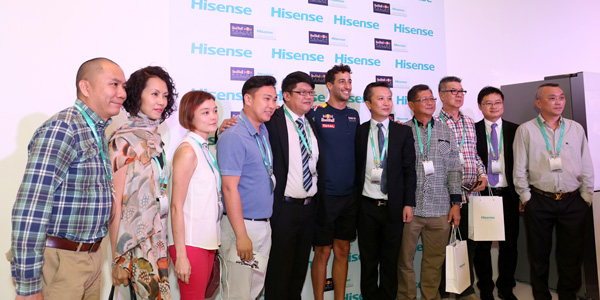 Their top dealers spent the evening networking, before Daniel showed up and spent time answering some pre-race questions from the dealers.  These same dealers also joined Team Red Bull at the track to cheer the team to victory.
In response to a question on his expectations for the race, Daniel candidly quipped, "I have had a good run lately, with four podiums in five races. Ideally I will continue this, and that would be a nice result here in Malaysia. I would not say it's my expectations, but my hopes are this."
Daniel did more than that by clinching his maiden win of the season at the Sepang Circuit ahead of his teammate Max Verstappen and third place finisher Nico Rosberg.
"The team at Hisense Malaysia are thrilled that we were able to witness Daniel emerge champion here at Sepang," said Mr Gan Chee Goon, General Manager of Hisense Malaysia.
With this win, they have finished on the podium 10 times so far in 2016, once taking the top spot with Max Verstappen and now Daniel clinching that same honour.
Hisense also showcased their range of televisions, air conditioners, refrigerators and chillers at the event, which was held at Sama-Sama Hotel near KLIA.