Axiata and Atilze collaborate to develop IoT Business in Southeast Asia
Kuala Lumpur (2 September 2016) — Axiata Group Berhad ("Axiata"), one of Asia's leading telecommunications groups, is collaborating with Atilze Digital Sdn Bhd ("Atilze"), a wholly owned subsidiary of Yen Global Berhad, to trial, explore, develop and pursue Internet of Things (IoT) opportunities across Southeast Asia, initially focused on connected car solutions ("Connected Car") and commercialising city-wide LoRa network deployments ("LoRa Network"). The signing ceremony was held earlier today at the Hilton Hotel, Kuala Lumpur.
The term of the Collaboration Agreement ("CA") is for a period of twelve months (12), where Atilze together with Axiata will jointly implement Proof-of-Concept ("POC") pilots for Connected Cars and LoRa IoT network in Malaysia, Indonesia and Thailand.  The Connected Car solutions will have a range of applications that include advanced diagnostics, predictive maintenance, real-time fleet monitoring and management, driving pattern analysis, Advanced Driver Assistance Systems (ADAS), in-car WiFi, in-car Infotainment, in-car e-Commerce, electronic gate-less toll payments and Usage Based Insurance (UBI).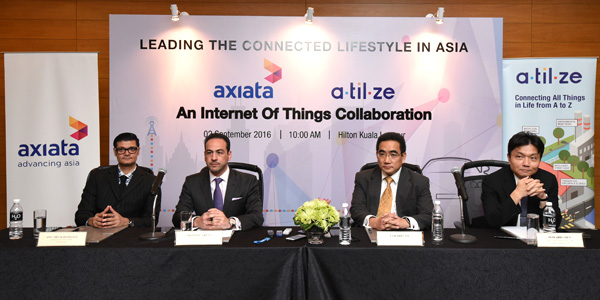 The aim of this collaboration is to develop a strategic partnership between Axiata and Atilze, to test and explore viable IoT applications as well as to pursue broader potential business opportunities in the IoT sector. Concurrently, the collaboration encourages partnerships with other stakeholders within the ecosystem who have ready-made IoT applications to integrate into Atilze's LoRa Network.
With this collaboration, both Axiata and Atilze will work together to acquire partnerships and create collaborative ecosystems with other stakeholders in relation to the selected IoT solutions for the city-wide LoRa Network.
Commenting on the signing ceremony, Mr Gerard Lim, the Chief Executive Officer of Atilze said, "We see huge opportunities for IoT applications and services across South and Southeast Asia, and this is why Axiata is the natural partner of choice for Atilze given the regional footprint and scale that Axiata has, as one of the leading telecommunications groups in the region. We have already started introducing our IoT solutions to the market through Axiata and its operating companies as well as affiliates and early results have been very encouraging."
The use of the LoRa Network is the foundation of the targeted IoT applications under the CA. LoRa, known as long range, low-power wide area network (LPWAN) technology provides a lower cost connectivity solution with broad coverage and lower energy consumption. Hence, it is an environmental friendly and advanced, standardised technology backed by several global telecom companies, designed to suit the demands of IoT applications and services today and into the future. Importantly, LoRa compliments operators' cellular 3G and 4G LTE networks.
Mr Dominic Arena, Group Chief Strategy Officer of Axiata said "As Axiata transforms itself into a new generation digital company, we intend to lead the digital revolution and embrace new growth opportunities throughout the digital economy.  IoT is one key pillar of our 'Axiata 3.0' strategy and is an emerging digital services sector estimated to be worth potentially US$30 billion by 2020 in Axiata's current footprint alone based on our own analysis of several independent forecasts. Beyond the 2 billion people covered by our current footprint, there are several billion more prospective connected 'things', hence we foresee the IoT sector growing exponentially over the next 2-5 years with greatest economic potential in the B2B and B2B2C segments, through empowering Enterprises and Governments to digitize their own operations and also provide innovative, integrated connectivity and analytics-based solutions to their end customers and citizens. With Atilze, we enter into a collaboration with an established IoT provider to explore growth opportunities, incubate and offer targeted IoT solutions both within our existing footprint markets and also beyond where we currently operate."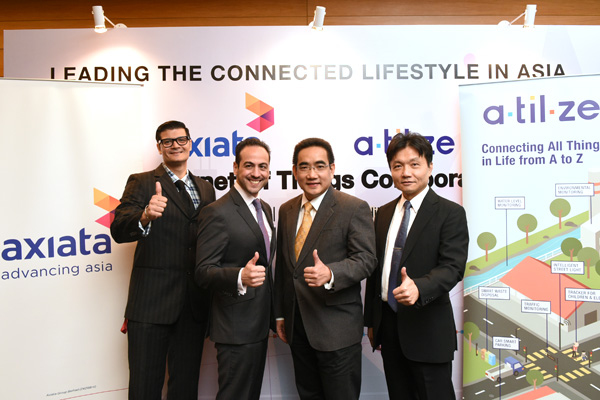 Under the CA, Atilze will supply the LoRa gateways, antenna systems, nodes and devices for use with existing and new sensor systems that form the basis of IoT applications in industries such as Transportation, Utilities, Healthcare and Smart Cities. Atilze will also manage, operate and provide maintenance and support services for its city-wide LoRa Network.
The initial IoT applications and services that will be implemented on the LoRa Network will focus on Connected Car, Asset Tracking, Smart Parking, Smart Metering and Security services. We already see many new cars sold today being IoT capable from the factory, which will drive the number of Connected Cars across Asia to quadruple by 2020 as the IoT ecosystem develops.
IoT is a major springboard for much of Asia's high growth Digital Economy strategy. Independent studies have shown that the Asia Pacific region is leading the world in IoT adoption and that total spending for IoT in Asia Pacific is already over US$15 billion in 2016, and will grow at a CAGR of around 35% over the next 5 years.

Mr Lim further added, "This is a very exciting time for us to partner with Axiata to carry out these IoT projects. I trust that this partnership will deliver synergistic benefits to both Axiata and Atilze by leveraging on Axiata's footprint across Asia as well as Atilze's focus as an IoT services and solutions provider. Together with Axiata, Atilze looks forward to deliver a positive impact to the lives of millions of people across Asia."
In parallel, Atilze has recently partnered with Cyberview Sdn Bhd to build, operate and commercialise a LoRa Network in Cyberjaya, that positions Cyberjaya as the first smart city in Southeast Asia connected with a city-wide LoRa Network. Photo Journalist
Gadgets, Photography, Automobile, Lifestyle