TM becomes the First Provider in Malaysia to showcase 4K Quality Content
Petaling Jaya (9 August 2016) — Telekom Malaysia Berhad (TM) via its award-winning IPTV service, HyppTV today made a TV breakthrough by showcasing the Rio 2016 Olympic Games in 4K quality, a first in Malaysia, in a special event at Sunway Pyramid, the official venue partner for the showcase. The event was held to preview HyppTV's breakthrough innovation in TV broadcasting, together with its technology partner, Huawei.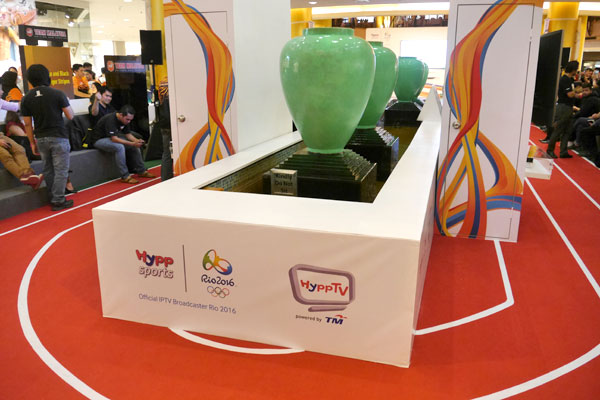 The 4K technology will soon be gracing the public's TV screens. This is made possible via UniFi bandwidth capabilities and Huawei's technology on the service's IPTV network.
The event was graced by Tan Sri Zamzamzairani Mohd lsa, Group Chief Executive Officer, TM and Abraham Liu, Chief Executive Officer, Huawei Malaysia.
Speaking at the event, Tan Sri Zamzamzairani said, "As the nation's Convergence Champion, TM is indeed excited to be the first Malaysia's TV Operator to offer enriched premium, world class entertainment content with 4K broadcast quality to its customers, further enhancing our entertainment proposition and more importantly providing an enhanced viewing experience for our customers on HyppTV soon. This wholesome viewing experience is possible through the stability and flexibility of UniFi fibre optic network and Huawei's technical support in advanced broadcast technology."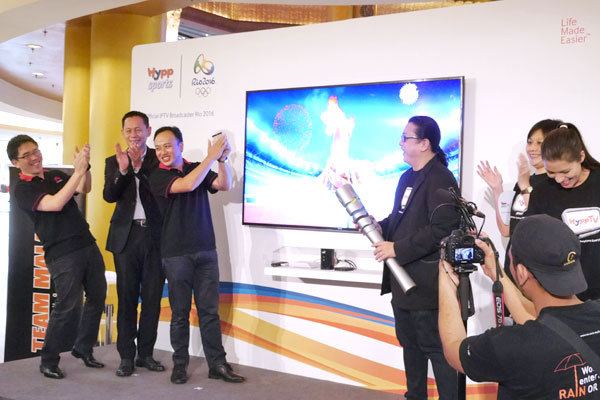 "As Malaysia's official IPTV broadcaster of the Rio 2016 Olympic Games through HyppSports HD, HyppTV is Malaysia's first TV operator capable of showcasing the Games in 4K quality. So we are excited to offer this unique viewing experience to the public for the first time at Sunway Pyramid for the whole duration of the Games starting 9 until 23 August," he added.
Meanwhile, Abraham Liu, said, We are very pleased to support TM in bringing the Rio 2016 Olympic Games in 4K to Malaysian viewers. TM is the leading IPTV service provider in Malaysia and today's event sees TM bringing the next wave of revolution in home entertainment and video to the nation. As a long-term strategic partner to TM, Huawei will keep leveraging its innovation capabilities and global experience to provide the best broadcasting service to TM's customers."
HyppTV customers are currently enjoying up to 1080 pixels Full High Definition (HD) quality broadcast format of Live TV channels and Video-On-Demand (VOD) content. 4K (Ultra-HD) quality viewing is in the 3840 x 2160 resolutions (about 8.2 million pixels) which is four times the Full HD (1080p) standard that the normal TV or smartphone uses today. HyppTV is currently working with Huawei as the technology partner to develop its 4K broadcast capability and will bring in variety of world-class entertainment content available in Ultra HD quality. With these efforts, HyppTV customers will soon enjoy premium content with greater picture details, lifelike images, higher frame rates and better sound quality.
As the official IPTV broadcaster for the Rio 2016 Olympic Games via HyppSports HD, HyppTV subscribers of both paid and premium tiers will enjoy all 42 Rio 2016 events across seven (7) dedicated Live TV on HyppSports HD Rio 2016 channels (HyppTV Channels 720 – 726) from 21 July until 2 September 2016 as earlier announced.
The 7 HyppTV channels are as follows:
HyppSports HD — Rio 2016 1 Ch. 720
HyppSports HD — Rio 2016 2 Ch. 721
HyppSports HD — Rio 2016 3 Ch. 722
HyppSports HD — Rio 2016 4 Ch. 723
HyppSports HD — Rio 2016 5 Ch. 724
HyppSports HD — Rio 2016 6 Ch. 725
HyppSports HD — Rio 2016 7 Ch. 726
Customers can also enjoy HyppTV Interactive Channel to watch the playback of the Rio 2016 Olympic Games. Press the i button on your HyppTV remote to watch.
True to its promise of 'Life Made Easier', everyone in Malaysia can enjoy Rio 2016 Olympic Games LIVE and for FREE by downloading the HyppTV Everywhere app. The application is available at no cost on Google Play and App Store and requires an easy in-app registration via mobile number or Facebook. Aside from the Olympics, customers are also able to enjoy all the free channels on HyppTV platform while on the move.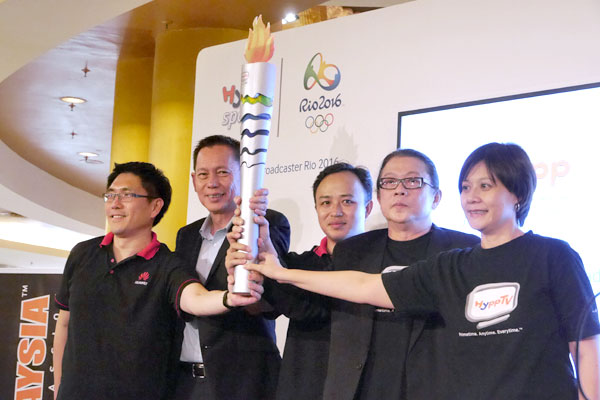 For exclusive live updates from Rio and to witness this historic sporting event, follow us at the official Team Malaysia twitter account, @TeamMsia and the official Facebook page www.facebook.com/TeamMalaysia. For more information of the Rio 2016 Olympic Games on HyppTV, visit www.tm.com.my/Rio2016.
HyppTV now offers its customers a total of 114 channels with 53 channels in High Definition (HD) – consisting of 45 premium channels, 33 free channels, 5 Radio channels, 8 Video-On-Demand (VOD) channels and 23 interactive channels in a wide variety of affordable packages or via ala­carte options. HyppTV customers will also enjoy the world class entertainment line-up on the move via HyppTV Everywhere or HyppPlay, a Video-On-Demand channel which offers a series of content available on HyppTV for binge watching.
For more info visit www.tm.com.mv/hvpptv or check out our social media page at www.facebook.com/hyppworld (Facebook), www.twitter.com/hyppworld (Twitter), and www.instaqram.com/hyppworld (Instagram). Photo Journalist
Gadgets, Photography, Automobile, Lifestyle