OPPO Launches 16 MP "Selfie Expert" F1s in Malaysia, Brings Superb Camera Experience to More Users
Kuala Lumpur (10 August 2016) — The ever-evolving smartphone brand OPPO launched the F1s at an event in Kuala Lumpur today, introducing another superb device to its photography-focused Selfie Expert series. Priced at RM1,198 F1s carries on the "Selfie Expert" title of its predecessor, the F1, raising the bar with a 16 MP front camera and a next-level feature set.  The F1s steps up the selfie revolution, bringing OPPO's leading photography technology to an even wider range of consumers.
Along with its standout front shooter, the F1s spots a 13MP rear camera, a lightning-fast fingerprint reader, a large 3075mAh battery, 32GB ROM, and a triple-slot card tray that offers dual-SIM capability and expandable memory.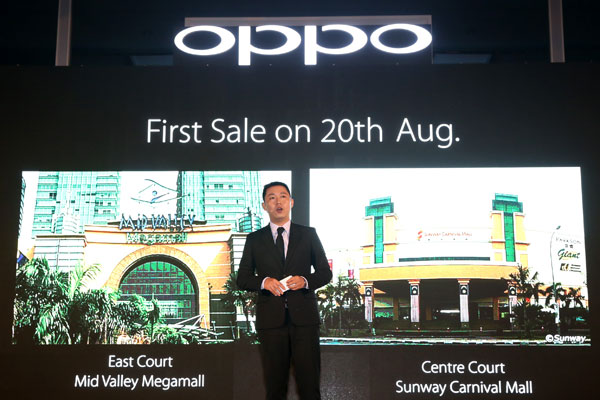 "The F1 has been a hugely popular product since its launch, and in the F1s, we're building on its key strengths to bring an even better photography experience to a wide range of consumers," said William Fang, Chief Executive Officer of OPPO Malaysia. More than ten million consumers are enjoying our Selfie Expert, and we're confident the F1s is going to carry on the success and become another hit product."
The F1s is the latest example of OPPO's commitment to leading the industry with outstanding selfie experiences. After pioneering the use of a beautify feature on smartphone cameras in 2011, OPPO went on to introduce the world's first smartphone with a rotating camera, 2013's N1. With the F1s, OPPO aims to bring even more users around the world selfies that show them at their best.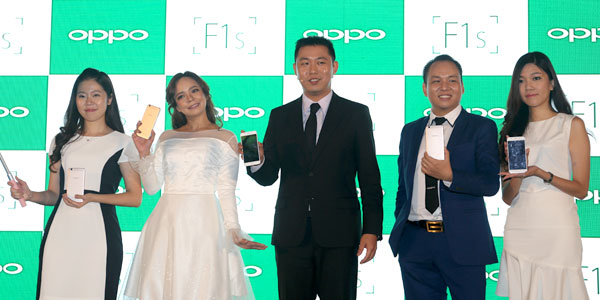 Actress, model and television host as well as OPPO F1's Selfie Ambassador, Nora Danish, was present at the launch of F1s to demonstrate the phone's selfie feature such as beauty selfie, palm shutter and panorama selfie.
According to William, Nora will continue to be the representative for the F1s or the "Selfie-Expert" phone. "The trendsetter in the art of beautiful selfies skills as well as her down-to-earth yet captivating lifestyle are followed by over 3.7 million fans on Instagram. In addition, the level of professionalism and modesty that Nora Danish represents are values that are in line with OPPO. We believe that Nora remains an ideal representative of the new social media savvy generation," he added.
In addition to her role as OPPO F1 and F1s Selfie Ambassador, Nora recently worked   with Ola Bola's JC Chee for OPPO's TV commercial.
The Art of the Selfie
As the new "Selfie Expert", the F1s is purpose-built to capture beautiful, natural-looking selfies, and it's the first phone to bring a 16 MP front camera to the price segment. The 16MP Beautify camera comes equipped with a 1/3.1-inch sensor and large f/2.0 aperture, providing high dynamic range and minimizing noise.
Combining these specs with OPPO's unique processing algorithms allows the F1s to capture vivid selfies with superb depth and detail. The device also features an upgraded Screen Flash function, which dynamically adjusts to compensate for current light conditions, ensuring users can capture beautiful selfies even in low light.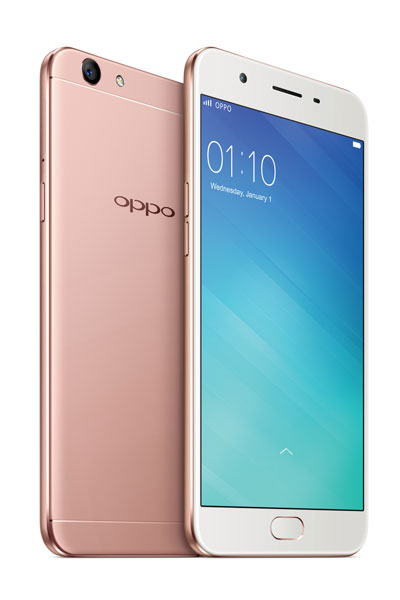 The F1s features a 13MP rear camera with a 1/3-inch back-illuminated sensor and f/2.2 aperture, for high light sensitivity and dynamic range. With these features and PDAF, the F1s seamlessly captures crisp, clear, vivid shots.
Both the front and rear cameras offer Beautify 4.0, providing seven levels of beautification and two skin tone modes, so that users can find the perfect settings for their look. Beautification algorithms have been updated based on feedback from hundreds of real-life users.
The F1s' sophisticated photography platform offers a host of practical features. Adding to the rear camera's panorama mode is a Selfie Panorama feature up front, ensuring that users will get the whole party in the shot. Meanwhile, selfies can be automatically activated with the wave of a hand or simply by saying "Cheese!", leaving users free to get their shots just right and avoid the unwanted shake caused by pressing the shutter button
Users also have endless possibilities for creativity and fun with nine built-in filters and watermarks, along with a host of plug-ins, including an upgraded Expert Mode, Double Exposure, Time Lapse and GIF.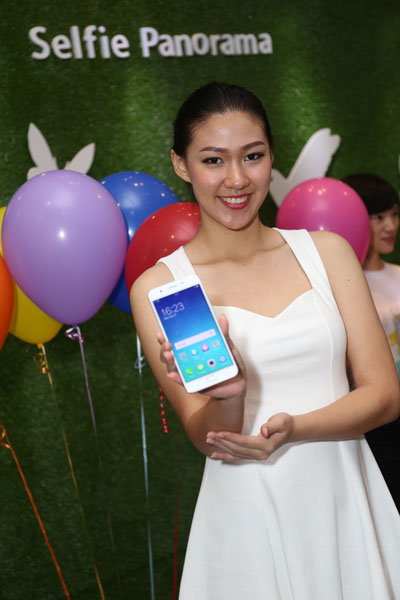 Lightning-Fast Touch Access, New Fingerprint-Activated App Launch
The F1s also features a home-button fingerprint reader, which can unlock the phone in a mere 0.22s, easily one of the fastest fingerprint reader's in the price segment.
The fingerprint reader is also the key to a brand-new feature: fingerprint-activated calling and app launch. Users can assign five different fingerprints to applications and contacts of their choice. Then, by using different fingers to unlock the phone, the pre-set app or phone call will start automatically, saving users the inconvenience of finding names in a contact list or looking for an app among dozens of icons. See a shot you need to capture fast? Just drop your pre-set finger for the camera app and go!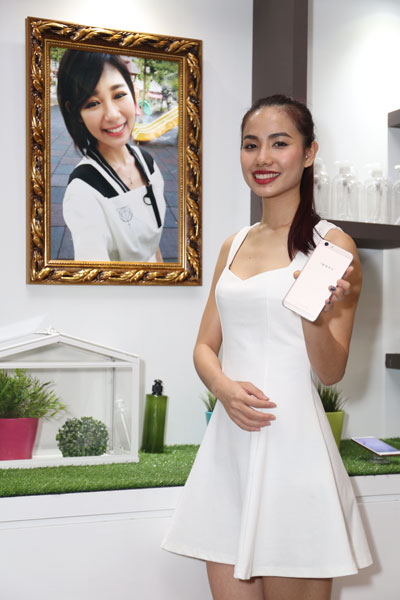 Smooth, Snappy, Long-Lasting Performance
The F1s cruises on an octa-core 64-bit processor with 3 GB RAM and 32 GB ROM. With the all-new triple-slot tray, users can throw in two separate 4G SIM cards and a memory card of up to 128 GB, helping to achieve work-life balance and giving plenty of flexibility for talk and data plans.
On the firmware front, the fast, smooth and snappy ColorOS 3.0 will keep F1s users happily multitasking. On ColorOS 3.0, hundreds of the most common usage scenarios have been painstakingly optimized for superb speed and performance. Compared with ColorOS 2.1 on the F1, operating speed has increased by more than 30%.
In addition, ColorOS 3.0 automatically cleans up background apps for improved battery efficiency and performance, while a customizable Privacy Protection feature and Avast-based virus scanner keep users' valuable data safe.
The F1s packs a large 3075 mAh battery, whose performance is boosted by ColorOS 3.0's state-of-the-art power-saving optimizations. In a test that simulates non-stop real-world use with a mechanical arm, the F1s coasted through 14 hours, meaning it will easily keep users going from dawn until dusk.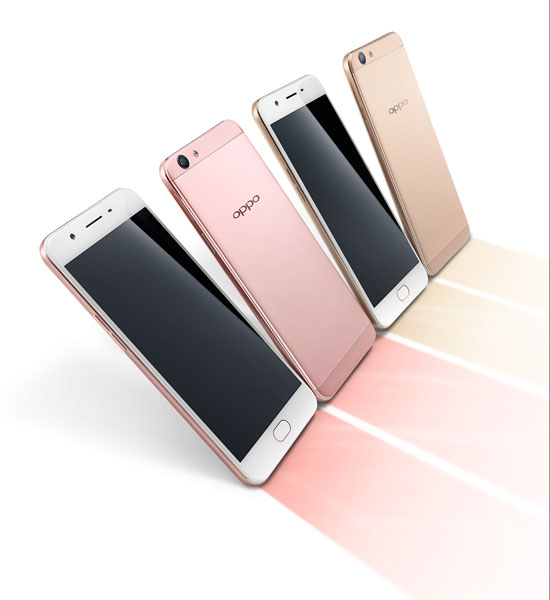 Sleek, Eye-Catching Design
OPPO never lets users down when it comes to design. The F1s features a 5.5-inch 2.5D Corning Gorrilla Glass 4 screen, with a pre-applied protective screen coating, giving a premium look without sacrificing premium durability. Two slender lines flow across the phone's aluminum alloy back, giving it a sleek, effortless distinction.
The F1s comes in two colors: Gold and Rose Gold. F1s will be available for pre-order starting from 10 August 2016 until 19 August 2016 and available at all OPPO sales point nationwide from 20 August 2016 onwards.
For more information, please visit here. Photo Journalist
Gadgets, Photography, Automobile, Lifestyle