Ducati Scrambler – The Land of Joy
Bukit Tinggi (9 August 2016) — Ducati Scrambler is not just a new motorcycle but rather a new brand, a new approach to the motorcycling world that offers not only performance and technology but also freedom of expression, fun and sharing of positive emotion.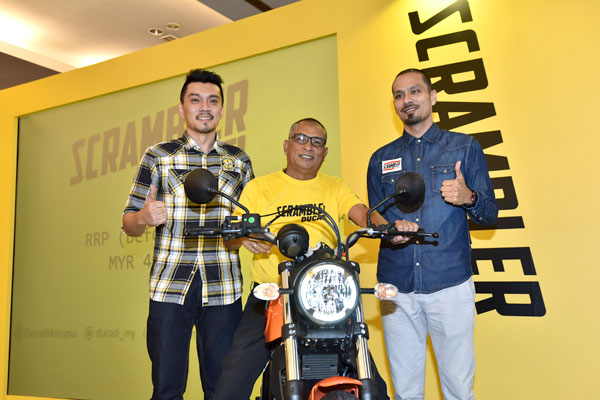 Ducati Scrambler is a new brand, offering a whole new world made up of bikes, accessories and apparel that provide the last word in self-expression. Anti-conformist, accessible and essential, the Ducati Scrambler is a perfect mix of tradition and modernity, a step towards the pure essence of motorcycling: two wheels, wide handlebars, a straightforward engine and endless fun.
The Scrambler world – the latest addition to the Ducati universe – is one of authentic creativity and free expression; the lead-up to its official arrival has generated an unprecedented buzz, as has a captivating launch campaign of outstanding originality.
This is more than just a new bike: it's a whole new world, one that expresses itself via a range of versions that provide a starting point for satisfying the different needs and wants of individual motorcyclists. "Post-heritage" design gives a
contemporary take on the iconic bike built by Ducati back in the 70s. This Ducati Scrambler, though, is not a retro bike: it is, rather, intended to be just how the legendary motorcycle would be today if Ducati had never stopped building it.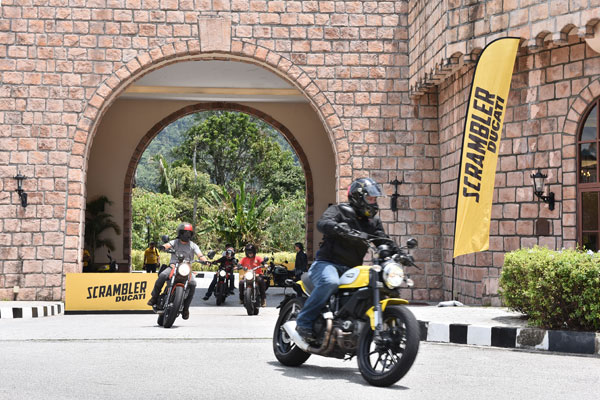 Today, the Ducati Scrambler family has grown. The Icon, Urban Enduro, Full Throttle and Classic versions will now have the new Sixty2 which opens the way for a new two-wheel segment that meets the requirements of those
seeking a smallerengined bike that is easy to handle and has low running costs but not wanting to miss out
on the unique Scrambler spirit.
Moreover, thanks to a vast range of apparel and bike accessories, called "ingredients", the Ducati Scrambler offers a virtually unlimited range of exclusive personalisation and lifestyle options.
Apparel
Casual, outdoor, authentic, the Ducati Scrambler apparel collection promotes free expression, in line with the modern philosophy, offering an up-to-date interpretation of the stylistic heritage of the past. Its "post-heritage" style is based on choosing the very best from the past to make it into absolutely innovative, contemporary designs.
Apparel intended not just as "riding gear", but as a true lifestyle option, able to cross and mix the boundaries between technical gear and fashion items.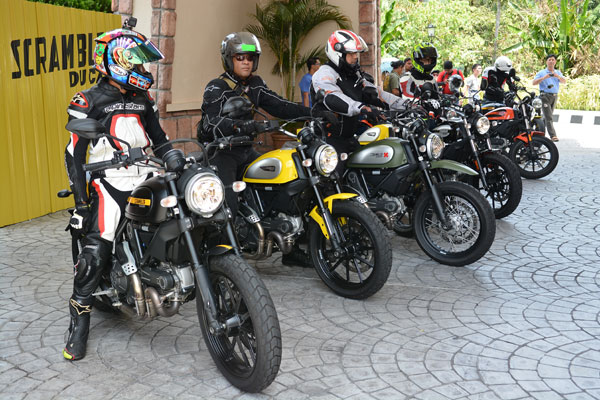 The result is a vast, cross-generational collection of essential, authentic items with a contemporary feel, suitable for customers from all age groups. Inspired by the concept of free expression, the three different lines (Urban, Outdoor and Lifestyle) will enable everyone to create their own, exclusive style.
The Urban line includes a Quattrotasche (four pockets) jacket by Dainese ensuring safety, functionality and an excellent fit thanks to the Pro Shape protectors, without ever compromising on the heritage feel inspiring the whole Ducati Scrambler project. he Outdoor line makes the most of the practical, functional character of outdoor garments
by adapting them to city life. This process is typified by the Outdoor jacket, with its removable camouflage lining and type-approved soft protectors. Its back-protector rear pocket ensures that the highest safety is available at all times. Lifestyle line is the Ducati Scrambler collection to wear on any occasion. From T-shirts to fleeces, through to trucker caps, belts and a water bottle. Lifestyle items to show off your Ducati Scrambler style anywhere.
Ingredients
Named after the English word "to scramble" (mixing up, blending), the Ducati Scrambler is a form of expression of the rider's identity and lifestyle. The four motorcycle versions (Icon, Full Throttle, Classic and Urban Enduro) are just a starting point to create an absolutely unique, personalised model. Thanks to a wide range of ingredients, each Ducati Scrambler can be customised to suit any owner tastes.
A vast array of Ducati Performance 'ingredients' can be used to personalise the Ducati Scrambler. For example, chrome, matt black, or even carbon fibre tank side panels are available. Then there are a variety of solutions regarding the front mudguard, high plate holder, tank bag, canvas and leather panniers, high and low Termignoni slip-on exhaust, headlamp rim and grille, instrument panel rim, vintage grips, rear-view mirrors plus spoked wheels, four different seat versions and the low-slung tapered handlebars.
Overview of Ducati Scrambler models and features
Ducati Scrambler Sixty2
Colours
"Atomic Tangerine" with black frame and black seat
"Ocean Grey" with black frame and black seat
"Shining Black" with black frame and black seat
Features
Steel teardrop fuel tank with dedicated design
Dedicated adhesive logo
Traditional stanchion fork
Newly designed front mudguard
Classically designed steel swingarm
Exhaust with all-new pipe layout and black silencer cover
Rear wheel with 160/60 x 17'' tyre
Round rear view mirrors
High plate holder
2-channel ABS as standard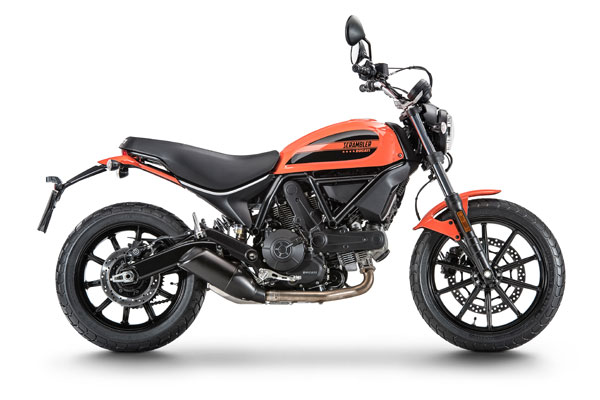 Scrambler Icon
Colours
"62 Yellow" with black frame and black seat
"Ducati Red" with black frame and black seat
Features
Steel teardrop-shaped tank with interchangeable aluminium side panels
Low seat (790 mm) for perfect stationary manoeuvrability
Low weight (170 kg dry) and low centre of gravity
Wide handlebars for a relaxed riding position
Headlight with glass parabola and ultra-modern LED light guide
Rear light with suffused-light LED technology
LCD instruments
L-twin air-cooled 803 cm3 engine
Machine-finished aluminium belt covers
Twin spar steel Trellis frame
Die-cast aluminium rear swingarm
10-spoke alloy wheels, 18'' front, 17'' rear
Enduro-derived Pirelli tyres optimised for the Ducati Scrambler
Dual-channel ABS as standard
Spacious under-seat storage compartment with USB socket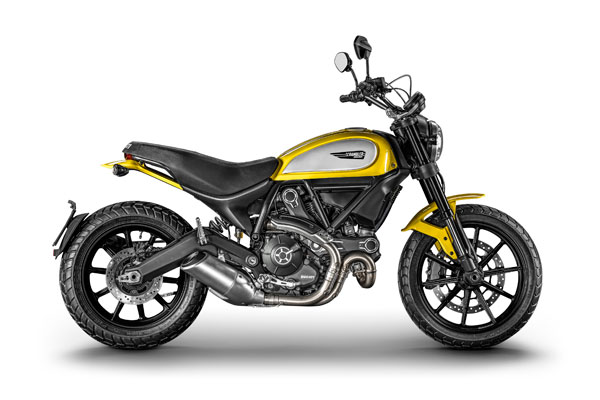 Scrambler Urban Enduro
Colour
"Wild Green" with black frame and brown seat
Features
Spoked aluminium wheels
Engine sump guard
High front mudguard in plastic fibre
Headlight grill
Handlebar cross-strut
Plastic fibre fork protectors
Dedicated seat with horizontally ribbed stitching pattern and modern fabrics
Dedicated logo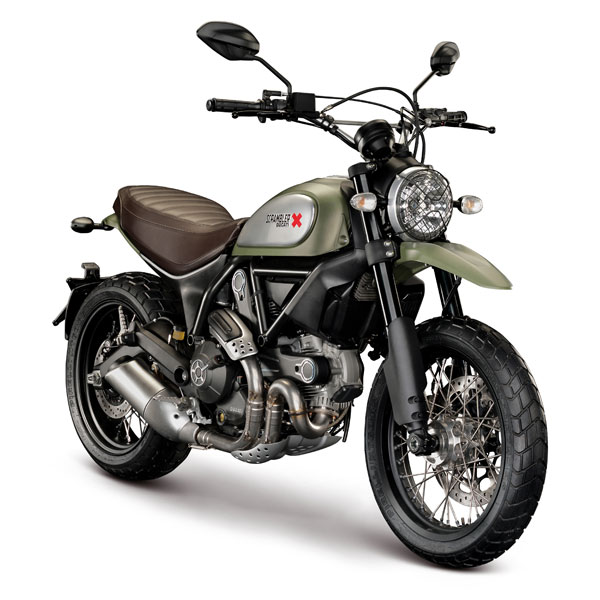 Scrambler Full Throttle
Colour
"Deep Black" with black frame and black seat
Features
Low-slung type-approved Termignoni slip-on
Low, tapered-diameter handlebars
Flat-track style seat with yellow inserts
Indicator lights support
Sports style front mudguard
Black fuel tank side covers
Dedicated logo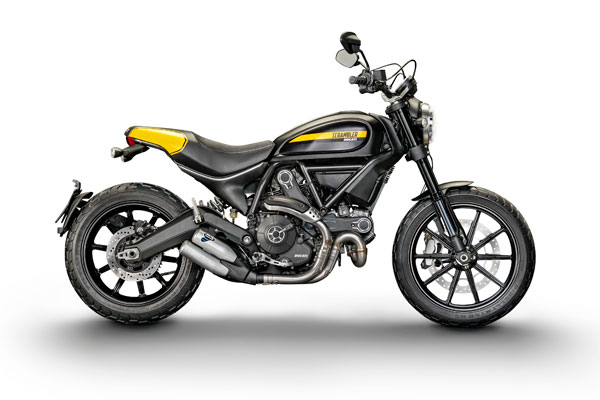 Scrambler Classic
Colour
"Orange sunshine" with black frame and brown seat
Features
Spoked aluminium wheels
Front and rear metal mudguards
Dedicated seat with lozenge-type stitching pattern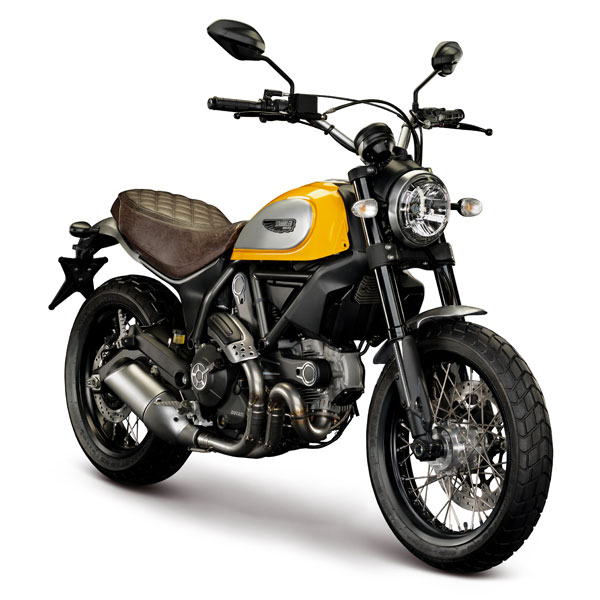 Photo Journalist
Gadgets, Photography, Automobile, Lifestyle
bikeclassicducatiendurofull throttleiconmotorcyclescramblersixty2