Canon's new flagship imagePRESS C10000VP Digital Colour Press takes print quality and productivity to the next level
Kuala Lumpur (4 August 2016) — Canon today announced the launch of the imagePRESS C10000VP series, the company's first 100 page-per-minute colour digital print engine. Designed to meet the increasing demands of both commercial and in-house print service providers for higher production volumes without compromising quality, the imagePRESS C10000VP series set new standards in image quality consistent colour and more accurate registration control enable the imagePRESS C10000VP series to provide flexible media handling and finishing.
"Canon's new imagePRESS C10000VP series perfectly addresses the business-critical needs of print service providers (PSPs), helping optimise productivity, deliver outstanding image quality, predictable colour consistency and accurate registration on any media they choose without compromising speed," said Mr. Wataru Nishioka, President and CEO of Canon Marketing (Malaysia) Sdn. Bhd. "It is ideal for both existing customers who outgrew their print volumes with the imagePRESS series and are now looking for the next step in high quality colour productivity, as well as for PSPs who want to take advantage of changing market demands."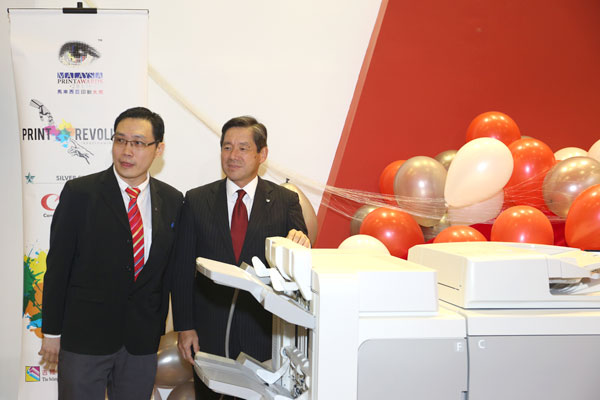 Optimum Productivity and Versatility
Designed for demanding production environments at commercial printers, in-plants, transaction and direct mail service providers alike, the new imagePRESS series is engineered to run a wide range of media types and weights without sacrificing overall productivity. The series consists of the imagePRESS C10000VP, which features a fast print speed of 100 impressions per minute, and the imagePRESS C8000VP, which features a print speed of 80 impressions per minute, all supporting media weights up to 350 gsm and a monthly duty cycle of up to 1.5 million impressions.
The imagePRESS C10000VP series' Consistently Vivid (CV) toner feature offers improved transfer efficiency and a lower fixing temperature, delivering vibrant image quality even on textured media. A new air compressor also makes it possible to print onto thin coated media as light as 70gsm.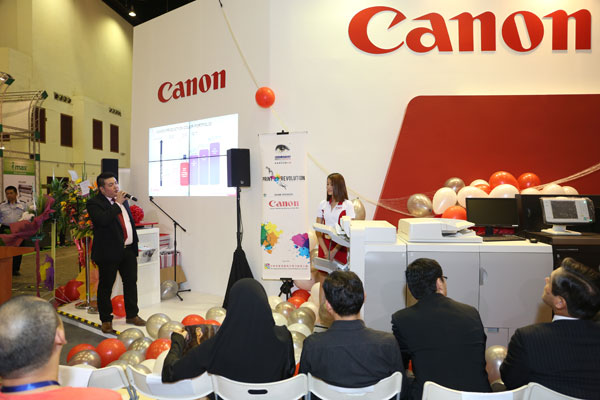 Thanks to its finishing options including a professional puncher supporting a wide range of media sizes and a new inline creasing functionality, the imagePRESS C10000VP series offers significant options and convenience to users. Users have, among others, the option of creating quality half folded leaflets and saddle-stitched booklets, perfect for PSPs who yearn for seamless versatility for their clients.
Workflow is further streamlined with PSPs able to pick a digital front end controller of their choice – Canon's PRISMAsync or the new EFI Fiery FS200 Pro — to suit their needs. The imagePRESS C10000VP series is also able to maintain impressive machine uptime with Canon's dual fixing technologies, serviceability improvements and extensive key operator maintenance.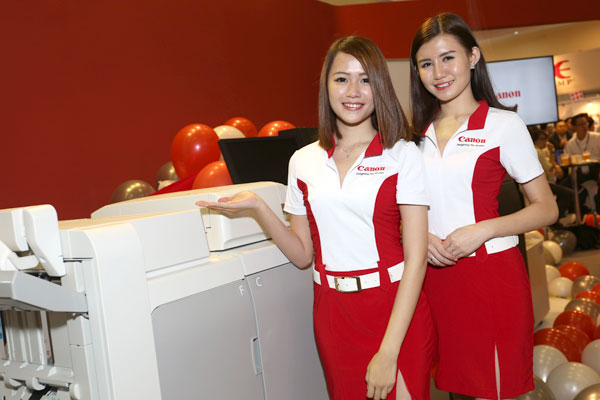 Outstanding Image Quality and Predictable Colour Consistency
Featuring the same CV toner and 32-beam Vertical Cavity Surface Emitting Laser (VCSEL) technology as the successful imagePRESS C800 series, the imagePRESS C10000VP series offers a 2,400 x 2,400 dpi print resolution, and vivid output quality.
A new developer unit in the imagePRESS C10000VP series maintains colour consistency, ensuring stable output even over long runs. This is further enhanced by the introduction of a new Multi Density Adjustment Technology, allowing automatic real-time density correction, as well as an in-line spectroscopic sensor, which enables daily colour calibration. Canon's unique Gloss Optimisation technology helps to match gloss levels of the printed image to the substrate it is printed on.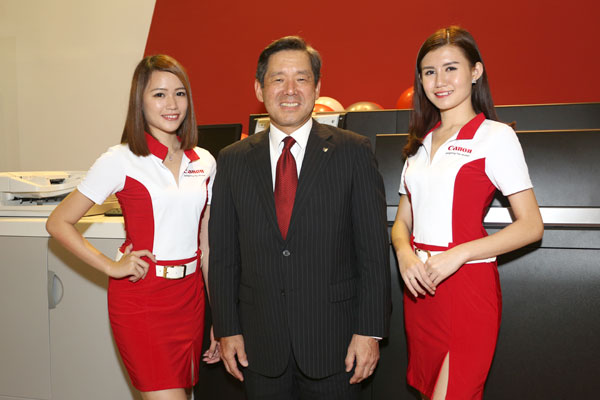 Productivity is also maximised with accurate first-time-output, a second transfer belt providing control over registration and a new Simple Registration Control technology, enabling quicker and easier registration adjustments.
For more information, log on to www.canon.com.my. Photo Journalist
Gadgets, Photography, Automobile, Lifestyle
Businessc10000vpcanonCorporatedigital colour pressimagepressprinter