All-New Toyota Sienta Compact MPV launched in Malaysia
Kuala Lumpur (18 August 2016) — UMW Toyota Motor Sdn Bhd (UMWT), the sole authorised importer and distributor of Toyota vehicles in Malaysia, today launches the All-new Toyota Sienta, the compact MPV has been developed for modern urban families.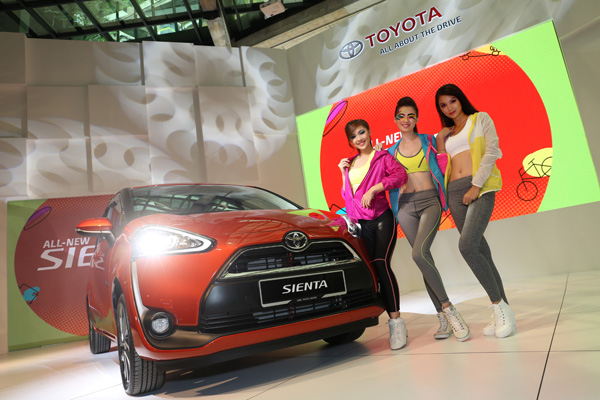 Design-wise, the All-new Toyota Sienta has a very different appearance from other Toyota models. Its youthful image and styling was inspired by trekking shoes which express functionality and a dynamic character. The design also accentuates the vehicle's 3-dimensional form with garnish based on a shoe's protector.
At the introduction of the All-new Toyota Sienta to the media, Mr. Akio Takeyama, Deputy Chairman of UMW Toyota Motor said that "The All-new Toyota Sienta is Toyota's first passenger car-based 7-seater model to be introduced in this market. Although it has a compact body dimensions, the highly efficient packaging provides great functionality with plenty of space for people and their gears."
He also said "In other markets, such as Indonesia, the response from the public towards the All-new Toyota Sienta has been very encouraging. We strongly believe the Sienta will be well accepted by customers in Malaysia."
Datuk Ismet Suki, President of UMW Toyota Motor said "The All-new Toyota Sienta has been developed for urban families who seek premium value and also want a trendy car with a unique design rather than a plain 'people-carrier'. The appearance of the model is indeed something quite different from the usual MPV."
"With so many values the All-new Toyota Sienta carries, I am sure that it will appeal to young people and young families who are looking for a compact MPV that has good fuel economy, advance specifications and better safety features." he said, adding that since bookings were taken from early June this year, a total of around 500 orders had been received.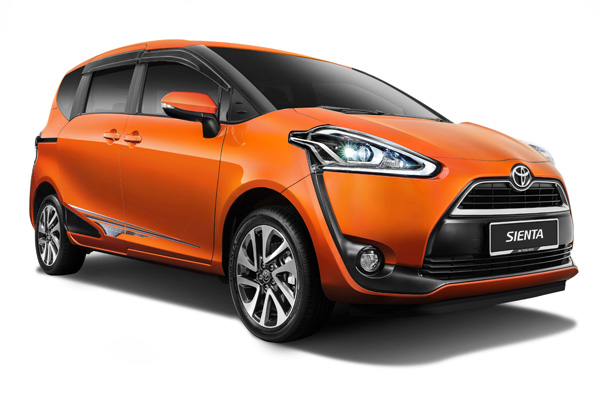 The All-new Toyota Sienta is offered in two variants – Sienta 1.5V and Sienta 1.5G. It comes with 6 colour choices and is imported from Indonesia. Under the sloping bonnet is a new 1.5-litre petrol engine with Dual VVT-i (variable valve timing with intelligence) which provides continuous adjustment of the opening and closing of the valves on both intake and exhaust sides. The adjustment is changed electronically according to driving conditions so optimum output is always available while improving fuel efficiency and reducing emissions.
The maximum power output of 107 ps at 6,000 rpm with 140 Nm at 4,200 rpm travels to the front wheels through a Continuously Variable Transmission (CVT). Toyota engineers chose a CVT as it offers high efficiency and smooth operation which is enhanced by the presence of a Torque Converter which eliminates shift shock. The driver can also select from 7 gear positions using the Sport Sequential Shiftmatic mode.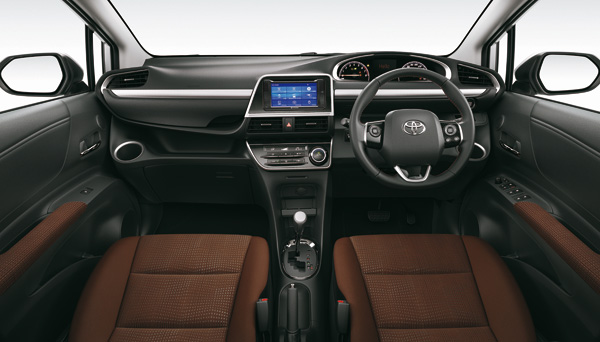 Being an MPV, interior packaging is very important and Toyota's interior designers have provided a cabin with maximised versatility and functionality. The three rows of seats which can accommodate up to 7 persons can be arranged in various layouts to suit different requirements. Folding of the seats is easily done and the flat floor space optimises cargo capacity.
Instead of conventional hinged doors, the All-new Toyota Sienta has sliding doors on both sides. Such doors not only make getting in and out easier in tight parking spaces but also provide larger openings. For convenience, both variants have power sliding doors (left side only for Sienta 1.5G) which can be opened and closed using the door handles, pressing a button on the key fob, or a switch on the dashboard. The Sienta 1.5V is also equipped with the Smart Entry & Start system where starting and stopping of the engine can be done with just the press of a button.
With the possibility of having up to 7 persons in the cabin, there will be a need for storage spaces to keep drinks, personal devices and other small items. Understanding this need, the interior designers have provided no less than 14 storage spaces around the cabin.
Safety has always been a top priority for Toyota, even more so today. There are two frontal SRS airbags and also a third airbag under the steering column for the protection of the driver's knees. The All-new Toyota Sienta also comes with two Active Safety systems that will be useful in everyday driving. They are Vehicle Stability Control (VSC) and Hillstart-Assist Control (HAC).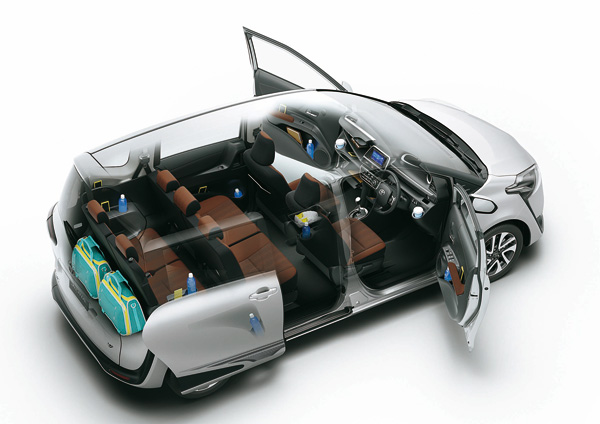 The model comes with a 5-year warranty, subject to terms and conditions. UMW Toyota Motor is targeting to sell a combined total of around 2,500 units by the end of this year. The All-new Toyota Sienta will be available at all Toyota showrooms in Peninsular Malaysia from 26th August onwards while Sabah and Sarawak is on 2nd September. Customers can locate the nearest showroom by visit the Toyota Malaysia website at www.toyota.com.my or calling the Toyota freephone line 1-800-8-TOYOTA (869682). Photo Journalist
Gadgets, Photography, Automobile, Lifestyle