Kuala Lumpur (1 July 2016) — Western Digital Corporation today launched the updated SanDisk® SSD Plus, further expanding its portfolio of consumer SSD storage solutions available in Malaysia. The next generation SanDisk SSD Plus is an ideal solution for users who are looking to improve performance on an existing laptop or notebook at a fraction of the price of purchasing a new system.
The SanDisk SSD Plus offers customers faster boot-up and shutdown times, improved application response and data transfer and improved overall system performance. By installing the SanDisk SSD Plus, users can instantly upgrade their laptop or PC, and eliminate the need to completely replace an aging laptop or desktop PC. In addition, with read speeds of up to 535MB/s, the SanDisk SSD Plus delivers up to 20X the performance of a typical laptop hard disk drive1, for example.
Available in 120GB, 240GB and 480GB models, consumers can conveniently enjoy the high laptop or PC performance with solid capacity for media and applications such as photographs, videos, music and games. The SanDisk SSD Plus features TLC NAND flash memory and SLC caching to maximize read and write speeds as well as burst performance.
In comparison to hard disk drives, which offer high capacity value, SSDs deliver lower power consumption and less noise, while offering enhanced boot-up and shutdown speeds, application launching and data transfer. SanDisk SSDs are designed and tested to provide superior shock and vibration resistance, as well as high durability, bringing consumers peace of mind their drive is safe, even if they happen to drop or damage their computer.
As an added benefit, the SanDisk SSD Plus includes downloadable SSD diagnostic software, the SSD Dashboard. The SSD Dashboard provides management tools so users can monitor performance and health, schedule maintenance, receive notifications for firmware updates and ensure optimized system performance.
For further details of the product information, please visit the following website.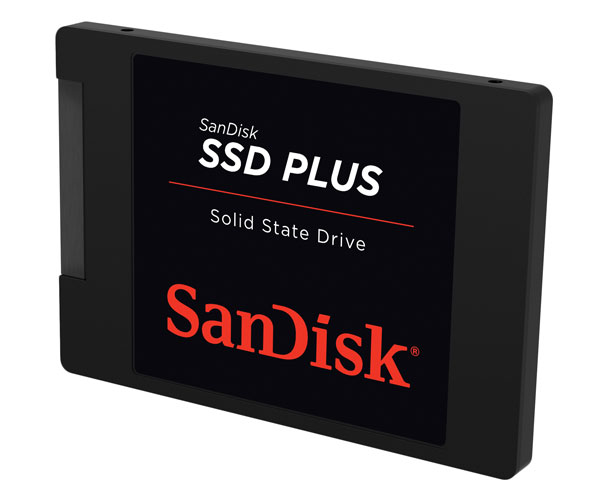 Pricing and Availability
SanDisk SSD Plus come with a three-year warranty and will be available in capacities of 120GB, 240GB and 480GB with MSRP of MYR239, MYR499 and MYR629 respectively.