Mazda SKYACTIV-D Vehicles are here!
Subang (20 July 2016) — Bermaz Motor is boldly venturing into the diesel-powered car segment, spurred on by the success achieved by Mazda Japan, the convention-challenging car-maker.
Mazda have been introducing a range of their SKYACTIV-D powered cars and Crossover models, featuring very efficient and environmentally-friendly diesel engines. This is a new range of vehicles that enjoy tax rebates for eco-cars in Japan, and which comply with strict exhaust gas regulations (including Euro6) without the need for costly NOx (nitrogen oxides) after treatment systems.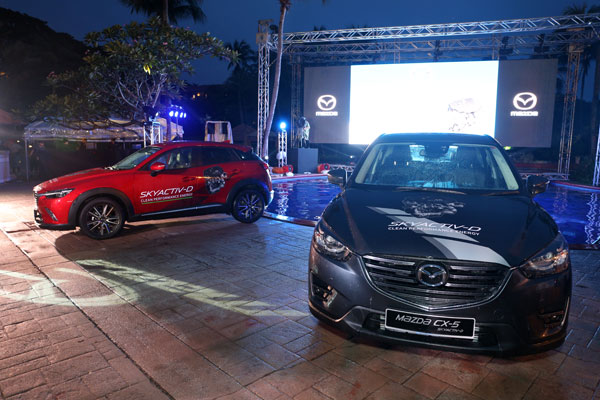 The Mazda SKYACTIV-D diesel engines have achieved amazing breakthroughs to resolve long-standing issues such as very inefficient cold-starts. In the process, Mazda have been able to offer smaller, lighter, more powerful engines capable of unheard torque output for the engine sizes (the 2.2L produces 420 Nm of torque equal to a 4.0L V8 petrol engine and yet boasts of fuel economy that has been improved by 20 percent).
Bermaz Motor will be introducing these amazing engineering achievements to Malaysian motorists in the forms of the Mazda CX-5 2.2L SKYACTIV-D, which will be locally-assembled for a true value-for-money package, and the fully-imported Mazda6 2.2L SKYACTIV-D. There will also be two units of the Mazda CX-3 1.5L SKYACTIV-D brought in for evaluation purpose. These are a new range of fresh, fun-to-drive options to the eco-car market – options that offer outstanding environmental performance with the Mazda Zoom-Zoom factor.
The biggest problem for a diesel engine has been insufficient heat for complete combustion during cold start, and misfiring during warm up. The conventional solution has been to increase the compression ratio. This, however, results in too high a temperature and pressure, causing incomplete combustion (the formation of NOx and soot). The solution to this has been to delay ignition, which causes fuel economy to worsen.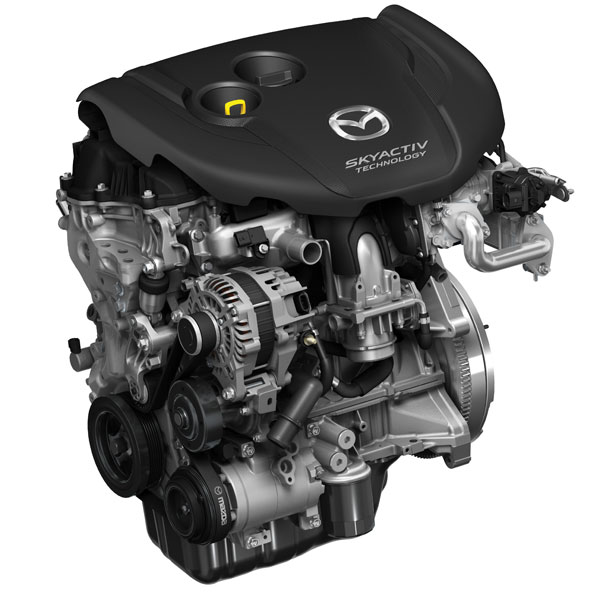 Mazda's solution is to precisely control the fuel injection and improve the exhaust valve's opening and closing mechanism. Multi-hole piezo injectors are used for variable injection patterns. The precision in the amount and timing enables optimum mixture control, thus maximising combustion. A variable valve lift (VVL) system is used for the exhaust valves – a single combustion cycle is sufficient for temperature to rise; exhaust gas is channelled back into the cylinders, to raise temperature further, which improves cold start.
The new-generation diesel engine comes with a 2-stage turbocharger for smooth and linear response from low to high engine speeds, and greatly improved low- and high-end torque. One small turbo and a larger unit are selectively operated to suit driving conditions. The system offers high torque and good response at low speeds, and high power at high speeds, as well as clean burn throughout the entire cycle.
The reduction in compression ratio to 14:1 and pressure has made it possible to significantly reduce the weight of the new engine. It comes with an aluminium cylinder block, lighter cylinder walls, as well as integrated exhaust manifold; the weight of the pistons has been reduced by 25 percent. There is also a dramatic reduction in friction, to the same level of an average petrol unit. Fuel economy has been improved by 20 percent.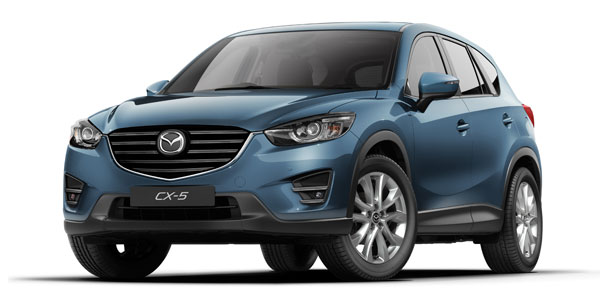 The CX-5 has been, and continues to be, one of Mazda's most outstanding success stories. This Crossover remains one of Mazda's best-selling models, still setting the standard in many markets and across many levels, earning admiration and also winning hearts everywhere it goes.
The Mazda CX-5 has earned quite an unprecedented collection of awards all over the world, including in some of the toughest, most matured and discerning markets. A very special achievement for the Mazda CX-5 is the JD Power Appeal Award. This came from a survey on how much owners like their vehicle after 90 days of ownership.
The Mazda CX-5 2.2L and Mazda6 2.2L SKYACTIV-D comes loaded with Mazda's full suite of i-ACTIVSENSE safety features, including Lane-Departure Warning (LDWS)# Mazda6 only, Rear Cross-Traffic Alert (RCTA), , Smart City Brake Support (SCBS) and Blind Spot Monitoring (BSM).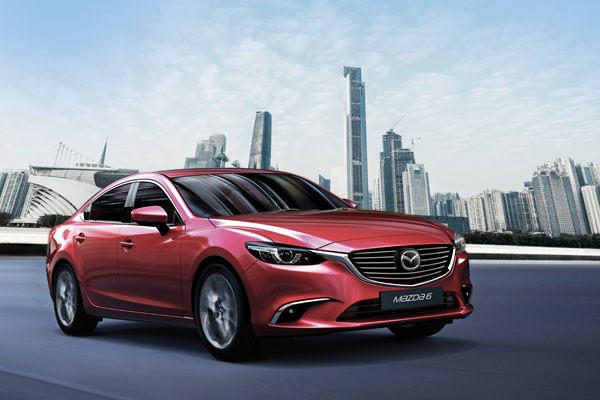 One look is all it takes to tell you that the Mazda6 is something far beyond the ordinary. This inspired expression of Mazda's 'KODO – Soul of Motion' design theme captures beautifully the impression of speed, tension and allure. It is vividly expressed in every curve and every panel, suggesting forceful movement and graceful beauty. It is a statement of style that transcends logic, instead speaking directly to the emotions, inspiring you to get in and drive. No other sports sedan can offer this exclusive air of graceful, supple muscularity and controlled tension. The Mazda6 2.2L SKYACTIV-D retains all of this and also offers bighearted motoring together with outstanding fuel economy and clean emission.
The Mazda CX-3 1.5L SKYACTIV-D is capable of outstanding dynamic performance from standstill to its unusually high redline. The small-scale turbocharged diesel powerplant is exceptionally efficient and clean, offering top-class fuel economy and emissions. It complies with Euro6 exhaust gas regulations without the need for costly NOx (nitrogen oxides) aftertreatment systems.
These newest additions to the Malaysian motoring scene offer unmatched dynamic and environmental performances in their price ranges, packaged in award- and heart-winning designs.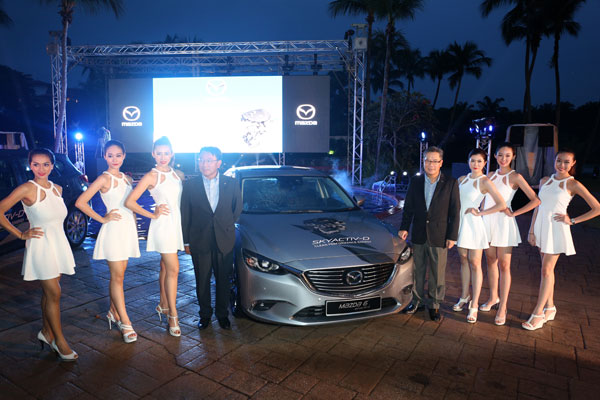 The Mazda6 SKYACTIV-D is available in a Sedan variant, with the SKYACTIV-D 2.2L diesel engine and the SKYACTIV-DRIVE 6-speed automatic. Selling price is RM202,830 OTR without insurance. Available in 4 colour choices: Soul Red Metallic, Snowflake White Pearl, Meteor Grey and Sonic Silver Metallic.
The CX-5 SKYACTIV-D is available in 2WD, with the SKYACTIV-D 2.2L diesel engine and the SKYACTIV-DRIVE 6-speed automatic. Selling price is from RM161,529 OTR with insurance. Available in 4 colour choices: Aluminium Metallic, Arctic White, Blue Reflex and Meteor Grey.
For more information, log on to www.mazda.com.my. Photo Journalist
Gadgets, Photography, Automobile, Lifestyle