Going Beyond Imagination with LG
Kuala Lumpur (28 July 2016) — LG Electronics Malaysia clinched a new milestone by completing the "Longest Non-Stop Television Watching Marathon" under Malaysia Book of Records today. The announcement was made during LG's Beyond Imagination Roadshow – an event showcasing record breaking and monumental efforts from around the world.
Five young Malaysians took on the challenge to watch TV for 48-hours and successfully made it into the records book for their effort. Lee Jiin Aun (28), Chue Jia Hui (27), Loi Kah Hau (26), Tang Hoe Sing (25) and Siow Shook Yien (22) continuously watched various programmes for two days and two nights, taking only one five-minute break hourly. The attempt was completed earlier this month in a customised LG apartment featuring the multi-award winning LG OLED TV – well known for its superior perfect black picture quality, friendly to viewer's eye and unmatched design. The attempt also showcases LG's effort in championing family time whilst enjoying vivid pictures without straining your eyes.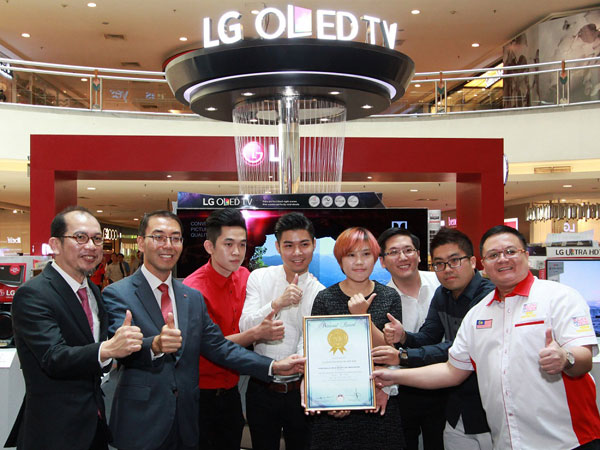 "We are extremely proud to announce the successful completion of the award today. It simply showcases true grit and unparalleled motivation of our younger generation. On the other hand, LG OLED TV has continuously proven to be the front runner in display technology by breaking records at the local and international arena. I would like to also thank Malaysia Book of Records for their guidance ensuring rules and regulations are followed throughout the attempt process," said David Oh Managing Director, LG Electronics (M) Sdn Bhd.
LG OLED TV is perceived as 'A Whole New Category of Television' in the electronics industry for its superior display technology, distinctive design and perfect colour contrast. The TV is enhanced by high dynamic range (HDR), a technology that provides infinite contrast ratio for unmatched clarity ensuring perfect black and vibrant colors. LG OLED TV received the coveted Innovation Award in CES 2016 for its superior display, making it a must-have feature in every living room.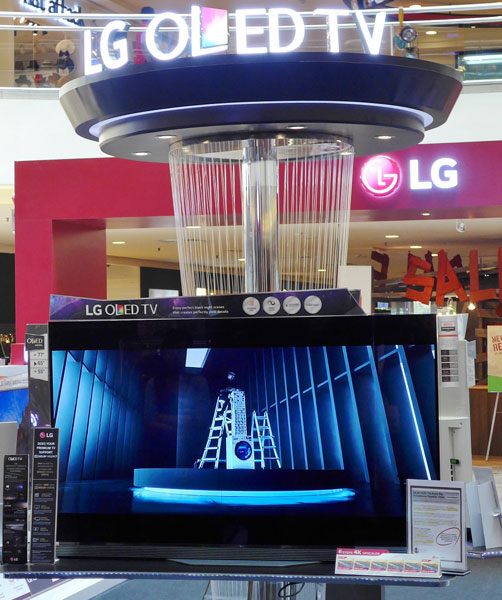 LG also spearheaded other record breaking initiatives featuring its Home Appliances segment. Recently, LG teamed up with professional cardstacker Bryan Berg to showcase stability of its washing machine. Berg's attempt to build the Tallest House of Cards on top of LG washing machine while it was running at 1,000 RPM was successfully completed and endorsed by Guinness World Records. The attempt was a towering success, with the construction measuring 3.3 metres tall and comprising an incredible 48 levels.
LG TWIN Wash™ washing machine enables consumers to wash two loads of laundry at the same time. With a space-efficient mini washer in the pedestal, overall cycle times are reduced with two wash cycles happening simultaneously via its separate compartments. The TWIN Wash™ system allow consumers to separate their laundry – delicate from regular clothes, whites only from coloured clothes, heavily soiled from normal wear. With the TurboWash function wash cycle are reduced to 45 minutes making it a companion for those who are always busy preparing for the day. Euromonitor International recognised LG washing machines as the global No.1 Selling Home Laundry Appliances Brand in the world (excluding China) for two consecutive years in 2014-2015.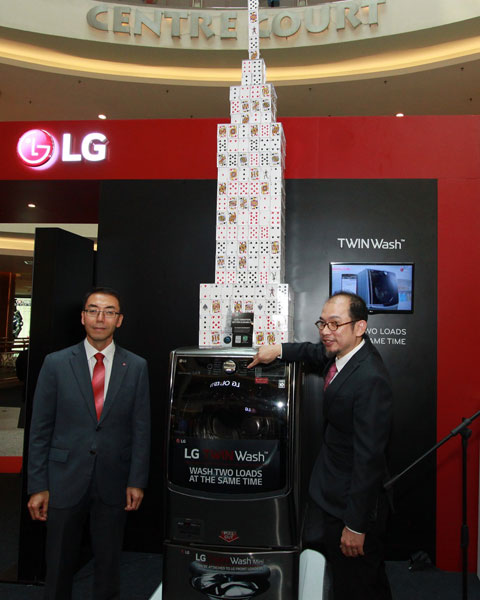 LG continued to defy odds by partnering professional climber Sierra Blair-Coyle to demonstrate the power of its CordZero™ canister vacuum cleaners. The two-time US champion professional climber conquered the side of a 140-meter high-rise building in Seoul, South Korea with just two canister vacuum cleaners strapped to her back. Blair-Coyle's extravagant climbing effort proves the suction power of the LG vacuum cleaners when she completed the climb in less than 30 minutes.
The LG CordZero™ canister built-in with Smart Inverter Motor™ enables a powerful performance of vacuum category with high efficiency and durability in compact size. On average, the Smart Inverter Motor™ is 28 percent smaller, 24 percent lighter and 13 percent more efficient compared to conventional vacuum motors. It is also powered by RoboSense™ – a technology that follows users around during cleaning without having to drag the cylinder around on its hose. LG CordZero™ received the "Best of the Best" Red Dot Design Award 2015 for design and performance excellence.
LG Roadshow 2016 features other innovations namely the SUPER UHD TV, home speakers, refrigerators, top and bottom load washing machines, air conditioner and many more. To find out more please visit www.LG.com.my. Photo Journalist
Gadgets, Photography, Automobile, Lifestyle