Digi teams up with Supercell to bring Clash Royale Exclusives to customers
Shah Alam (4 July 2016) — Digi Telecommunications Sdn Bhd (Digi) together with popular mobile game developer Supercell, which is responsible for hit games like Clash Royale and Clash of Clans, has teamed up to bring exclusive promotions and content for customers.
Earlier this month, Digi introduced limited edition co-branded collectible reload cards that come with Clash Royale and Google Play goodies when customers top-up their Digi accounts. A total of 3 million physical reload cards that come in a mix of RM30 or RM50 denominations, are available nationwide until end of August. Customers who reload with these collectible reload cards will enjoy discounts when purchasing any in-app Supercell content on Google Play via Direct Carrier Billing.
Customers will also get the chance to pick up limited edition Clash Royale key rings which come in six unique designs and are worth RM59 each when they visit Digi Stores and Digi Stores Express until the end of the month as part of the telco's ongoing 4G LTE Carnival.
Digi is also currently hosting a Clash Royale tournament for university students across 20 selected institutions which takes place from 31 May to 31 August. The tournament gives players an opportunity to battle it out for a chance to represent their universities. Each winner then progresses to a grand finale to determine who ultimately wins the Clash Royale crown while taking home attractive prizes.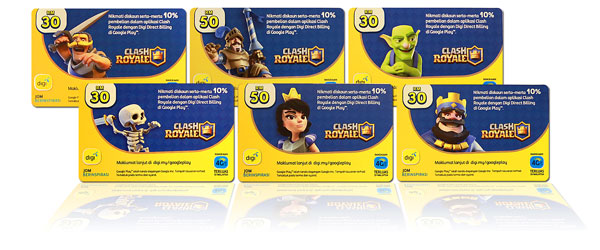 "It is our ambition to become our customers' favourite partner in digital life and our Crown Wars tournament reiterates our commitment in bringing popular, fun and exciting content for our customers to enjoy. Clash Royale has gained much popularity becoming one of the most downloaded mobile games in Malaysia and our partnership with Supercell is indeed very timely," said Loh Keh Jiat, Digi's Chief Marketing Officer.
For more information on dates, venues, prizes and how to join the Digi Clash Royale Crown Wars tournament, visit digi.my/crownwars.