Bosch continues strong growth in Malaysia
Petaling Jaya (28 July 2016) — The Bosch Group ended its 2015 fiscal year in Malaysia with a 10 percent increase from the previous year to RM 664 million (153 million euros) in consolidated sales. This makes Malaysia the second largest revenue contributor to Bosch in Southeast Asia. The company's workforce in the country rose to over 2,600 associates, which is Bosch's largest workforce in Southeast Asia at 38 percent.
"We surpassed our own business expectation in the past year with growth above market average for most of our divisions," said Simon Song, managing director of Bosch in Malaysia. Optimistic about continuing the business success in the coming year, Song added that there is more to be done: "The Malaysian market and industry are dynamic and changing rapidly. Increased agility and new ways of seizing opportunities are essential. This includes strengthening our collaboration with partners, widening online portfolios for consumer-centric products, and increasing our mid-price point product range that is sophisticated, yet affordable."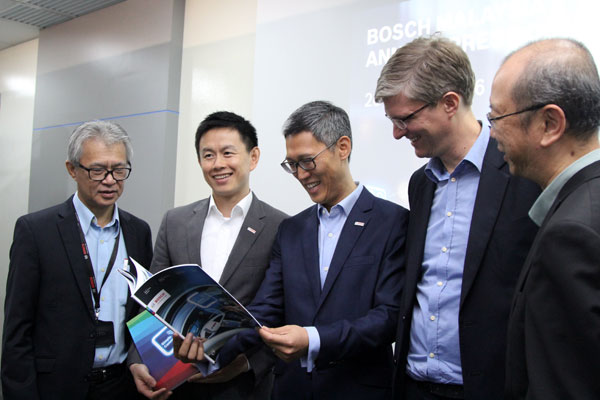 Increased investment into research and development
Malaysia is a key research and development location for the Bosch Group. Last year alone, Bosch invested over RM 138 million (32 million euros) into the country and a majority is spent on research and development efforts. The expansion of Bosch's car multimedia plant in Penang in April this year is a testament of this. Besides increasing production capacity, the plant expansion will enable Bosch in Malaysia to take on more projects in developing future connectivity solutions for Bosch worldwide, and integrating them into today's cars.
Another key investment in 2016 is the retrofitting of the car multimedia plant with Industry 4.0 technologies. More details on the project will be announced soon.
Tomorrow's mobility – comfortable, economical and safer
With the full acquisition of Robert Bosch Automotive Steering GmbH last year, Bosch expanded its mobility solutions portfolio in Malaysia with an increased product range and offerings, making cars even more comfortable, economical, and safer. Since last year, the Automotive Steering plant in Penang began supplying electric power steering systems to local automotive manufacturers.
Bosch also acquired projects for Connectivity Control Units (CCU), and Malaysia is the company's designated global R&D facility for further development of the CCU for markets worldwide such as China and Europe. The CCU is an integral part of the eCall system – an innovative emergency system that transmits data such as location and time to centralized monitoring centers when an accident occurs. These centers then relay critical information that are triggered by sensors within the vehicle to emergency rescue services, thus reducing response times to the accident scene, especially in rural areas. This paves the way to enable information exchange between vehicles, as well as between vehicles and traffic infrastructure.
To foster greater awareness on safe driving, Bosch became a partner of the Malaysian 'Safe Steps' programme. The programme, initiated by the Prudence Foundation, is a first-of-its-kind pan-Asian public service campaign to raise awareness on road safety. Bosch is also collaborating with international institutions such as NCAP, ASEAN NCAP and other partners to launch the 'Stop the Crash' campaign in November 2016 to promote awareness of active safety technologies in Malaysia. The campaign aims to educate the public on the importance of having safe and reliable automotive technologies in their vehicles.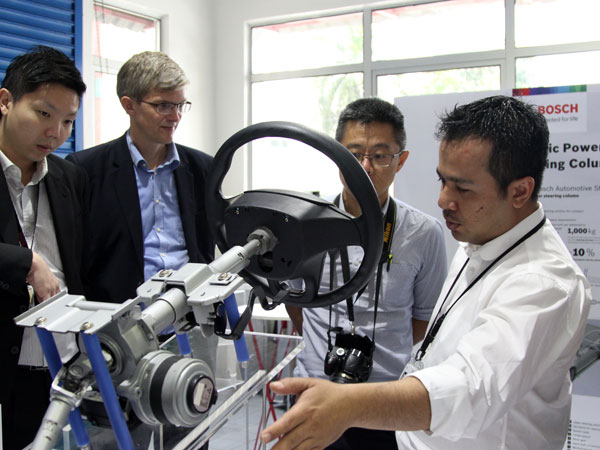 Development of Bosch business sectors in 2015
Bosch's Mobility Solutions business sector achieved a well-rounded growth in Malaysia. The Automotive Aftermarket increased sales growth, largely attributed to new product segments such as car lubricants and more fast-moving items that fit over 90 percent of cars for the Asian market. The Car Multimedia division likewise saw an increase in sales and forecasts a strong outlook in 2016 based on higher customer demands for its products. The Automotive Steering division achieved record sales with a double-digit growth, driven by the strong demand for mechanical steering gears, particularly for Japanese vehicles worldwide. The Original Equipment business posted healthy sales growth in contrast to the previous year.
The Industrial Technology business sector's development reflected the difficult situation in the mechanical engineering market, as well as slowdown of the oil and gas industry. Overall, sales in this business sector maintained its performance, slightly on par with 2014.
The Consumer Goods business sector, comprising power tools and home appliances, recorded strong growth. Sales through online platform, the launch of a new "Contractor's Choice" affordable range of power tools, as well as a nationwide campaign that reached approximately one million users, contributed to the success of the business sector. The power tools plant in Penang performed well in 2015, with the development and manufacturing of 15 new products. The power tools research and engineering team in Penang are now focusing efforts in developing internet-enabled products. The GLM 100 C laser range finder is an example of these efforts, whereby the tool can be connected to smartphones for information visualisation via a proprietary app.
The company's Energy and Building Technology business sector supported the Malaysian manufacturing and real estate industries with innovative solutions. The Thermotechnology division reported growth on the back of projects especially in the rubber industries. The Security Systems division turned in a robust sales performance last year from commercial and government projects, particularly in mixed development, healthcare, industrial and manufacturing.
"Bosch is an exceptionally diversified company, and this diversification is our strategic advantage in an age of connectivity. We therefore see considerable business opportunities in the areas of ecommerce, connectivity, and geographical outreach within Malaysia," said Song.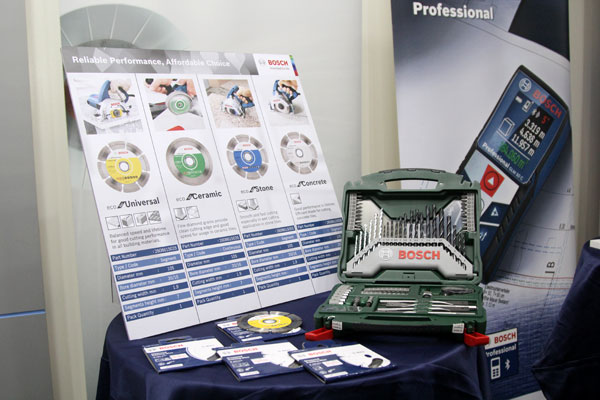 Bosch Group worldwide business outlook for 2016
Following a record year in 2015, the Bosch Group wants to continue its growth trend this year. The leading global supplier of technology and services expects worldwide sales to grow within an exchange rate-adjusted range of 3 to 5 percent in 2016. Speaking at the company's annual press conference in Germany, Bosch CEO, Volkmar Denner, said: "We plan to grow not only with innovative products, but also with innovative services." In the connectivity business, Bosch focuses on the "3S's": sensors, software, and services. The company is increasingly using connected services to build on its broad basis in the hardware business. As it does so, Bosch benefits not just from its technological diversification, but also from its wide-ranging industry and domain expertise. The newly created Bosch Global Service Solutions division, the recently established Bosch IoT Cloud, as well as the Bosch Smart Home System launched at the start of 2016, contribute to this strategy.
In Asia Pacific, the Bosch Group boosted its sales in 2015 to a total of 83.3 billion ringgit (19.2 billion euros), thus registering a nominal growth of 17 percent on a comparable basis (2.8 percent after adjusting for exchange rate effects). At 27 percent of total Bosch sales revenue, the region's share of sales remained at the high level of the previous year. Photo Journalist
Gadgets, Photography, Automobile, Lifestyle