Nuren Group: Malaysia's first Venture Capital quality Equity Crowdfunding Offer goes live to the Public
Kuala Lumpur (3 June 2016) — Malaysia-based wedding and baby e-commerce platform, Nuren Group, today announced the public launch of its Equity Crowdfunding (ECF) offer with a target amount of MYR200,000. Nuren is the first Venture Capital Quality ECF Offer in South East Asia. The Company recently announced the completion of a US$2 million Series A round of financing led by Gobi Partners. The Offer has been in pre-marketing mode since earlier this year, and has attracted a substantial amount of investment interest estimated to be in excess of 1.5 times the target amount. Member of the public will be able to make investments starting from June 3, and it is expected that there will be a brisk and rapid take up of the shares available for investment.
Nuren Group is the operator of Wedding.com.my and Motherhood.com.my in Malaysia. Being a consumer driven business, the current ECF offer aims to bring on board retail investors – leveraging their wealth of experience and knowledge to add value to the company. The company will use this investment to enhance product and service offerings, bring on new talents and improve e-commerce capabilities. ECF allows Nuren to reach out to a broad community of potential Investors while creating a transparent and efficient investment process. Interested investors just need to register with investment.crowdo.com to understand more about the opportunity and potentially make an investment.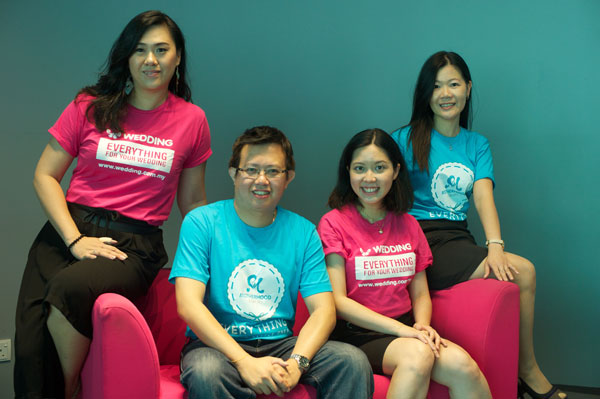 Founded in September 2013, Nuren is Malaysia's leading female-dedicated content, community and e-commerce platform. Focusing on the most important life stages for women, Nuren operates e-commerce sites for weddings (wedding.com.my in Malaysia, and nuren.sg in Singapore) and motherhood (motherhood.com.my), where users can discover ideas, find vendors and shop online. Nuren takes a content and community approach to ecommerce, allowing users to interact, engage and share ideas with one another. The company also serves as an online platform for industry vendors to connect with users, generate leads and complete sales. Nuren is cofounded by core team members Petrina Goh, CEO; Kelvin Leow, CTO; Stacey Lee, COO; and Alice Ong, CSO.
Wedding.com.my offers couples a one-stop shop for wedding planning, providing a wide range of products and services to help users plan their weddings more conveniently and affordably. Product and service items available include bridal and groom apparel; make up and beauty; gifts and cards; venue and decoration; travel and honeymoon; and wedding services such as photography and videography. The company also offers wedding consulting services via Nuren's expert wedding planning team to help couples manage everything A-to-Z for their special day.
Motherhood.com.my is a go-to site for mothers and expecting mothers to care for themselves and their children. Currently operating as content and directory portal, the site will officially launch marketplace features in mid2016, offering important products and services across maternity, infant and children categories. The site serves as a marketplace for children brands and businesses to offer their products and services to mothers. Product and service items available include diapers; infant and toddler food; feeding accessories; strollers and gadgets; nursing and bedding; toys and apparel; and early learning materials and courses.
Since launching, Nuren has connected thousands of vendors with millions of visitors online. With this round of investment, Nuren plans to accelerate user and sales growth across all target markets and verticals. The Company announced four strategic pillars to accelerate growth – (i) Increase both vendors and brands exposures through online and offline platforms, (ii) Increase transaction volume, (iii) Improve complete user experience, and (iv) Continuous investment in brand and technology.
"The year 2016 has proven to be an exciting year with the launching of our first flagship Online to Offline Wedding Showroom in Jaya One to strengthen our ties and relationships with vendors and customers. We have also successfully embarked into the next users' life stage – motherhood, with the introduction of our marketplace – Motherhood.com.my" said Petrina Goh, founder and CEO of Nuren. Photo Journalist
Gadgets, Photography, Automobile, Lifestyle