HP's New Range of Computing & Print Products display the 'Reinvention of Today'
Kuala Lumpur (29 June 2016) — HP PPS Sales Sdn. Bhd. today unveiled its latest computing and printing products which aims to reinvent and transform customer experience. Specifically designed and built with the mission to engineer experiences that amaze, the new product line-up addresses customers' needs for computing and printing that help them with the rigours of work and through to the enjoyment of life.
"At HP, our vision is to create technology that makes life better for everyone, everywhere. We understand precisely the needs of our consumers, and we are always working towards a goal to create new form factors to help fulfil those needs for consumers to access content anytime, anywhere" said Kym Lim, Managing Director of HP PPS Sales Sdn. Bhd., Malaysia.
"We are reinventing the computing and printing experience through our 'One Life' designed products – focusing on design, productivity, security and entertainment," she explained.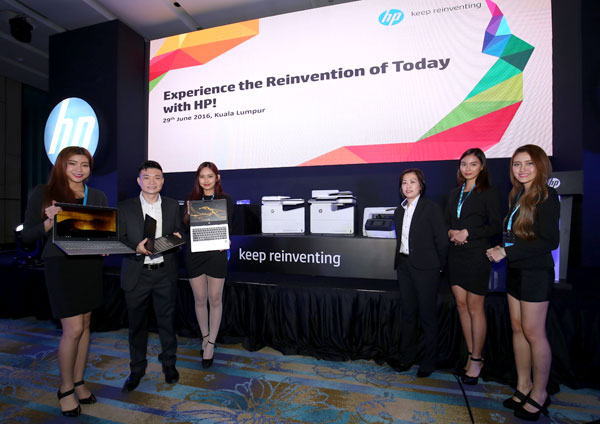 Work and life are converging into "One Life" where there are no longer boundaries between the two. Workplaces are no longer confined spaces but anywhere with an Internet connection, and workstyles involve more collaboration than ever before. Today's workforce, consisting of a growing millennial base, expect the technology they use to fulfill their business and personal requirements.
Lim added that consumers today do not just want the devices they use to be stylish and stunning, but also giving them the freedom to create and express their aspirations.
"At HP, we are constantly pushing the envelope to build innovative products for 'One Life', so our customers get an enhanced computing experience whether for work or play," she said.
At the launch, Wong Yuen Lai, Business Director for Print Category; and Frankie Chan, Business Director for PC Category, shared on the exceptional functionality of HP's latest computing and print product line-up, and how both consumer and commercial products address the "One Life" demands.
Showcased at the launch event, the new computing and print products line-up spanned from the thinnest and lightest notebooks, to all-in-one workstations to the next-generation print innovations.
New PC products introduced at the launch were :–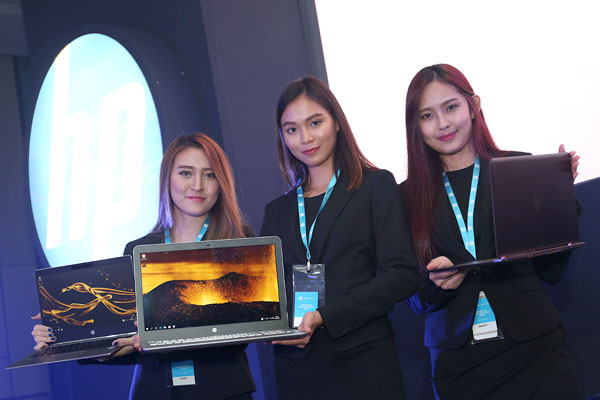 HP Spectre 13 Notebook
The HP Spectre sets a new standard in being the thinnest notebook in the world with powerful features – a beautiful Full HD edge-to-edge display featuring Corning® Gorilla®, Intel® CoreTM i processors, audio by Bang & Olufsen with HP Audio Boost technology, long battery life and a sexy and thin design.
The 13.3" diagonal HP Spectre will be available from July with a starting price at RM5,999 with Intel® CoreTM i5 processor; and RM6,900 with Intel® CoreTM i7 processor.
HP ENVY 15 Laptop
The new ENVY 15 is a versatile all-rounder that redefines technological limitations that understands mobile and performance needs. It offers a sleek, metal design featuring big power and performance, plus edge-to-edge flush glass displays for beautiful viewing experiences. It supports HP Fast Charge, allowing users to charge the battery up to 90% in just 90 minutes when powered off.
The 15.6" diagonal HP ENVY laptop is available now with a starting price at RM3,699 with Intel® CoreTM i5 processor.
HP Elitebook Folio G1 Notebook
The new Folio G1 gives millennials the premium consumer notebook design but with commercial-grade performance needed for work. With hand-selected materials and premium features optimized for collaboration, the new Folio G1 notebook is the choice for those who value a flawless experience in terms of business-critical robustness, security and manageability.
The 12.5" diagonal HP Elitebook Folio G1 notebook will be available from July with a starting price at RM6,199 with Intel® CoreTM m7 processor.
Rounding up the launch are HP's new printers —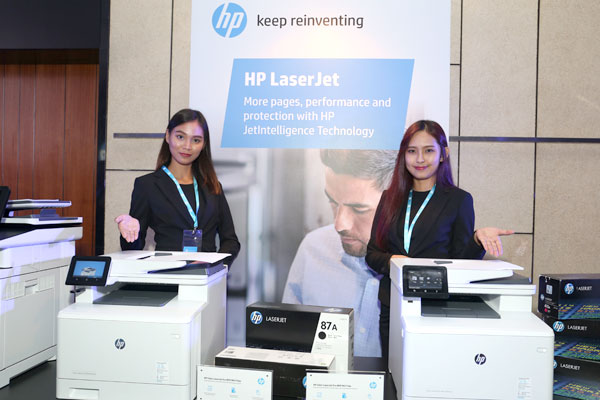 HP OfficeJetPro 8730 All-in-One Printer
The new HP OfficeJetPro 8730 All-in-One continues to rank top among high-volume inkjets. Breeze through multipage documents with one-pass two-sided scanning and a 50-page automatic document feeder. In addition to high technical performing elements, the OfficeJetPro 8730 also maximizes your print environment with space-saving HP Print Forward Design, an excellent solution for small and workshop-like business environments.
The HP OfficeJetPro 8730 All-in-One Printer will be available from July with a starting price at RM1,379.
HP PageWidePro 577dw Multifunction Printer
The new PageWidePro 577dw offers unparalleled value to businesses, delivering the lowest total cost of ownership and fastest speeds in its class. Blazing print speed, superb output quality and minimum operation cost are the three key elements that define HP's PageWidePro 558dw, a key purchase for small and medium businesses who wished to keep operation costs at a minimum.
The HP PageWidePro 577dw Multifunction Printer will be available from July with a starting price at RM3,199.
HP PageWide Enterprise Color Multifunction Printer 586
HP's PageWide Enterprise Color Multifunction Printer continues to lead in commercial printing with its power-up to power-down with strong protection for devices, data and documents with deepest embedded printer security. Excelling in the busiest office environments with its fast speed and low cost ownership, the PageWide Enterprise Color is no doubt the ultimate class of enterprise printer.
Available from July onwards, The HP PageWide Enterprise Color Multifunction Printer M586dn is priced at RM7,049;  M586f priced at RM7,629; and M586z priced at RM8,159.
HP's new computing and print products are now available for purchase at all HP appointed Reseller Outlets nationwide, or on HP Online Store Malaysia.
For further information, visit HP Malaysia's official website at www.hp.com.my, or call 1800-88-4889. Photo Journalist
Gadgets, Photography, Automobile, Lifestyle