Fortinet launches New FortiGate 6040E Enterprise Firewall in Malaysia
Malaysia (1 June 2016) – Fortinet, the global leader in high-performance cybersecurity solutions, today announced the expansion of its Security Fabric with introduction of the FortiGate 6040E enterprise firewall. First in Fortinet's new 6000 series of ultra-high throughput enterprise firewalls, the FortiGate 6040E delivers the unprecedented next-generation firewall performance, effortless scale, and superior security so large Malaysian enterprises don't have to compromise between security features or network speed disruption.
Fortinet's new FortiGate 6040E enterprise next-generation firewall is designed to secure the vast amounts of mobile and cloud traffic for the largest of enterprises.
Fortinet bolsters its Security Fabric with its new FortiASIC CP9 next-generation Content Processors. CP9 accelerates the inspection of computationally intensive intrusion prevention (IPS) and secure socket layer (SSL) VPN traffic to deliver the level of performance required to deploy security wherever it is needed within the infrastructure.
New FortiGate 2000E and 2500E enterprise firewalls deliver CP9 ASIC advantages to enterprise edge and internal segments.

Security Solutions Have Become the Gateway to the Cloud
Adoption of cloud services and the ease of remote access to network assets have created a perfect storm for large Malaysian enterprises, drastically increasing external demands on IT networks and exponentially expanding the attack surface. As a result, the enterprise next-generation firewall has become the de facto gateway to the cloud.
Compounding on these challenges, security leaders must overcome the limitations of the technologies used in most next-generation firewall solutions available today – forcing them to choose between enabling security features or preserving the performance of their networks.
FortiASIC Hardware Acceleration Eliminates Security Compromise
Overcoming the limitations of traditional next-generation firewall solutions, the FortiGate 6040E is built on an innovative new processing architecture, utilizing FortiASIC content and network processors to offload and accelerate the security performance of its dual CPUs. Integrating advanced security processing, intelligent controls, and high speed networking enable the FortiGate 6040E to deliver unprecedented security and network performance in a deceptively compact form-factor.
FortiGate 6040E Technical Highlights:
320Gbps enterprise firewall throughput.
80Gbps throughput with all next-generation firewall features enabled.
FortiASIC CP9 brings enhanced SSL decryption performance to close gaps in the attack surface.
Intelligent networking, security, processing, and management capabilities are all efficiently integrated within a small form-factor chassis.
Six different interface configuration options tailored to match individual customer needs: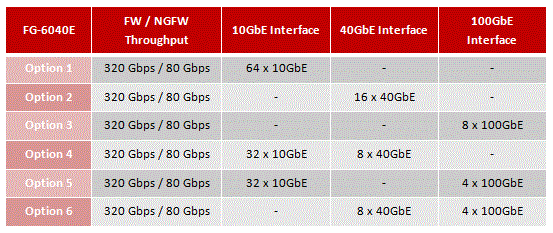 Fortinet's new FortiASIC CP9 content processor delivers the performance needed to secure the massive traffic demands of the largest enterprises and enables support for various firewall deployment modes including next-generation and advanced internal segmentation. This frees businesses to deploy security wherever it is needed without impacting network functionality. This enables the superior defenses of Fortinet's innovative Security Fabric.
Fortinet also announced the launch of two new FortiGate 2000E series enterprise firewalls, bringing the enhanced capabilities of FortiASIC CP9 to enterprises requiring higher next-generation firewalling and increased SSL inspection capabilities. The new FortiGate 2000E and 2500E also leverage CP9 deliver increased VPN capabilities, deep content inspection and advanced application controls.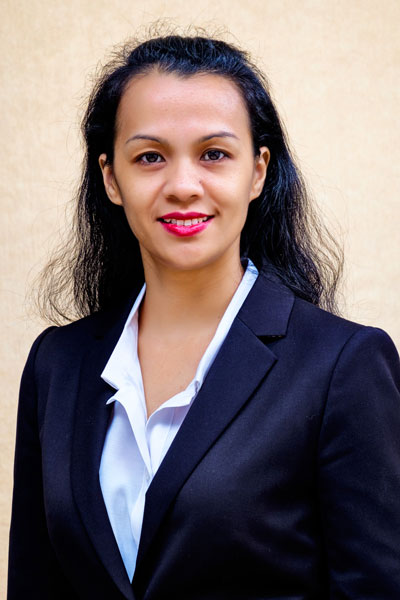 "Malaysian enterprises are being disproportionally impacted as the adoption of cloud services and growth in remote access to corporate networks have eroded the network perimeter and steadily increased the demands on enterprise infrastructures. Facing the limitations of traditional security solutions, only the performance advantages of Fortinet's next-generation processors powering our new FortiGate 6000 series enterprise firewalls will give large enterprises the freedom to deploy the advanced security solutions necessary to protect their organizations today and into the future," said Michelle Ong, Country Manager for Fortinet Malaysia.