Manage Internet Quota for upto 6 lines for Family and Gadgets with Digi's New Internet Sharing Feature
Shah Alam (4 May 2016) — Digi Telecommunications Sdn Bhd (Digi) today announced its new Internet Sharing feature for the recently launched new Digi Postpaid plans that makes it easier to share Internet quota with up to six supplementary lines. The new Digi Postpaid Internet Sharing feature is not only easy to start with any Postpaid plan but also easy to use for managing accounts and topping up Internet quota for family members, offering a seamless Internet experience and even unlimited calls.
Apart from family members, customers also get to choose to share Internet quota for their devices at any time. With just a few taps on the MyDigi app, customers can begin sharing Internet quota with supplementary lines.
Loh Keh Jiat, Digi's Chief Marketing Officer said, "Sharing and managing Internet quota has never been easier with the introduction of the new Digi Postpaid plan. We know it matters in the way our customers use the Internet and we want to ensure that they have the best options tailored for them and their loved ones. Digi customers have the ability to have more control over their call and Internet plans via the MyDigi app which is available on the Android and iOS platforms."
"We want to provide a complete digital experience for our customers as we strive towards becoming our customers' favourite partner in their digital life and our new Internet Sharing feature adds simplicity, convenience as well as flexibility for our customers in the palm of their hands," Loh continued.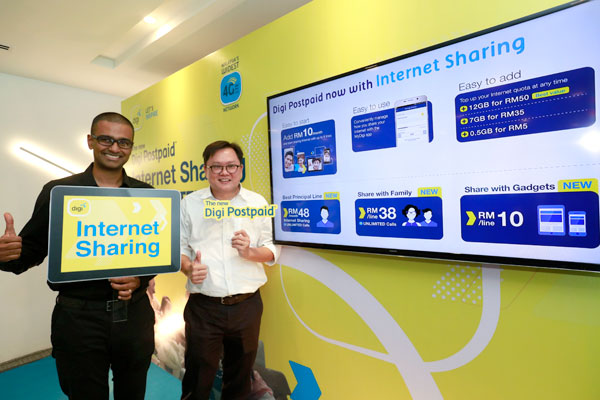 The new plan is coupled with other key features including unlimited social messaging with WhatsApp and WeChat, access to the best apps and digital services such as unlimited music streaming with Digi Music Freedom, a one-year subscription to iflix and  100GB of cloud storage on Capture. These features are all supported on Malaysia's widest 4G LTE network which now covers 73% of the population in 153 major cities and towns, while 33% are enjoying Digi's 4G LTE-Advanced (4G LTE-A) services.
Customers who sign up for the new plan will also enjoy consistent high-speed Internet access while remaining future-ready for Digi's latest innovative offerings in LTE-Advanced (LTE-A), Voice-over-LTE (VoLTE) and Voice-over-WiFi (VoWiFi).
For detailed information and a full price list for the new Digi Postpaid plans with Internet Sharing, visit digi.my/sharing.