Celebrating Surface and Windows 10 – Helping Malaysians be more productive and creative
Kuala Lumpur (13 May 2016) — To celebrate the success of the Surface and Windows 10, with the Surface family of devices marking its second billion-dollar quarter globally, and with Windows 10 now running on more than 300 million active devices around the world, Microsoft Malaysia has recently launched an influencer campaign by partnering four talented, young individuals in the startup, technology and creative scenes today. These individuals will illustrate how the Surface Pro 4, powered by Windows 10 – is designed to help people be more productive and creative.
The Surface Pro 4 is a tablet that works just like a laptop, and is the latest iteration of Microsoft's Surface line of devices. Throughout this campaign, the Surface influencers will share their experience with their fans and fellow Malaysians at events, and through videos and social media postings. The four individuals are:
Pang Tun Yau
Editor of Lowyat.Net – Malaysia's largest tech publication, full-time tech fan, and a self-proclaimed walking gadget encyclopedia
Raeesa Sya
Entrepreneur, brand strategist, designer, commercial model, and currently the co-founder and Chief Commercial Officer (CCO) of Bfab.my, an online beauty and wellness one-stop center
Reuben Samuel
Professional DJ and multi-instrumentalist, as well as the founder of Mile High Sounds. Reuben has a trainer certification from Ableton (a Berlin-based music software company that has unique software and hardware for music creation and performance)
Sheldon Goh
An accomplished comic book and storyboard artist with renowned works, including the horror adventure comic book series "Grimm Fairy Tales" and other independent comic book publishers in the United Kingdom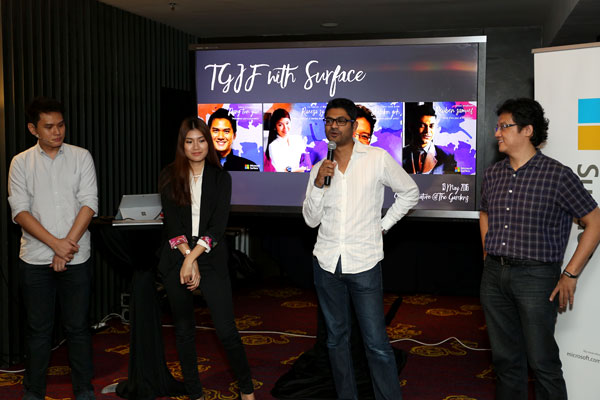 "Our company mission is to empower every person and every organization to do more – with the right tools like the Surface Pro 4, there are no limits to what you can achieve, and that is what we are looking to accomplish with this campaign," commented Bruce Howe, General Manager, Consumer Channel Group, Microsoft Malaysia. "People may have seen or heard of tech reviews of the Surface Pro 4, but we know that they also want to see its practicality. And our engagement with Pang Tun Yau, Raeesa Sya, Reuben Samuel and Sheldon Goh does just that – the campaign is a challenge to these individuals – and by extension to all Malaysians – to really explore what they could do with this powerful device."
The campaign kicked off last week with an intimate fans session with the Surface influencers. Dubbed" The Surface Sessions", the event saw Pang and Raeesa sharing tips on being productive, while Sheldon and Reuben talked about their passion and creativity in designing works of art – all with the help of the innovations of the Surface Pro 4 and Microsoft's latest operating system – Windows 10.
Helping Malaysians to do more, and be more
Sharing his experience, editor and tech-lover Pang spoke about balancing his busy professional life with personal downtime with his Surface Pro 4, which he experimented with to replace his own notebook for work assignments and to relax with his favorite first-person shooter video game, Counter-Strike.
"Being an editor, my work involves a lot of traveling, covering events and trying to be among the earliest to report breaking news. This means a lot of productivity is done on-the-go. The Surface is a mobile, lightweight machine that allows me to work virtually anywhere – and has enough under the hood to do more intensive tasks like photo and video editing when necessary. Also, despite being a password-heavy person, I found the Windows Hello feature available with Windows 10 to be surprisingly impressive –biometric authentication is common for smartphones, so it's great that it is seamlessly replicated on a laptop/tablet!" he said.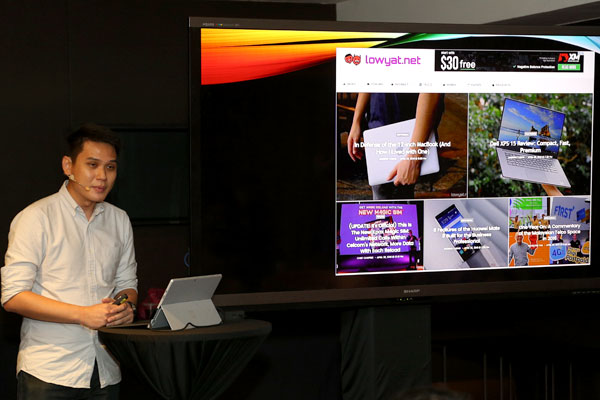 Designer, start-up expert and co-founder of Bfab.my, Raeesa, also weighed in on how the device can be an essential tool for a busy entrepreneur like her. "My work requires constant connectivity and mobility when dealing with internal teams, partners and clients. Time is indeed of the essence and having the right tool is extremely important when you need to be quick and responsive at all times. To me, the OneNote and Surface Pen combo is definitely valuable. I don't need multiple Word documents to store my notes anymore – everything is saved to my cloud-backed OneNote. The Snap Assist function is also a great time saver as I get to view two different open programs or documents side-by-side and do my work."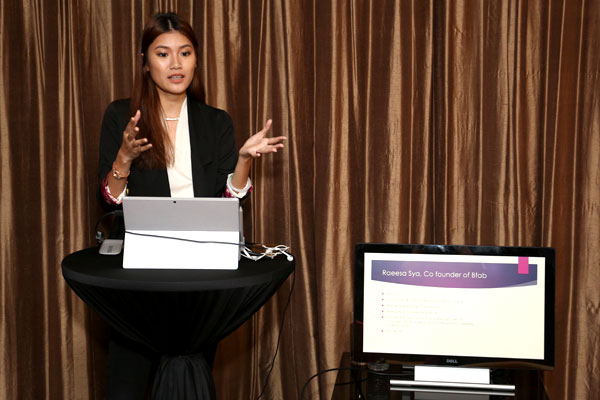 Comic book artist Sheldon Goh was challenged by Microsoft to create a Malaysian-themed superhero worthy of any mainstream comic, to which he responded with Sarawak-inspired creations – the "Mighty Kenyalang" (Rhinoceros Hornbill) and his sidekick, Spike. The superhero boasts unique Rhinoceros Hornbill features including a horned-mask and winged black-and-white cape.
Proudly describing the creation process, he said, "As a Sarawakian myself, I drew inspiration from the hornbill that is both the state bird of Sarawak and a cultural symbol for the people of Sarawak, especially the Dayak communities. Because inspiration comes at random times, it is important for me to have sketching tools around, which normally consist of a pen and paper. Impressively, I found that sketching on Surface feels very natural, the Surface Pen having been engineered to very closely mimic the way a real pencil feels on paper. Despite its size, having access to the full Adobe Creative Cloud, specifically Photoshop makes a huge difference to us artists when we are on-the-go, especially when we need to work with heavy editing."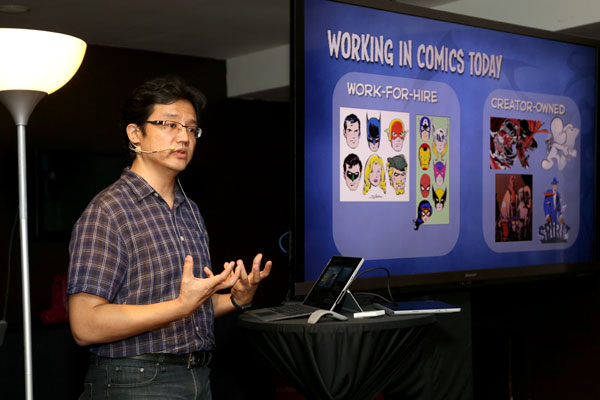 As for multi-instrumentalist and musician Reuben, his challenge was to create a unique soundscape with a Malaysian vibe – a challenge he completed by mixing sounds from a busy Malaysian street, a local TV program, and the voices of Malaysians themselves. Mixed using the Surface Pro 4, Rueben describes the piece as a fresh interpretation of what defines Malaysia.
"Sound and music are something that is very abstract and one can very well interpret the piece in various ways, but it took careful planning for me to record each sound and stitch them on the Surface Pro 4. Being a stranger to the Surface, the device has impressed me since I started using it – from replacing the mouse with a more natural movement using the Surface Pen, to doing the mixing on the device without my sequencer – in short, the Surface Pro 4 has really exceeded my expectations," he said.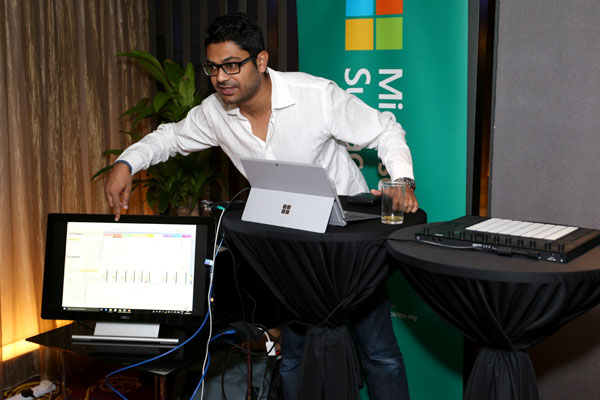 Surface and Windows 10 momentum
The Surface line of products continues to be a popular choice when it comes to personal computing. In the recently announced FY16 Q3 earnings, Surface products saw a second billion-dollar quarter in a row and grew its revenue by 61% year-on-year.
Howe said, "We couldn't be more excited with what the future holds for Surface and Windows 10. When we first envisioned Surface years ago, we challenged ourselves with an ambitious goal: build a perfect product. We did this by designing hardware that people love and putting it together with the best of Microsoft; now with Windows 10, we have created an experience that is loved by both users and trusted by organizations."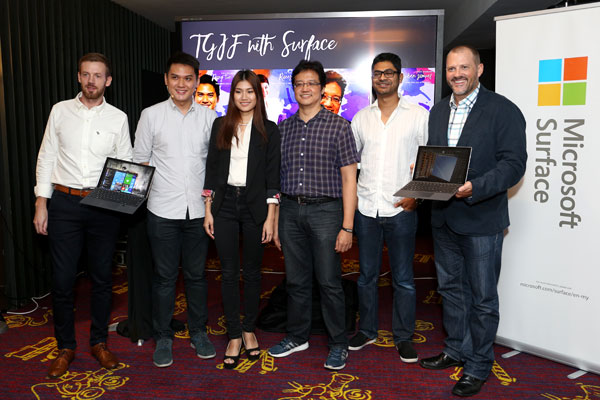 As the one-year anniversary of the availability of Windows 10 nears, more people at home, at schools, at small businesses, at large companies, and other organizations are adopting Windows 10 faster than ever, and use Windows 10 more than ever before. Windows 10 is now running on 300 million active devices around the world.
"We're seeing great momentum but the innovation doesn't stop here. At Microsoft, we continuously listen to our customers – improving and innovating as we go along to create a product that people truly want. In fact, there isn't a better time to get onboard with Windows 10. The free upgrade offer to Windows 10 was a first for Microsoft, helping people upgrade faster than ever before. But time is running out – the free upgrade offer will end soon on July 29, so I urge all Malaysians to take up the free upgrade offer and don't miss out," concluded Howe.
Interested individuals can find out more about the influencer campaign by visiting www.facebook.com/SurfaceMalaysia. For more information on Surface go to www.surface.my, and information on Surface Pro 4 in business can be found here and here.