Malaysia National DotA2 Representative Team – Orange Taring Sponsorship Signing
Kuala Lumpur (11 April 2016) — Orange Esports and Malaysia Cyber Games came together to co-sponsor the Malaysia National DotA2 Representative Team – Orange Taring with RM175k funding. The successful Malaysia Cyber Games 2015 at Stadium Negara with the event graced by Prime Minister Dato Sri Najib Razak, will come in as Team Principal with RM100k sponsorship. On the other hand, Orange Esports will be the Team Manager and folk out the remaining RM75k. The combined RM175k funding for a Malaysian Electronic Sports team is the largest sponsorship from any Malaysia organization to date. The five (5) months sponsorship contract will starts from 1st April 2016 with an option for four (4) months extension till 31 Dec 2016.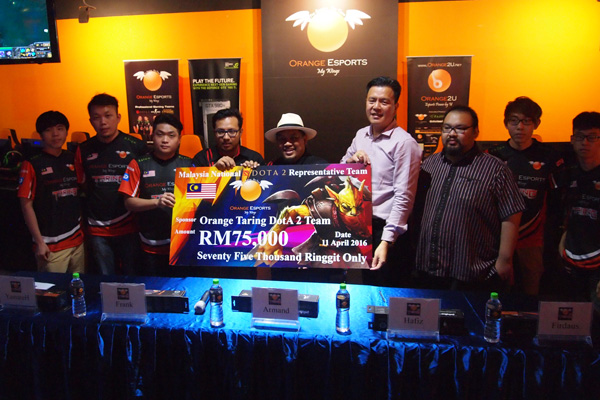 The team also welcomes DotA 2 expert En. Firdaus Hashim from E-Sukan to be the Team Advisor.
The Orange Taring DotA 2 team roster comprises of both experienced and talented DotA2 players from Malaysia with the legendary DotA player 'YamateH' as the Team Captain:-
Ng 'YamateH' Wei Poong, 26 years old (Captain), from Johor Bahru
Chua 'Ice' Chee Cai, 27 years old, from Johor Bahru
Sim 'Ling' Woi Cheong, 25 years old, from Kuala Lumpur
Law 'NJ' Chee Hoong, 26 years old, from Kuala Lumpur
Byron Young 'Syeonix' Meng Keen, 18 years old, from Kuala Lumpur
Roger Tan 'Roddgee' Boon Thye, 22 years old, from Kuala Lumpur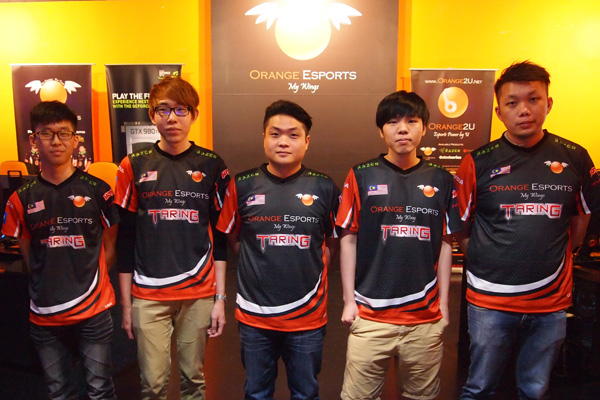 Orange Taring team will be based at the dedicated training house set up in Johor Bahru. The common living and well equipped training space will allow the team members to build camaraderie and teamwork to compete successfully in online and LAN tournaments.
Our short term goal is to achieve and be recognized as Top 3 DotA 2 teams in South East Asia and Oceania region. We look forward to qualify and represent Malaysia in major international LAN tournament like The International, ESL One and DotA 2 Majors in 2016.
We trust our initiative and dedications will inspire more talented Malaysia players to compete at the world stage with more Malaysian corporate supports.
About Malaysia Cyber Games
The Malaysia Cyber Games is the first ever national gaming festival to boost the growth of e-sports in Malaysia. This event is endorsed and supported by the Ministry of Communication and Media in hopes of giving the youth a platform to hone their skills and be on par with the rest of the world. The main objective of the event is to develop local talent as our young gamers have been overlooked. The winners will be announced as the official Taring team, this will grant them access to financial backing in order for them to pursue their dreams to one day be called "The Best in the World" and help raise the Malaysian flag.
About Orange Esports
Orange Esports founded in July 2011 and based in Kuala Lumpur is the leading Electronic Sports organization in South East Asia. Its DotA2, CS:GO, HoN and LoL teams have competed in many international online and LAN tournaments. Its highest achievement was the 3rd place finish at the prestigious The International DotA2 Championship 2013 in Seattle USA. Upon return, Malaysia Minister for Youth & Sports Khairy Jamaluddin received and congratulated the team in Putrajaya.
About DotA 2
DotA2 published by Valve is one of the most popular multiplayer online battle arena computer game where 5 players pitch against 5 players on a map. The International DotA2 Championship 2015 in KeyArena Seattle USA offered Electronic Sports highest prize pool of USD18,429,613.