Cyberjaya (4 April 2016) — BMW Group Malaysia today introduced its newest motorcycles to the BMW Motorrad Malaysia family – the BMW C 650 Sport and the BMW C 650 GT, the latest additions to its maxi scooter segment. Perfect for the city and urban environment, the new motorcycles combine practicality with maximum riding fun and touring comfort.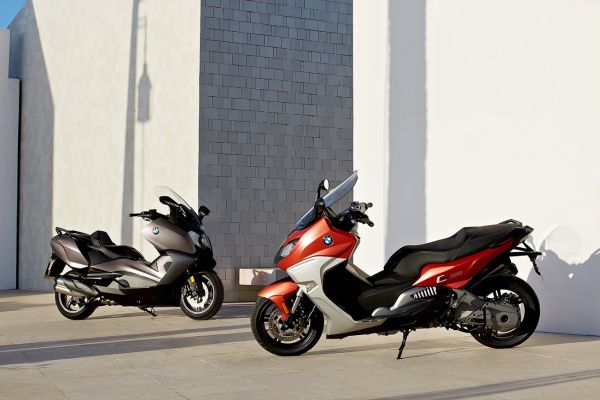 Introducing the new maxi scooters, Mr. Han Sang Yun, Managing Director & CEO of BMW Group Malaysia said, "The premium motorcycle segment in Malaysia has been growing steadily over the last two years and the introduction of the new BMW C 650 Sport and BMW C 650 GT will offer motorcycle enthusiasts here more choices of easy two wheeled mobility solutions for everyday or weekend use."
The new edition of the maxi scooters particularly features a more modern, dynamic and future-oriented design for the new BMW C 650 Sport. This integrates seamlessly into the BMW Motorrad design philosophy. By contrast, the new BMW 650 GT – positioned in the comfort sub-segment – has been fine-tuned with new rear side trim panels and a new rear light unit.
Mr. Owen Riley, Head of BMW Motorrad, BMW Group Malaysia said, "The differing conceptual emphasis of each new maxi scooters enable a broader target group to be addressed than before. The new BMW C 650 Sport is geared towards riders with a sporty bent while the new BMW C 650 GT sets its sights on those who attach greater importance to comfort and touring ability."
New modern design for the BMW C 650 Sport and detailed stylistic fine-tuning for the BMW C 650 GT
The new BMW C 650 Sport features completely redesigned body parts. This fresh design interprets the appearance of the maxi scooter in a way that expresses maximum dynamic performance. Its nose section including the top side panels, bottom side panels, front trim panel and headlight carrier have been redesigned.
The new BMW C 650 GT meanwhile, has a redesigned tail section with rear trim panels on the left, right and centre, as well as new rear lights. The mounting of the rear mirrors has also been optimised in the new BMW C 650 GT so as to ensure the rider has a good rear view in all conditions.
In both bikes, the handlebar protectors exhibit a new styling with high-gloss central section and chrome applications, while all grained surfaces within the rider's field of vision have been given a new structure.
Both the new BMW C 650 Sport and BMW C 650 GT will also feature newly designed instrument dials and handlebar trims complete with a high-gloss centre section and chrome applications that can tailor the vehicle to individual needs.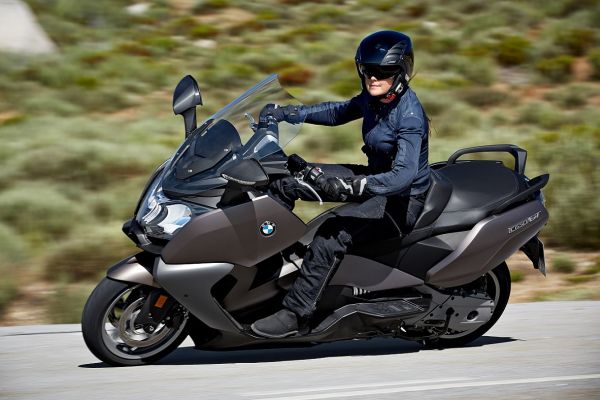 Optimised drivetrain set-up and new exhaust system for a more active riding experience
The arrival of the new maxi scooters are a further testament to BMW's commitment towards delivering pure riding enjoyment and safety. Both the new BMW C 650 Sport and BMW C 650 GT draw their power from the distinctive, liquid-cooled four-valved two-cylinder engine with 647cc and electronic fuel injection. This optimised drivetrain set-up ensures a dynamic propulsion in the new maxi scooters, both with a rated output of 60 hp at 7,750 rpm and a maximum torque of 63 Nm at 6,000 rpm.
A noteworthy component of the 2-cylinder in-line engine is its ability to achieve optimum thermal balance. The sophisticated cooling concept directs coolant to flow transversely through the cylinder head and pushes it to enter the front of the cylinder head on the hot exhaust side. Heat is rapidly dissipated by the consequent intensive cooling effect, thereby ensuring optimum temperature compensation.
Engine mapping was redefined for use in the new BMW C 650 Sport and the new BMW C 650 GT with a view to satisfying the requirements of the EU4 pollutant class. The reduced exhaust-gas emissions are made possible with a completely new exhaust system consisting of a manifold with integrated catalytic converter and dual-flow absorption-type silencer. The new silencer gives both bikes a more dynamic look as well as provides a particularly full sound, while adhering to the new ECE R41-04 noise test regulations.
Owners of the new BMW Motorrad maxi scooters will also enjoy a newly redesigned CVT transmission set-up in conjunction with new clutch linings, which enables optimised clutch engagement and therefore a significantly more dynamic set-off response.
New suspension and damping set-up for increased comfort
The new BMW C 650 Sport and BMW C 650 GT strikes a perfect balance between sporty flair and comfort by maintaining a suspension system with torsionally rigid hybrid composite structure comprising of a tubular steel bridge frame and a die-cast aluminium unit in the area of the swinging arm bearing.
The mounting of the light alloy cast single-sided swinging arm with coaxial pivot point also addresses the desire for maximum ride stability. This allows the new BMW C 650 Sport and BMW C 650 GT to combine solid directional stability at high speeds on the motorway with easy manoeuvrability in city traffic as well as transparent feedback for the rider – just as in a motorcycle.
Meanwhile, the 15-inch wheels delivers optimum ride stability as well as great agility and handling for both models. Both the new BMW C 650 Sport and BMW C 650 GT have a 5-spoke die-cast light alloy wheel sized 3.5 x 15 inches at the front. The tyre size is 120/70 R 15. At the rear, the wheel dimension is 4.5 x 15 inches and it is fitted with a tyre size of 160/60 R 15.
Additionally, the redesigned kinematics of the centre stand were modified for more ease and convenience. As a result, physical effort required is reduced by 30 percent.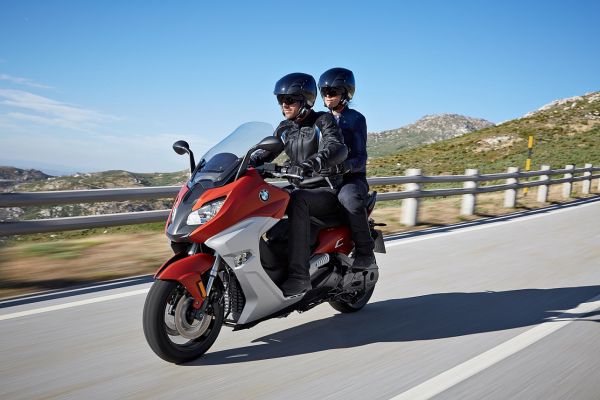 ABS and ASC as standard for maximum safety
In the best BMW Motorrad tradition, the optimum design of the brake system in conjunction with BMW Motorrad ABS as standard ensures the very highest level of active riding safety. At the front, a twin disc brake system with a diameter of 270 millimetres and comprising two 2-piston floating callipers ensures ideal deceleration as required. At the rear, this function is performed by a single-disc system also with a diameter of 270 millimetres and 2-piston floating calliper.
Further to that is the incorporation of a fully-fledged Automatic Stability Control (ASC) featured as a standard. By actively intervening in the engine management when necessary, ASC increases rider safety particularly in situations where road conditions are hard to judge. The availability of ABS and ASC as standard
The new BMW C 650 Sport and BMW C 650 GT are made available in the colours of Blackstorm Metallic and Lightwhite Solid Paint, while Valencia Metallic Matt and Frozen Bronze Metallic are exclusive colours to the new BMW C 650 Sport and BMW C 650 GT respectively.
The retail prices (on the road without insurance) are:
The new BMW C 650 Sport         –           RM 64,900.00
The new BMW C 650 GT              –           RM 68,900.00