Be part of the upcoming Sony Mobile's Xperia Z5 series photography masterclass
Kuala Lumpur (18 April 2016) — Sony Mobile Communications ("Sony Mobile") today opens the registration of interest to the public to take part in an upcoming photography masterclass conducted by renowned photographer, Kid Chan.
Kid Chan of Kid Chan Studios will be conducting a two-hour photography workshop at Delectable by Su at Glasshouse Seputeh on how to fully utilise the key camera features of the Xperia Z5 series, taking professional images. The masterclass is a once in a lifetime opportunity for lucky Xperia fans to learn mobile photography tips from an expert in the industry.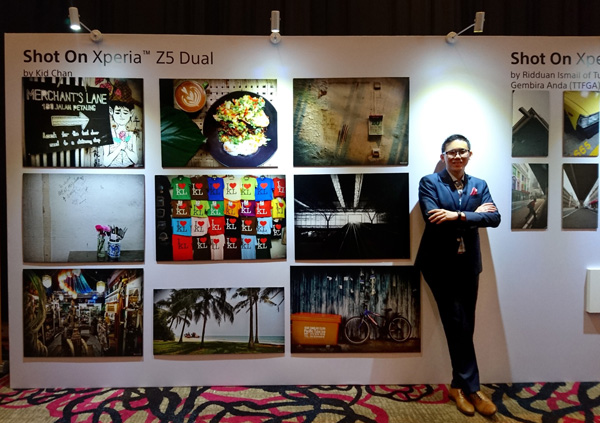 "Sony Mobile constantly strives to provide the best user experience for our fans. This Xperia Z5 series photography masterclass is a testament of our promise to constantly find ways to enhance our Xperia users' experience," said Andrew Cheong, Country Director (Malaysia) at Sony Mobile.
"The shift in trends sees people constantly cataloguing their lives via photos of their daily routines and having a good camera phone with exceptional camera features is a must. How we make full use of any Sony Xperia device is a different story. Therefore, we are delighted to be able to work with Kid Chan once again for our loyal users," he continued.
The photography workshop marks the second collaboration between Sony Mobile with celebrated photographer. Previously, Kid Chan has exhibited his photos, all taken with the Xperia Z5 Dual, during the launch of the Xperia Z5 series in Malaysia. Each photo taken by him distinctly features the Xperia Z5's next-generation 23MP Exmor RS and autofocus excellence in capturing daily life activities.
"My personal experience with the Sony Xperia Z5 Dual allows me to to push boundaries beyond a normal camera phone. By having a good camera phone, you will be able to capture precious moments in the most unexpected way," said Kid Chan.
Kid Chan specialises in corporate portraiture as well as weddings for the uber stylish and contemporary lifetsyle family portraits. Some of Kid Chan's editorial photography assignments include Reader's Digest, Harper's Bazaar, Tatler, Evening Standard, New Straits Times, The Star, and Prestige. To date, Kid Chan's Kid Chan Studio is one of the nation's most popular photography companies.
Those who are interested can log into their Xperia Lounge app via their Sony Xperia mobile devices to register before 20th April 2016. Lucky fans are required to RSVP and those who have secured a spot, based on a first come first serve basis, will be notified via email.
The Xperia Z5 series features Sony's brand new large 1/2.3 Exmor RS for mobile 23MP sensor and F2.0 G Lens – it's Sony's first completely re-imagined smartphone camera module since Xperia Z1, designed with Sony's interchangeable lens camera α technology for clear, vivid imagery every time. A combination of the large 23MP Exmor RS for mobile sensor and advanced processing software lets you get close to subjects; whether it be a landmark, architecture or other objects of interest, with 5x clear image zoom with minimum loss of quality.
The camera is also capable of fastest autofocus in a smartphone, a powerful blend of speed and accuracy to capture split-second moments with ease. Advancements in low-light photography mean you can capture clearer photos at night or in darker surroundings with less noise and blur – perfect for capturing a sunrise or night skyline.
For enquiries in regards to the register of interest please call Sony Mobile's Customer Care Hotline at 1800 88 7666 or visit Sony Mobile MY Facebook page. Photo Journalist
Gadgets, Photography, Automobile, Lifestyle