Blue Light: The Hidden Health Hazard of The Digital World
You might not have heard of blue light before but it surrounds us all. From smart phones, to ultra-high-definition televisions, technology and gadgets continue to amaze and excite many of us. But in many cases, they are also adding to  the amount of blue light we are exposed to each day. 6 common sources of blue light includes computer screen, smart phones, tablet, television, gaming consoles and LED light.
Harmful effects of blue light to our body
Red and watery eyes
Dry and tired eyes
Headache and fatigue
Sleep disruption
Blurred vision
Floater syndrome
Premature presbyopia
Macular degeneration
Glaucoma
Cataracts
Loss of focus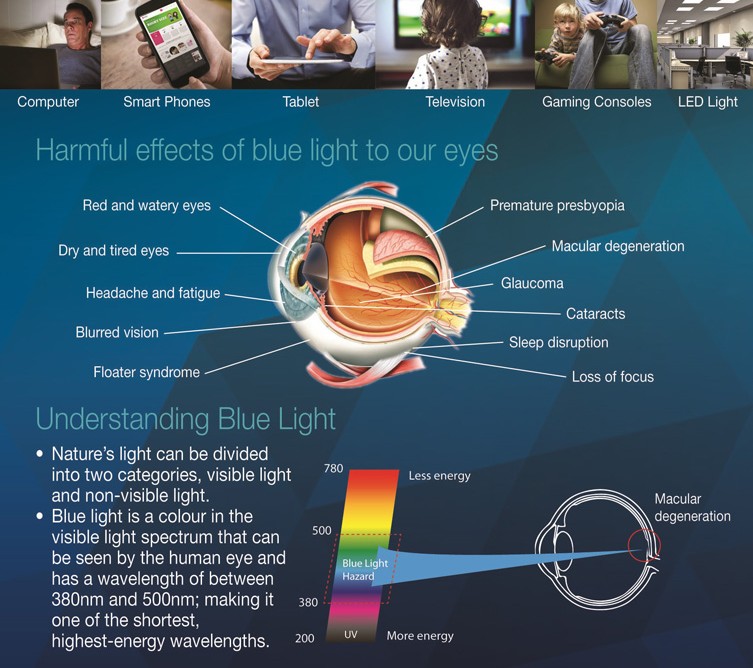 Understanding Blue Light
Nature's light can be divided into two categories, visible light and non-visible light. Blue light is a colour in the visible light spectrum that can be seen by the human eye and has a wavelength of between 380nm and 500nm; making it one of the shortest, highest-energy wavelengths.
Blue light reaches deeper into the eye and its cumulative effect can cause damage to the retina. The accumulation of the damage along with aging may cause age-related macular degeneration. Macula inflammation results in macular edema, a swelling or thickening of the macula which affects the central vision of the viewer. The affected may not be able to look straight into things but had to tilt from time to time.
Nessie Anti-Blue Light Computer Glasses, 7 Unique Features
Aeroview Lens – Advanced technology with Military-grade materials
Aeroview lens adopt the industrial technology from the United States' aerospace and aircraft industries that is used in aircraft canoply. It is scratch resistant, anti-glare, anti-fog and is coated with sophisticated nanotechnology coating. It is also robust and able to block radiation.
Double-sided Nanotechnology Coating
It's lens are made from high quality polycarbonate with advanced anti-blue light and anti-reflective coating. The lens is proven to filter out 45% blue light. Polycarbonate is one of the strongest and safest materials on the market today. It does not break easily, impact- resistant, light yet resistant to falls and collisions.
360° Full Protection
Full protection from all angles, not just the front. Fit over frame designs "isolate your eyes" to eliminate distracting ambient light from all angles, maximizing the visual experience. Keep out dust, wind and other irritants. Prevent direct air-conditioners toward eyes.
Built-in Air Vents
Built-in vents to enhance air circulation to prevent fogging.
Polarised side lens
Polarised sides prevents light from entering through the side, reducing 'bounce back' from the inside of the lens while maintaining peripheral vision.
EVA foam Padded Temples
EVA foam padded at the end of temples to prevent slip and maximum comfort.
Comfortable
Designed to fit any facial structure without putting pressure on your nose bridge. Comfortable and suitable for long hour use.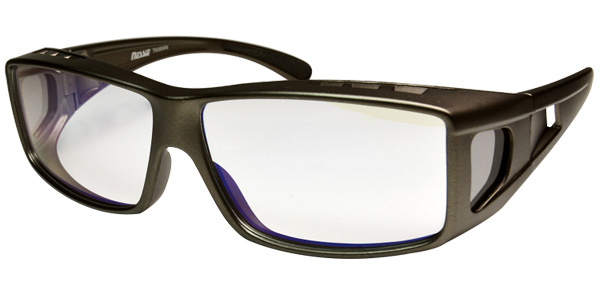 Nessie Anti-Blue Light Computer Glasses is unisex and suitable for wear on its own or fit over to prescription or reading glasses.
Recommended Retail Price : RM189.00
Introductory Price : RM149.00 (for a limited time only)
For more information, visit the website, Nessie Facebook page or contact Ms. Wong Yuen Peng at (O) +603-6258 2955, (M) +6012-6566138, (Email) [email protected]