BMW Group Malaysia introduces the New BMW M2 Coupé at the BMW Malaysia Open 2016
Kuala Lumpur (2 March 2016) — BMW Group Malaysia today introduced the New BMW M2 Coupé, the explosive high-performance premium sports coupé at Malaysia's most prestigious professional tennis tournament, the BMW Malaysia Open 2016.
Forty years ago, the BMW 2002 turbo perfectly encapsulated BMW's resolution to deliver outstanding dynamics, exceptional agility and optimum car control. The New BMW M2 Coupé from BMW M GmbH is set to continue this tradition and commitment with a combination of high performance and exceptional dynamism with a highly emotive design.
Its powerful, hallmark M design, M TwinPower Turbo technology and a specifically tuned M Sport suspension provides the new high-performance sports machine with all the ingredients to deliver an intoxicating performance. Furthermore, its rear wheel drive and a comprehensive package of advanced motor racing technology ensure outstanding driving dynamics, exceptional agility and optimum car control. Indeed, the New BMW M2 Coupé is a winning proposition right from the start – on the road and on the race track alike.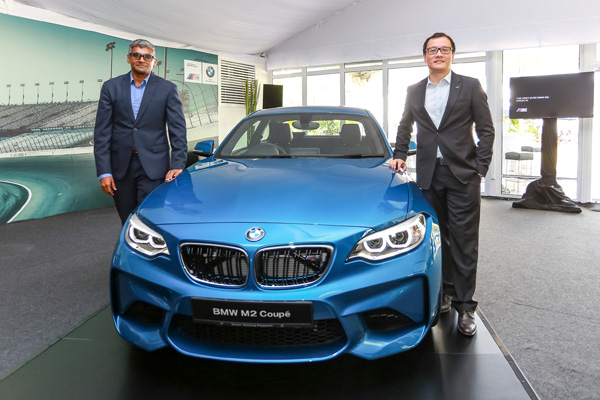 Introducing the new performance coupé from BMW, Mr. Raymond Tan, Head of Sales, BMW Group Malaysia said, "The New BMW M2 Coupé is a very special car. There are only very limited numbers of this car produced worldwide and we are very lucky to be able to have units for Malaysia in celebration of the 100 Years Anniversary of the BMW Group. The New BMW M2 Coupé will once again reinforce the fact that premium performance and dynamic vehicles in Malaysia can only be measured by one letter – M – the Most Powerful Letter in the World!"
The New BMW M2 Coupé features the latest generation M TwinPower Turbo technology with its six-cylinder engine as well as a stylistic showcase of dynamic excellence which includes muscular, dynamic lines, exclusive 19-inch aluminium forged wheels, as well as sports exhaust system with twin tailpipes. The car's hallmark M features are highlighted throughout its interior as well as motor technology such as its lightweight M Sport suspension made from aluminium, seven-speed M double-clutch transmission, Active M Differential, M compound brakes and M Dynamic Mode.
Exterior: Sporty and highly emotive M design
The new premium high performance sports coupé is immediately recognizable as a full-fledged member of the BMW M family. Inspired by the motor sport history of BMW, the New BMW M2 Coupé comes with a styling which advertises its dynamic attributes – a short front overhang, sweeping bonnet, long wheelbase, set-back greenhouse with classic BMW Hofmeister kink and signature M design elements which strengthens the dynamic expression.
Its M-specific exterior features send out a whole-hearted statement of dynamics and agility, promising both a superior performance and convincing abilities on urban roads. The front of the New BMW M2 Coupé is dressed with the signature BMW kidney grille, which reveals characteristic M design with its black-painted double bars replicating the design of the M double-spoke wheels, which carries the BMW M logo. This exceptional athlete with its wide stance also features a low-slung front apron with large air inlets for increased cooling requirements; trapezoidal blades and Air Curtains in the outer air intakes which all caters to delivering optimised aerodynamics.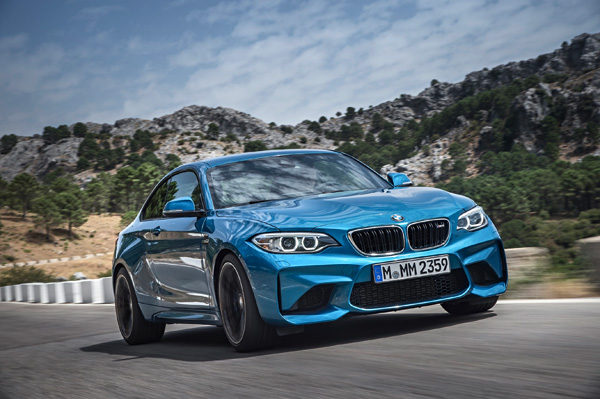 When viewed from the side, the New BMW M2 Coupé reveals the classical BMW design feature of the side swage line which begins rearwards of the front axle and then rises dynamically towards the tail and links the flanks of the car with its rear end. Its muscular flanks also bares characteristic M gills, and along with that are other characteristic M design elements including the 19-inch aluminium wheels with M double-spoke design housed by distinctive flared wheel arches for the front and rear.
The New BMW M2 Coupé is rounded off with a wide rear, rear apron with integrated diffuser as well as two hallmark BMW M exhaust tailpipes in high-gloss chrome, all of which draw renewed attention to the low visual centre of gravity and point clearly to the dynamic performance of the New BMW M2 Coupé.
Powertrain: Powered by M for unbeatable driving pleasure
In keeping with the finest BMW M tradition of ensuring unbeatable driving fun on the road and race track alike, the New BMW M2 Coupé houses a six-cylinder engine which promises an insatiable appetite for revs for a turbocharged engine, as well as offers exceptionally linear power delivery across a broad rev range and raises pulses with its distinctive engine sound.
Equipped with a three-litre six-cylinder in-line engine with M TwinPower Turbo technology, a TwinScroll turbocharger, High Precision Injection, Double-VANOS variable camshaft control, and Valvetronic variable valve control, the New BMW M2 Coupé has all the components needed to enable immediate power delivery.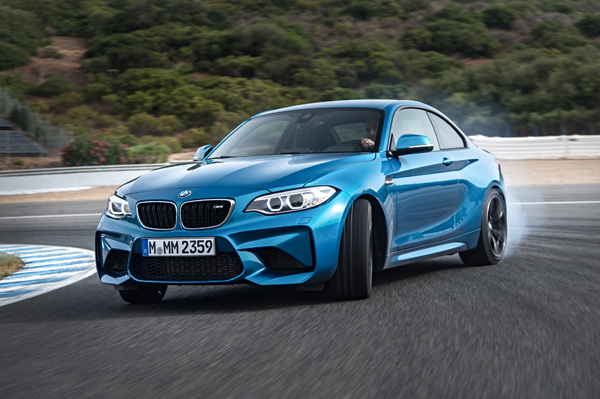 A range of components from the crankcase bearings to the oil supply which remains reliable even under extreme g-forces, ensures the new high-performance coupé is geared towards maximum performance. The optimise M exhaust system with electronic flap control meanwhile ensures a fine balance between engine output and a powerful sound. This makes for a characteristic acoustic experience in every Driving Experience Control mode, whether COMFORT, SPORT or SPORT+.
With an output of 370 hp and 465 Nm of torque with a short-term maximum of 500 Nm using the overboost function, the New BMW M2 Coupé sends out a clear message in the premium high-performance compact sports car segment. Coupled with the 7-speed M double-clutch transmission with Drivelogic with integrated Launch Control function, the New BMW M2 Coupé completes the sprint from 0 to 100 km/h in just 4.3 seconds. While it ensures optimal acceleration from a standing start, it also ensures reduced fuel consumption. The new high-performance coupé has a fuel consumption of just 7.9l/100km and CO² emissions of 185 g/km.
The M double-clutch transmission with Drivelogic also offers further specific M functions. For example, Stability Clutch Control disengages the clutch when necessary to prevent oversteer and so stabilize the vehicle. It also comes with the "creep on demand" function, which allows the driver to prompt the creep effect familiar from conventional automatic transmissions by nudging the accelerator while at a standstill – which can be used to manoeuvre out of tight parking spaces, for example. Another integrated feature is Smokey Burnout, which invites the driver to indulge in a degree of rear wheel spin while the car is moving at low speeds.
Despite its tremendous dynamic ability, the New BMW M2 Coupé sets the pace in its segment when it comes to agility, driving feeling, directional stability, steering precision and controllability at the limit, without short-changing the driver in everyday use. The New BMW M2 Coupé comes with a comprehensive BMW EfficientDynamics package to significantly reduce this car's fuel consumption. Features include brake energy recuperation, electromechanical power steering, Automatic Start/Stop function, intelligent lightweight design, situation-specific control of auxiliary systems, volume flow-controlled oil pump and a rear differential with optimized warm-up times.
The New BMW M2 Coupé has also raised the bar once again in the compact high-performance sports car segment when it comes to driving dynamics. A combination of its compact dimensions with professional motor racing equipment allows for safe and controlled driving right up to the limits. The front and rear axles feature a lightweight aluminium design from the BMW M3 and BMW M4 models and serves to lower the car's weight.
Another weight-reducing factor comes in the shaped of 19-inch forged aluminium wheels with mixed-size tyres as well as M Servotronic steering with two settings and suitably effective M compound brakes. Other specific M equipment features which play a significant role in providing exceptional dynamics include the electronically controlled Active M Differential, which optimizes traction and directional stability, and the Dynamic Stability Control system's M Dynamic Mode which provides an even greater driving pleasure by allowing wheel slip and therefore moderate, controlled drifts on the track.
Interior: Perfect ergonomics and clear driver orientation
The time-honoured character of the BMW M cars is also present in the design of the interior. Climbing into the New BMW M2 Coupé, drivers and passengers will be greeted by an interior architecture which is familiar with the brand's hallmark consistent driver orientation, complemented by numerous specific M features geared towards high-performance driving. Leather sport seats with adjustable side bolsters, M footrest and knee support on the centre console, an M sports steering wheel and an M gearshift lever ensure the New BMW M2 Coupé drivers are in perfect command of their car at all times.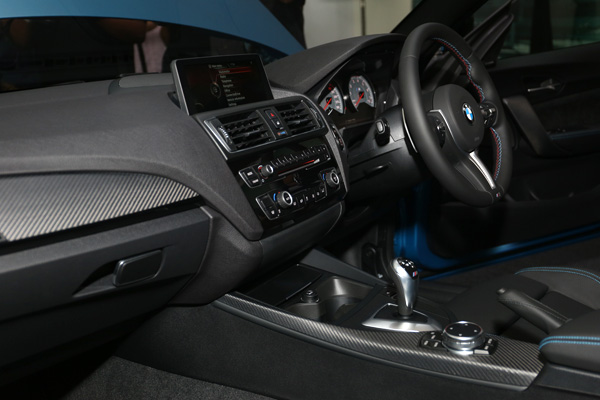 Meanwhile, the door trims and gearshift lever gaiter with Alcantara upholstery as well as decorative trims with open-pored carbon surfaces create an ambience of rare quality while heady sporting ambition is further underlined by its door sill finisher, gearshift lever, steering wheel, and rev counter with the M logo. Other M interior features include the M instrument cluster with a speedometer of up to 300km/h and a rev counter of up to 8,000rpm.
BMW ConnectedDrive: Premium Performance Connectivity
Providing the basis for extensive vehicle connectivity, BMW ConnectedDrive enables the use of innovative apps which are integrated seamlessly into the car using BMW ConnectedDrive technology. For example, the GoPro app allows the driver to record fast laps of the track with a dashboard-mounted action camera, using the iDrive Controller and Control Display. Meanwhile, the driver's individual style at the wheel can be analysed as desired with the M Laptimer app where information on speeds and braking points can be shared easily via e-mail or Facebook.
The latest-generation Navigation System Professional the New BMW M2 Coupé boasts quicker start-up, even faster route calculation along with more realistic 3D visualisation in urban areas.
A SIM card built into the vehicle enables customers to enjoy optimum connectivity and access to the unrivalled range of services from BMW ConnectedDrive without the need for a smartphone. The Concierge Service for example, makes it possible to select points of interest while driving, such as restaurants or hotels, make a reservation if desired, and have them sent straight to the vehicle as a navigation destination.
Intelligent Emergency Call, another standard feature, ensures maximum safety on the road. If the airbags are triggered in an accident, this system uses the built-in SIM card to automatically transmit the severity of the accident, the potential risk of injury to the occupants and the vehicle's location to the BMW Call Centre. This information is then used to arrange the best possible emergency response while the Call Centre stays in contact with the occupants if desired. The manual emergency call function also allows rapid help to be summoned for other road users in emergency situations.
The New BMW M2 Coupé is made available in only Long Beach Blue Metallic.
The retail price on the road, without insurance with BMW Group Malaysia's latest 5 Years Unlimited Mileage Warranty, Free Scheduled Service Program and BMW Tyre Warranty Programme for the New BMW M2 Coupé is RM 498,800.00.