Your world is not flat. It is 360° with RICOH THETA S!
Kuala Lumpur (28 January 2016) — "Gadget geeks" and shutterbugs rejoiced as the latest revolutionary RICOH THETA S made its way to Malaysian shores, at an exclusive launch and preview session held at Sunway Lagoon, yesterday.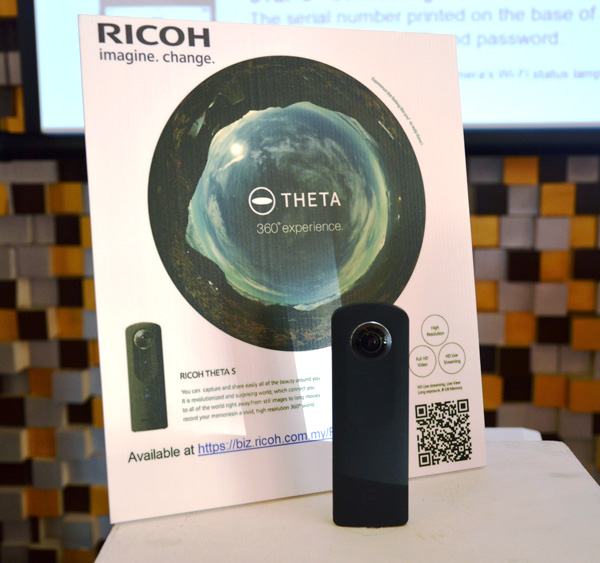 The RICOH THETA S is a spherical camera which puts most ordinary cameras to shame, with its ability to capture 360-degrees still images and 25-minute-long videos with just a simple press of the shutter button. The new and improved version of the RICOH THETA S is a major upgrade in terms of both image sensor and video quality. With the upgrade, users can now shoot near Full HD at 30fps with a 14-megapixel resolution. The fish-eye lenses on each side of the compact body captures images of just over 180-degrees and combines them together, creating smooth 360-degree photos that can be viewed in any direction.
The RICOH THETA S comes with an aperture of f/2.0 and dual 1/2.3-inch sensors with an internal storage doubled to 8GB, allowing for around 65 minutes of total video (each individual video is limited to 25 minutes or 4GB). Alternatively, it can store up to 1,600 photos at top quality. The new feature also allows users to preview photos before taking them, enabling users to view or edit images and videos, and sharing them to their desired audience via social networking sites. They can also capture and upload original spherical images of street views onto Google Maps™ or Google+™ to be shared with the world. Other features include a host of settings such as white balance, shutter speed and ISO to tinker with.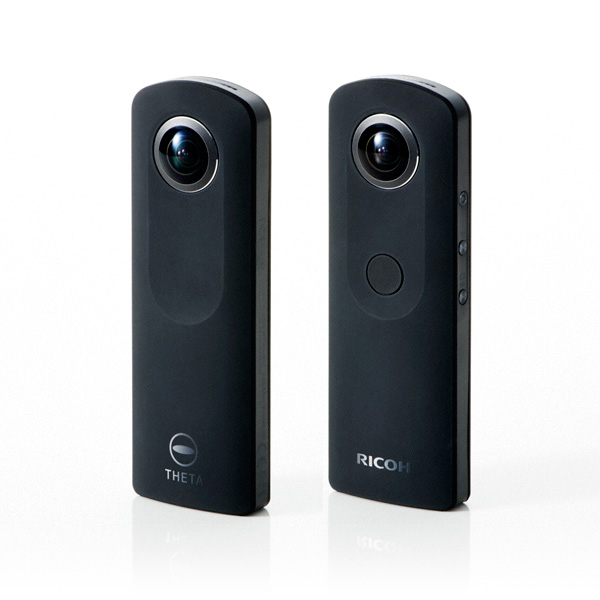 The RICOH THETA S also enables users to shoot images from a remote location with their smartphones, without having to hold the camera in their hands, courtesy of the camera's constantly-evolving apps.
The introduction of RICOH THETA S marks a new era for lightweight cameras, and further cements Ricoh Malaysia's position as a driver of innovation and re-invention, in line with its brand tagline, Imagine. Change.
"We are thrilled to finally be able to bring RICOH THETA S into Malaysia, enabling Malaysians to experience a new world of images with this small, lightweight, spherical camera. We continuously strive to create unique value for our customers, surpassing their expectations. RICOH THETA S makes a perfect tool for engineers, landscape artists, interior designers and house agents who want to showcase their projects in the most effective way. Our customers can now capture their world in 360-degrees from the palm of their hands," explained Mr. Peter Wee, Managing Director of RICOH Malaysia Sdn. Bhd.
During the launch, members of the media were able to explore the features of the RICOH THETA S first-hand, through a RICOH THETA S Challenge, where they captured 360-degree images of Sunway Lagoon's six various themed parks – from the iconic Vuvuzela to the newest addition, the Nickelodeon Lost Lagoon as experienced by theme park guests.
Sean Choo, General Manager of Sunway Lagoon said, "We are pleased to have been chosen as the preferred venue to review this revolutionary new camera. Pictures and videos do say a thousand words but at most times, the 2D effect does not evoke similar emotions as what one would feel being physically in the moment. With the RICOH THETA S however, each image shows the breadth of the area helping you visualise and imagine better. As the best Water Park in Malaysia by TripAdvisor and having recently won the Best Entertainment silver award at the Putra Brand Awards 2015, we are thrilled to see the RICOH THETA S perfectly capturing our panoramic views and prized features in the most effective way."
The winner of the RICOH THETA S Challenge walked away with a brand new RICOH THETA S. All participants didn't go back empty handed though as everyone received RICOH e-store vouchers.
RICOH THETA S is now available in Malaysia priced at RM1,779 in black. For more information or to purchase the product, go to RICOH's e-store. It is recommended to purchase directly from RICOH to ensure authenticity. Also, for a limited time only, all purchases through the e-store will be entitled for free limited edition merchandise (terms & conditions apply).
---