Wiko changes the game for mobile users in Malaysia
Kuala Lumpur (28 January 2016) — Always working to ensure the right balance between technology, design, quality and price, Wiko Mobile officially makes its way to the Malaysian market. The French brand introduced three game-changing devices – the FEVER, HIGHWAY PURE and LENNY2. Inspired by the "French touch", the smartphones are designed to provide users universal access to technology and fun in a single device.
"Wiko has been successful in adapting the latest technology trends as desired by mobile users into innovative products," said Ken Ang, Business Development Director Malaysia, Wiko Mobile. He continued, "Today, we bring Wiko to Malaysia because of the fast-growing smartphone market and ideal demographic."
With the FEVER, HIGHWAY PURE and LENNY2, Wiko continues to hold on to its beliefs of mobile telephony: to offer quality at the best price and to maintain a close relationship with all its users, anticipating their needs and expectations.
Wiko FEVER – A Complete Phosphorescent Design
FEVER has something crazy and pretty unexpected… a glow-in-the-dark effect. Showing off its true self, FEVER's phosphorescent design absorbs the daylight and reflects it once in the dark, making it the first glow-in-the-dark smartphone in Malaysia. More than just for the night birds, the FEVER is equipped with some serious performance such as a 5.2'' Full HD display that provides vivid images and IPS technology that allows great visibility from any angle. The slightly rounded lines fit a 2.5D curved glass and the phone has a 5mm visual thickness and a premium look, accented with metal frame and soft touch leather-effect back cover. The Corning® Gorilla® Glass 3 will take charge in protecting FEVER from scratches and cracks.
The smartphone is the new way to immortalize everyday life and with FEVER's 5-megapixel front camera and 13-megapixel rear camera, photo enthusiasts can definitely appreciate a good 16/9 landscape picture on Dual View mode. The faster the better, and FEVER comes with Octa-Core chipset and an integrated GPU for graphics optimization.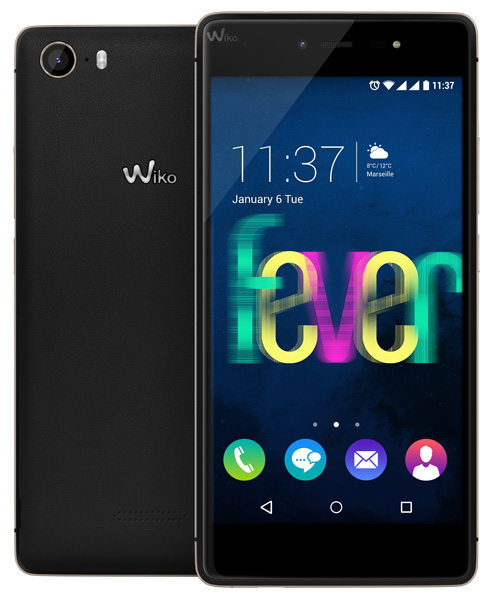 Wiko HIGHWAY PURE – Slimmer Than Ever
The measurement of this 4G smartphone stands at a breathtaking 5.1 mm thickness, weighing a total of 98 grams. The featherweight HIGHWAY PURE conceals a 1.2 GHz quad-core Qualcomm® Snapdragon™ 410 processor, providing fast and smooth navigation. Its 4.8-inch HD screen comes to life with the AMOLED display technology, giving photos and videos an impressive realism. The aluminium contours of the HIGHWAY PURE emphasize its ultra slim profile and comes embedded with 16 Swarovski Zirconias.
The HIGHWAY PURE is supported with Snapdragon™ 410 and 1.2 GHz quad-core processor developed by Qualcomm®. Effortlessly slim and light, the HIGHWAY PURE can capture moving moments with its 8-megapixel main camera and 5-megapixel front camera.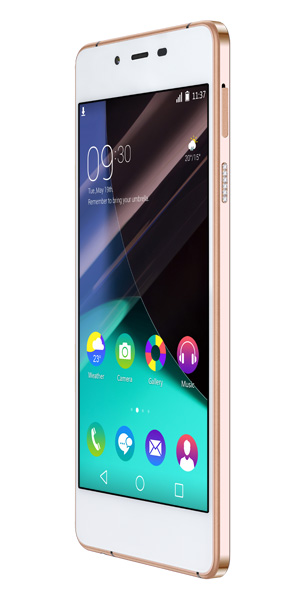 Wiko LENNY2 – Bigger and Better Show-Stopping Encore
LENNY2 is loaded with a 1.3 GHz Quad Core processor, 8GB ROM which can reach 64GB with the micro SD card. This fun and colourful 5" device allows users to browse between apps seamlessly with no hassle. From black and white to coral, blue and bleen, LENNY2's  classic yet rock 'n' roll design and dual SIM slot will be well-loved by multitaskers or connoisseurs. As the perfect entry-level device for newcomers, the 5-megapixel main camera and 2-megapixel front camera captures the shots in a matter of clicks.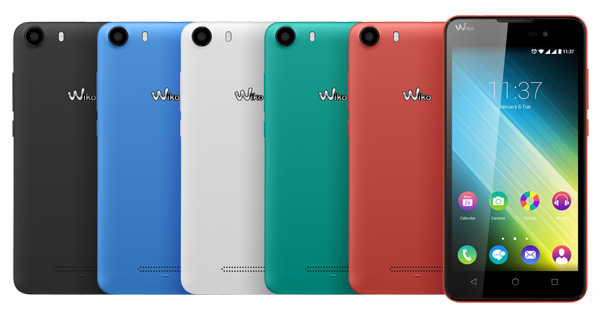 Wiko Accessories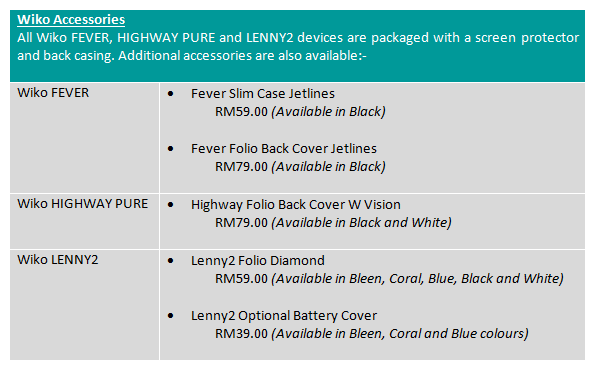 Price and Availability
Wiko FEVER, HIGHWAY PURE and LENNY2 are available in Malaysia through authorised retail outlets starting from 28 January 2016 at RM799, RM999, and RM299 respectively.
For the latest Wiko news, visit wikomobile.com or follow Wiko Mobile Malaysia on Facebook at www.facebook.com/wikomy. Photo Journalist
Gadgets, Photography, Automobile, Lifestyle