Philips launches Five New Computer Monitors that combine Style, Functionality and Connectivity
Kuala Lumpur (13 January 2016) — Philips today launches 5 exciting new monitor models (227E7QDSW/B, 237E7QDSW/B, 276E7QDSW/B, 279X6QJSW and BDM3490UC), which combine style, functionality and connectivity, to bring users to the next level of an immersive multimedia experience.
"Consumers there days are looking for computer monitors that have superb picture quality and an elegant design that would fit into the modern decor of their homes or offices. But on top of that, they also want technology that cares," said Kan Yeung, Regional Sales Director of MMD Singapore Pte. Ltd. "The new line of Philips Monitors lessens eye fatigue with Flicker Free Technology, features low power consumption to help you cut down your electricity bills and have eco-friendly mercury-free displays."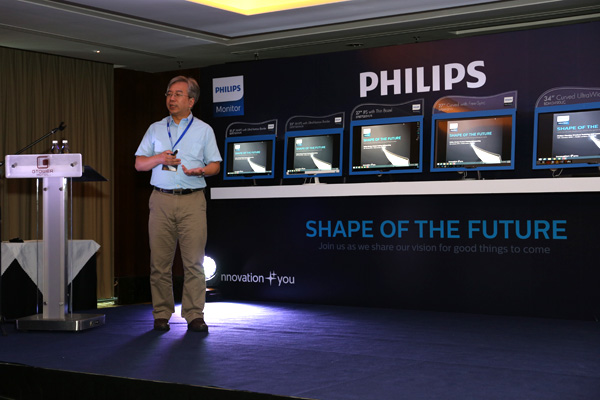 Highlights – Advanced Features
Always putting advanced technology and innovation to work, as well as striving to give you the best possible experience with computer monitors, Philips Monitors have features that are designed with you in mind, which include:
IPS-PLS Technology: An advanced technology that gives you extra wide viewing angles of 178/178 degree, making it possible to view the display from almost any angle
Wide Colour Gamut: Philips Monitor displays 82% of the NTSC colour gamut and a full 99% sRGB colour gamut, showing a wider range of colours for more true-to-life images
16:9 Full HD display: Philips Monitor features enhanced Full HD 1920 x 1080 resolution for crisp detail paired with high brightness, incredible contrast and realistic colours
Flicker-free Technology: Philips Flicker-free Technology applies a new solution to regulate brightness and reduce flicker for more comfortable viewing
SmartContrast: This Philips technology analyzes the display contents, automatically adjusting colours and controlling backlight intensity to dynamically enhance contrast for the best digital images and videos
SmartImage Lite: Based on a selected scenario, SmartImage Lite dynamically enhances the contrast, colour saturation and sharpness of images and videos for ultimate display performance
EasySelect Menu Toggle Key: The discreetly placed EasySelect Menu Toggle Key allows quick and easy adjustments to monitor settings in the On-Screen Display menu
MHL Technology: Mobile High Definition Link (MHL) allows you to connect mobile devices to Philips MHL Displays, and watch your HD videos come to life with full digital sound
For more information, visit Philips Malaysia website.