Petaling Jaya (28 January 2016) — Today marked the arrival of JD to Malaysia with an exclusive opening event in the brand's first Malaysian outlet in Sunway Pyramid. Breaking away from what is expected of a sports apparel store launch, guests, which included local media, bloggers and fashion enthusiasts were entertained by a DJ, street style dancers and a fashion show highlighting the sporting fashion wear carried by the British retailer.
With more than 800+ stores located primarily in the UK, Netherlands, France, Germany and Belgium, JD has moved out of a familiar market to open its doors in Malaysia, at the fashion-forward mall, Sunway Pyramid. Selected for its central location and proximity to local colleges and universities, the location aims to reach potential JD customers that tend to be young with an understanding of brands that allow them to make a fashion statement.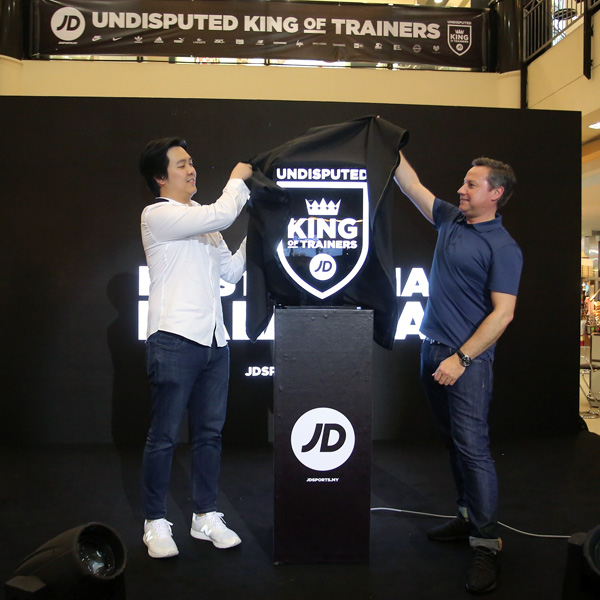 Dubbed the 'King of Trainers'
With 30 years of experience in sports fashion retail, JD distributes the latest and best street style sports fashion brands to a global audience. In addition to brands like Adidas Originals, Nike, New Balance, Converse, Lacoste, Fila, Timberland, EA7, The North Face, Supply & Demand and Asics, JD also distributes exclusive sneakers designed by leading designers specifically for the retailer. Their extensive range and understanding of sneakers earned them a reputation as the 'King of Trainers'. The launch gambit, which featured the unveiling of the 'King of Trainers' shield, further enhanced the brand's value.
Apart from sneakers, JD also carries an extensive range of sports fashion and street style clothing for men, women and children, comprising polo shirts, t-shirts, hoodies, sweatpants and jackets.
About JD
JD retails branded sports fashion wear, and outdoor clothing and equipment. It operates through SportsFashion and Outdoor segments. The company retails sports footwear and apparel, sports and leisure goods alongside the distribution of accessories. The company operates approximately 800 stores worldwide. Founded in 1981, JD is headquartered in Bury, the United Kingdom.
The first JD store in Asia is located on the Lower Ground floor of Sunway Pyramid and covers a space of 7,000 sq feet. There are yet any other sports lifestyle retailers in Malaysia that could match JD's extensive collection and could offer what JD is offering.
Malaysia website www.jdsports.my to be launched in mid-2016. For now, please visit www.jdsports.co.uk.